Spacewalkers mount equipment to station exterior
BY WILLIAM HARWOOD
STORY WRITTEN FOR CBS NEWS "SPACE PLACE" & USED WITH PERMISSION
Posted: June 9, 2002


Astronauts Franklin Chang-Diaz and Philippe Perrin began repressurizing the international space station's Quest airlock module at 6:41 p.m. EDT, officially ending a successful seven-hour 14-minute spacewalk. All of the objectives of the excursion were accomplished.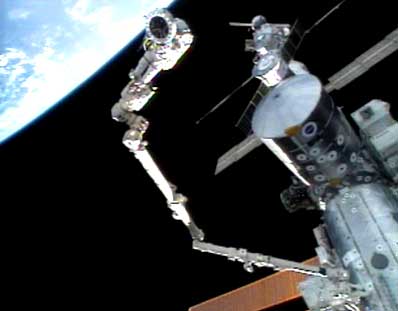 Chang-Diaz carries the grapple fixture to the P6 truss while riding on the end of the station's robotic arm. Photo: NASA TV/Spaceflight Now



"I'm really pleased to report we had a tremendous day on orbit," said space station flight director Rick LaBrode. "It couldn't have gone better."

Said Tricia Mack, the lead spacewalk flight controller at the Johnson Space Center: "We had three major tasks and they all were performed flawlessly."

This was the 39th space station assembly spacewalk, the 14th staged from the station itself and the seventh from the U.S. Quest airlock module. Chang-Diaz and Perrin are the 37th and 38th individuals to participate in a station assembly spacewalk.

With today's spacewalk, 31 Americans, one Canadian, five Russian cosmonauts and one Frenchman have logged 243 hours and 41 minutes of spacewalk time in 39 ISS assembly spacewalks.

Chang-Diaz and Perrin attached a robot arm grapple fixture to the station's current solar array truss so it eventually can be moved to its permanent location on the left-side of the station's currently unfinished main array truss.

The astronauts also mounted six micrometeoroid debris panels on the station's hull that will be deployed in late July to help shield the Russian Zvezda command module from potentially dangerous impacts.

Finally, Chang-Diaz and Perrin removed a half-dozen thermal blankets from the mobile base system, a robot arm mounting platform that will be attached to a small cart on the solar array truss Monday. The MBS will serve as a carrier for the station's robot arm, allowing the crane to be moved back and forth along the truss to continue its assembly. Chang-Diaz is making a record-tying seventh space flight, but it was his first spacewalk. And judging by the chatter between him and rookie flier Perrin early in today's excursion, he's not yet so jaded as to ignore the view from inside his fishbowl helmet.

"This is an amazing experience, I'll tell you," he marveled early on. A few moments later, he marveled some more. "This is amazing, I mean, incredible."

"I have not seen much. It was dark when I went out," Perrin said.

"Ah, the sunrise. Take some time to look at the sunrise.

"OK."

"Oh man!"

"Franklin, Valeri (Korzun, the station commander) wants to know if you think it's more comfortable than the NBL (Neutral Buoyancy Laboratory)," robot arm operator Peggy Whitson called from inside the Destiny lab module.

"Uh, yes. Tremendously, much more comfortable and much more beautiful," Chang-Diaz replied. "It's absolutely spectacular."

"That's sunrise..." Perrin said a moment later.

"Isn't that incredible?"

"Yeah. With Endeavour in the background, it's glorious."

A few moments after that, shuttle pilot Paul Lockhart asked Perrin for his status.

"I'm on P6, hanging on the PFR and looking at the world."

"Does it look good?" Chang-Diaz asked. "Isn't it amazing? What an incredible sight."

"I'm hanging like a bat upside down, looking at the Earth."

"Wow."

The spacewalk was timelined for six hours, but it ran more than an hour longer than expected. Space station engineer Peggy Whitson, operating the Canadarm2 space crane, faced tight clearances and challenging trajectories maneuvering the complex seven-joint arm and she took her time to make sure nothing went awry.

"This was the first time the crew was driving this arm," LaBrode said. "So it's like you get behind the wheel of a brand new car, you're very cautious until you learn how it works. On top of that, a lot of our maneuvers, specifically the maneuver to the service module debris panel stowage location, the trajectories of the arm put us in very close proximity to the station's structure. So they were very methodical. They did a fabulous job monitoring their clearances.

In addition, the arm experienced a few "singularities" along the way, LaBrode said, in which the control computer's knowledge of the precise orientation of a particular joint was briefly lost because of earlier maneuvers.

"We got in a configuration where it was real challenging to get out and it took time," LaBrode said. "When you pile all of these things together, it just made for a little bit longer ops than we originally anticipated."