Stormy weather scrubs shuttle Endeavour launch
BY WILLIAM HARWOOD
STORY WRITTEN FOR CBS NEWS "SPACE PLACE" & USED WITH PERMISSION
Posted: May 30, 2002



| | |
| --- | --- |
| | Endeavour will spend at least another day on the launch pad. Photo: NASA |
Launch director Michael Leinbach called off today's attempt to launch the shuttle Endeavour on a space station crew rotation mission because of thunderstorms and electrical activity encroaching from the west.

NASA managers tonight decided to press ahead with another attempt to launch the shuttle Endeavour Friday evening, despite a forecast that calls for a 70 percent chance of more stormy weather.

Similar conditions are expected over the next several days. If the shuttle fails to get off the ground Friday, NASA could make a third launch attempt Saturday, assuming the weather makes a dramatic improvement. But given the current forecast, if Endeavour doesn't get off the pad Friday launch likely would be delayed to Monday to give engineers time to top off on-board supplies of liquid oxygen and liquid hydrogen to power the ship's electrical generators.

Endeavour's countdown proceeded smoothly throughout the day and commander Kenneth Cockrell and his six crewmates started strapping in around 4:20 p.m. But as the afternoon wore on, storm cells began blossoming across western and central Florida, moving in a generally eastward direction. NASA's flight rules forbid a launch if thunderstorms are within 20 nautical miles of the shuttle's runway, or if electrically active anvil debris clouds are in the general vicinity.

Late in the countdown, an apparent problem with a gaseous nitrogen regulator in the shuttle's left-side orbital maneuvering system rocket pod developed. The regulator is part of a system that supplies the pressurized nitrogen gas used to operate the valves that feed propellant to the OMS engine. After hurried last-minute troubleshooting, engineers were able to re-seat the valve, leaving weather as the only concern.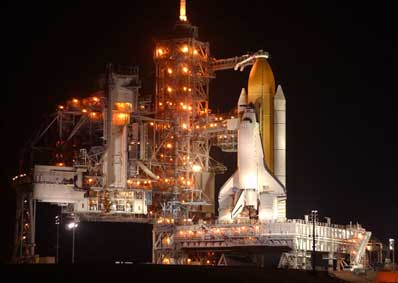 Photo: NASA



As the countdown moved within 45 minutes of launch, it became increasingly clear the weather was not going to cooperate. Finally, at 7:22 p.m. EDT, NASA test director Steve Altemus told the team to stand down for the day.

"We will scrub for today and at this point we'll go ahead and secure," he radioed.

During a countdown status briefing earlier this week, Altemus said NASA's strategy would be to make two back-to-back launch attempts and then to stand down for two days to top off the shuttle's on-board supplies of liquid hydrogen and oxygen. NASA could make three attempts in four days, but that option would only be considered if the weekend weather forecast dramatically improves.

Because of today's launch delay, the space station's current occupants - Expedition 4 astronauts Daniel Bursch and Carl Walz will set a new U.S. space endurance record whenever they eventually land. Had Endeavour taken off on time, they would have landed aboard Endeavour on June 11 after 187 days 20 hours and 23 minutes off planet. That would have been just shy of astronaut Shannon Lucid's record of 188 days and four hours, set in 1996 aboard the Russian Mir space station. With today's delay, Bursch and Walz will now exceed Lucid's space duration record.