Engineers race to fix leaky valve on Endeavour
BY WILLIAM HARWOOD
STORY WRITTEN FOR CBS NEWS "SPACE PLACE" & USED WITH PERMISSION
Posted: May 24, 2002


See our Mission Status Center for the latest news.


Engineers with Hamilton Sundstrand plan to climb into the shuttle Endeavour's main engine compartment tonight to assess the feasibility of replacing one or more valves associated with one of the ship's three hydraulic system water spray boilers.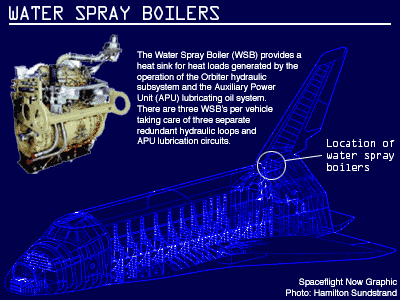 At least one valve is leaking water needed to cool auxiliary power unit No. 3 during launch and entry.
If the valve or valves in question can be replaced at the pad with the shuttle in a vertical orientation, launch on a space station crew rotation flight should remain on track for May 30.
But if engineers cannot gain access - and water spray boiler No. 3 is the most inaccessible of the three aboard Endeavour - engineers could be forced to haul the shuttle back to its processing hangar, delaying launch to mid June or later.
A NASA spokesman at the Kennedy Space Center said the valves in question have never been replaced at the pad with the shuttle in a vertical orientation and it's not clear yet whether engineers can gain the access they need to make repairs.
If they are able to reach the valves, the replacement work will begin immediately. If not, a decision is expected Saturday on hauling Endeavour back to its hangar.