Endeavour moved to launch pad for May 30 liftoff
BY SPACEFLIGHT NOW
Posted: April 29, 2002


Space shuttle Endeavour traveled from the Kennedy Space Center's cavernous Vehicle Assembly Building to launch pad 39A this morning for the planned May 30 blastoff to exchange the resident crews living aboard the International Space Station.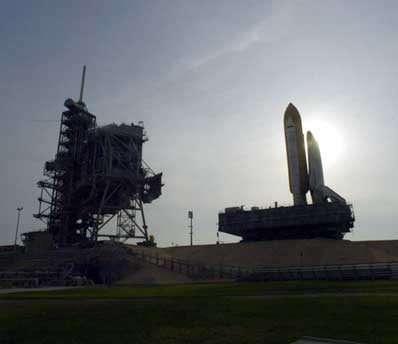 Endeavour heads to launch pad 39A. Photo: NASA



With a top speed of 0.9 mph, an Apollo-era transporter moved the shuttle vehicle and mobile launch platform the 3.5 miles to the oceanside pad. The trek began at 2:57 a.m. and was completed at 9:21 a.m. EDT.

Although NASA is keeping Endeavour's exact launch time a secret for security reasons, the space agency says the shuttle will lift off some time between 4 and 8 p.m. EDT on May 30. The precise launch window will be revealed 24 hours in advance.

The shuttle will carry the Expedition Five crew of commander Valeri Korzun, flight engineer Sergei Treschev and NASA astronaut Peggy Whitson to the orbiting station. The current station crew -- Expedition Four commander Yuri Onufrienko and astronauts Dan Bursch and Carl Walz -- will ride home with Endeavour after six months in space.
| | |
| --- | --- |
| | The shuttle arrives at the launch for the May 30 liftoff. Photo: NASA |
Veteran shuttle skipper Ken Cockrell will command Endeavour's flight. The rest of the orbiter crew includes rookie Paul Lockhart and mission specialists Franklin Chang-Diaz and Philippe Perrin.

The Italian-built Leonardo cargo module is slated to be installed into the shuttle's payload bay Wednesday. It will be attached to the station the day after docking, allowing the astronauts to transfer supplies and new experiments into the outpost. The module will then be brought home by the shuttle.

Endeavour will also deliver the Mobile Base System for the station's Canadarm2 robotic crane. Two spacewalks by Chang-Diaz and Perrin will be needed to hook up the base to the S0 truss structure and its flat-car launched on the last shuttle flight. The mobile base will allow the station's arm to travel the length of the outpost's eventual 356-foot long truss backbone.

A third spacewalk is also planned to replace a faulty joint on the arm.

After 12 days aloft, Endeavour is scheduled to land at Kennedy Space Center on June 11.