Atlantis roars into orbit
BY WILLIAM HARWOOD
STORY WRITTEN FOR CBS NEWS "SPACE PLACE" & USED WITH PERMISSION
Posted: April 8, 2002
Updated: April 9, 2002 (correcting builder of mobile transporter)



| | |
| --- | --- |
| | Atlantis lifts off from pad 39B on its 11-day space station construction mission. Photo: NASA |
Barely beating the clock, the space shuttle Atlantis rocketed away through a breezy afternoon sky today and set off on a four-spacewalk flight to attach a $790 million truss to the international space station that eventually will span the length of a football field.

Running four days late because of a cracked launch pad hydrogen vent line, Atlantis roared to life and vaulted away from pad 39B at 4:44:19 p.m., nearly five minutes late because of a hastily corrected synchronization glitch with countdown control equipment on the ground.

As it was, Atlantis lifted off with just 11 seconds left in its launch window.

At the moment of liftoff, the station was sailing 220 miles above the North Atlantic Ocean, passing almost directly over the launch pad a few minutes before Atlantis took off.

But it will take commander Michael Bloomfield and his six crewmates - pilot Stephen Frick, flight engineer Ellen Ochoa and spacewalkers Steven Smith, Rex Walheim, Jerry Ross and Lee Morin - two days to catch up with their quarry after lapping the station later tonight. Docking is expected around noon Wednesday.

Ross, 54, set a new space record with Atlantis' ground-shaking liftoff, becoming the first human in history to blast off on seven space flights. The achievement came 41 years after cosmonaut Yury Gagarin became the first human in space and 21 years after the first shuttle flight April 12, 1981.

"He's a hard worker," said 71-year-old astronaut John Young, an Apollo moonwalker and shuttle commander who was the first man to achieve the six-flight milestone. "He's been in this business a long time, he's done all these (spacewalks) and he's a great fellow.

"I think it's just great that people get to fly in space more than we used to," Young, still an active astronaut, told CBS Radio. "I'd like to go back, but if I did it'd be very dangerous because my wife said if I went back up there she'd kill me."

Atlantis made the climb to space using the power of three upgraded block 2 main engines, the end result of a billion-dollar post-Challenger program to improve the safety and reliability of the hydrogen-fueled powerplants.

Built by Boeing's Rocketdyne division, the block 2 engines feature the addition of high pressure hydrogen fuel pumps built by Pratt & Whitney of West Palm Beach, Fla.

Working in concert with Pratt & Whitney oxygen pumps already in service, along with a host of other improvements, the block 2 engines reduce the odds of a catastrophic shuttle failure from 1-in-438 to 1-in-483.

"These pumps are fantastic," said shuttle program manager Ronald Dittemore. "We've basically eliminated the welding inside the pump that we could not inspect. We've made the pump beefier, more robust. And because of that, we've accepted about a 300-pound weight increase per pump. But we wanted to do that, intentionally sacrificing some performance, to improve our safety."

The engines weigh just 7,748 pounds each, yet generate 490,847 pounds of thrust each during normal operation. One of the new hydrogen pumps alone generates as much horsepower as 28 locomotives, or 70 horsepower per pound. An aircraft jet engine, in contrast, generates about three horsepower per pound.

"Some of the failures we have seen on this new pump (during testing) would have taken out a pump and an engine in the past," Dittemore said. "With this new pump, it just keeps on chugging. It'll run to MECO (main engine cutoff) or it'll have a graceful shutdown. So just subjectively, it's a tremendous improvement in our safety."

Today's launch was the first using a shuttle equipped with a cluster of three block 2 engines following two earlier flights that successfully tested block 2 engines one at a time. While engineering data is not yet available, all three of Atlantis' engines appeared to work flawlessly during today's climb to space.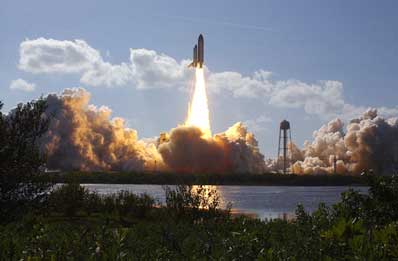 Launch of Atlantis occurred at 4:44 p.m. EDT. Photo: NASA



The goal of the 109th shuttle mission is to attach the $600 million S0 (pronounced S-zero) truss to the international space station. S0 is the first of nine truss elements that will be bolted together over the next two years to form the structural backbone of the station.

Four huge sets of solar arrays eventually will be attached to the truss, two at each end, providing the power needed to operate the completed station's research gear and life support systems.

S0 will anchor the entire truss, attaching directly to the top of the U.S. Destiny laboratory module. Power lines from the outboard solar arrays will feed through S0 into the station, as will ammonia coolant lines leading to and from the outboard radiators that will keep the station's electrical systems from overheating.

S0 is equipped with four computers, two laser ring gyros and GPS antennas for on-board navigation, 664 feet of ammonia coolant lines, 10 miles of electrical cabling, 971 electrical connectors and complex power control and conditioning equipment.

The 44-foot-long S0 truss also is equipped with a $190 million TRW-built rail car that will roll along tracks running the length of the completed truss, carrying the station's Canadarm 2 robotic crane to various work sites as required to install new equipment or to help spacewalking astronauts make repairs.

"Once we add the mobile berthing system to the mobile transporter on the next flight (in early June), it will allow the robotic arm to travel the length of the truss," said space station flight director Robert Castle. "So we can actually grapple things, roll along the length of the truss and install things at the end of it."

In fact, the solar array wings - all two acres of them - and other critical outboard power and cooling systems cannot be installed without using the Canadarm2 on its mobile platform. And the first step on the road to completing the station's initial assembly is installation of the S0 truss.

"The truss element has been called a spacewalker's playground and we've nicknamed the underwater mockup of it the 'jungle gym,'" said Dina Barclay, lead spacewalk officer at the Johnson Space Center. "It's 44 feet long, it has more than 150 astronaut hand holds, almost 50 sockets for foot restraints, has more than 1,000 spacewalk actuated connections and has more than 50 (electronics) boxes that can be changed out.

"The truss plays a vital role in the space station's future," she added, "because future truss segments will attach to either side of it and all the avionics and ammonia cooling that go up to and come in from the other truss segments go through S0 for power distribution and cooling for the modules, which is where the astronauts live and work.

"The mobile transporter also plays a key role," Barclay said. "On the next mission (in late May), the next part of the mobile servicing system will come up and it will mount on top of the mobile transporter to give Canadarm2 a mobile platform to finish the space station assembly."

If all goes well, Atlantis will dock with the station Wednesday. Standing by to welcome Bloomfield and company aboard will be Expedition 4 commander Yury Onufrienko, Carl Walz and Daniel Bursch. Launched Dec. 5, the Expedition 4 crew plans to remain in orbit through early June.

Ochoa, operating the station's robot arm, plans to attach S0 to Destiny Thursday morning, using a claw-like device on the lab module to temporarily hold it in place. Smith and Walheim then will stage a planned six-and-a-half-hour spacewalk to firmly lock two of the truss' structural attachment bipods in place.

Ross and Morin, both grandfathers, will complete S0's structural attachment during the mission's second spacewalk Saturday afternoon. Two more spacewalks are planned to prepare the Canadarm2 space crane for its eventual attachment to the mobile transporter and to perform "get-ahead" tasks for upcoming assembly missions.

"I can't verify it, but I believe this will be the first time two grandfathers will perform a spacewalk together," Bloomfield joked before launch. "Steve Smith likes to refer to them as the 'Silver Team.'"

If all goes well, Atlantis will return to Earth on April 19.