Leak repaired for Monday's launch of shuttle Atlantis
BY SPACEFLIGHT NOW
Posted: April 7, 2002;
Updated: 4:40 p.m. EDT with actual launch time


With the leaky launch pad hydrogen vent line successfully repaired, NASA is gearing up for another attempt to get shuttle Atlantis off the ground to deliver the keystone truss segment to the International Space Station.

Liftoff is targeted for 4:39:31 p.m. EDT (2039:31 GMT) Monday afternoon. The available launch window extends nearly 10 minutes from 4:34:31 p.m. EDT to 4:44:30 p.m. EDT.

Thursday's countdown was aborted about 8 hours before liftoff as Atlantis' external fuel tank was being loaded with a half-million gallons of super-cold liquid hydrogen and liquid oxygen propellants. About an hour into the three-hour fueling processing, a significant leak developed on the hydrogen vent line that runs along the side of the mobile launcher platform upon which the shuttle sits.

Engineers later determined a weld around the circumference of the line had given way, allowing gaseous hydrogen to escape. The leak created a dramatic scene of vapors billowing from the side of the launch pad.

Late Friday and early Saturday workers completed the job of welding a clamshell-like sleeve over the vent line's leak. The two-piece aluminum sleeve is about 10 inches wide; the vent line is 16 inches in diameter.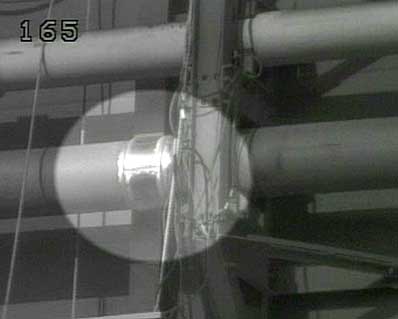 View from launch pad camera shows the sleeve installed over the leak on the vent line. Photo: NASA TV/Spaceflight Now



With the fix in place, technicians performed a series of tests on Saturday to ensure the leak was plugged. The checks including a dye penetrant test, pumping liquid nitrogen into the line for a cold shock test, as well as a pressure leak and decay tests.

"All of those tests and leak checks were successful and we are confident that we have a good vent line," said NASA Test Director Pete Nickolenko. "All of our flight and ground systems are now looking good and our team is ready to support launch on Monday."

At launch pad 39B today, the three power-generating fuel cells beneath Atlantis' payload bay are being serviced to top off their supplies of hydrogen and oxygen reactants, which were originally loaded aboard the ship last week. The cryogenics naturally boil away, so they have to be replenished to ensure the shuttle has enough onboard to generate electricity and drinking water for the full 11-day mission.

The massive rotating service structure, which provides the primary access and weather protection for Atlantis while at the launch pad, will be swung away from the shuttle at about 10 p.m. EDT. Overnight the pad will be secured and cleared of all workers in preparation for fueling Atlantis.

Mission managers will convene a meeting at 6:30 a.m. to review the progress of work and receive a weather briefing before giving approval to start loading the shuttle's external tank, which could start by 7:45 a.m.

The weather forecast for Kennedy Space Center on Monday is somewhat iffy with a 40 percent chance high winds will prohibit launch.

"High pressure off the east coast of the U.S. combined with low pressure in Texas on Monday causes a tight pressure gradient in Florida. The result is gusty winds expected at KSC," said Launch Weather Officer Kathy Winters.

The launch time forecast calls for scattered cumulus clouds at 3,500 feet, southeasterly winds from 120 degrees at 22 peaking to 30 knots at the pad, visibility of 7 miles, a temperature of 73 degrees F and relative humidity of 59 percent.

The winds are mainly a concern for violating the headwind limits at the KSC shuttle runway where Atlantis could return in the event of a major problem during the first minutes of flight.

Should the launch slip to Tuesday or Wednesday, Winters predicts a 20 percent chance of a low cloud ceiling scrubbing liftoff on either day.

Weather at abort landing sites shouldn't be a factor on Monday or Tuesday, with at least one site expected to have acceptable conditions. However, all three Transoceanic Abort Landing sites are forecast to have poor weather on Wednesday.

The seven Atlantis astronauts remained at the Cape over the weekend, NASA said. Their activities have been mostly a secret, shielded from the public's eye under the agency's new security policy.