One shuttle mission ends as next rolls to launch pad
BY SPACEFLIGHT NOW
Posted: March 12, 2002

| | |
| --- | --- |
| | Atlantis prepares to leave the Vehicle Assembly Building on Tuesday. Photo: NASA |
Four hours after space shuttle Columbia swooped out of the night sky and touched down on Kennedy Space Center's runway Tuesday to conclude its mission to rejuvenate the Hubble Space Telescope, sistership Atlantis began rolling to launch pad 39B for blastoff next month.

Riding atop a mobile launching platform, Atlantis departed the 52-story Vehicle Assembly Building just after 8:30 a.m. EST for the 4.2-mile trip the pad at a top speed of one-mile per hour.

Atlantis is scheduled for launch on the afternoon of April 4 on mission STS-110, which will install the S0 truss to the International Space Station.

The truss will serve as the central portion of the framework that eventually will hold the power and cooling systems needed for future international research laboratories at the orbiting outpost.

The station's Canadarm2 robotic arm will be used exclusively to hoist the 13-ton truss from Atlantis' payload bay for attachment to the station's U.S. Destiny laboratory module.

However, the arm experienced some trouble with its wrist roll joint last week. The arm needs to be working properly before Atlantis can be launched.

"The station program continues to evaluate both software and procedural work-arounds to resolve the robotic arm brake problem," Linda Ham, a senior shuttle manager at the Johnson Space Center said Tuesday.

"Both the shuttle and station programs are continuing to work to support that launch date (April 4). If we need to slip, of course we will accommodate whatever it takes for the station to get the robotic problem resolved."

The S0 truss will be the first major U.S. segment launched to the station since the addition of the Quest airlock last July.

Four spacewalks by Atlantis astronauts are planned for the S0 truss construction job, all of which will originate from Quest.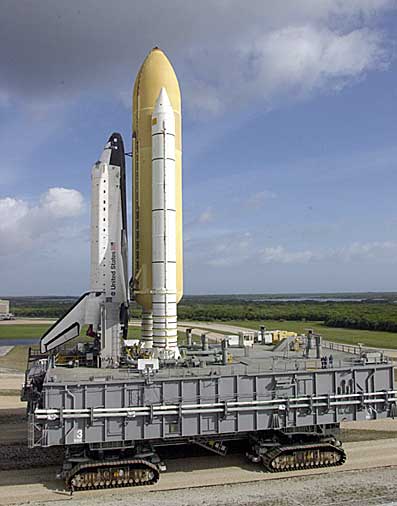 Atlantis prepares to leave the Vehicle Assembly Building on Tuesday. Photo: NASA



Atlantis' crew is led by commander Mike Bloomfield, with rookie pilot Stephen Frick, flight engineer Ellen Ochoa and spacewalkers Jerry Ross, Steve Smith, Lee Morin and Rex Walheim. Ross will be making a record-setting seventh space flight, the most of any astronaut in history.

This will be Atlantis' 25th trip into space and first since a "mini-modification" period. NASA said the ship was powered down for 10 weeks for the maintenance effort that featured 24 modifications to enhance safety and flight performance.

The modifications included extensive wire separation work, installation of a modified wire harness for the monoball that provides the electrical connections between the orbiter and the external tank and a new solid state Modular Memory Unit.

The 11-day mission is scheduled to end with landing on April 15 at Kennedy Space Center.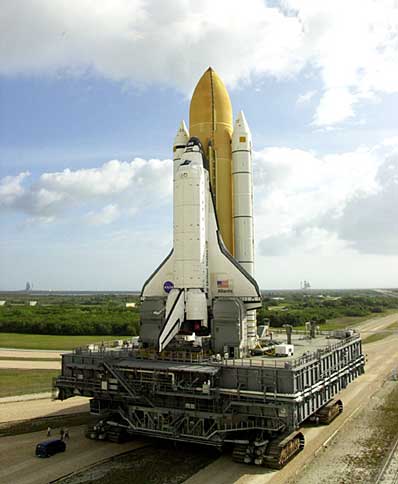 Atlantis heads to launch pad 39B, which is seen in the distance on the left. Photo: NASA