Former station residents glad to be home for holidays
BY SPACEFLIGHT NOW
Posted: December 18, 2001


Fresh off his four-month voyage in space, Expedition Three commander Frank Culbertson said Tuesday he and his two Russian crewmates were happy to be back on Earth and reunited with their families in time for the holidays.

"After a successful and very busy mission, Vladimir, Mikhail and I are extremely glad to be home and with our families again. In light of the significant events that have occurred since our departure in August, we feel even more fortunate to be able to spend the holidays with those we care about most. We know that these past few months have been difficult for many people around the world, including our family and friends. We are happy that the time has arrived for us to be with them while the world faces such difficult challenges," Culbertson said in a written statement released by NASA on Tuesday.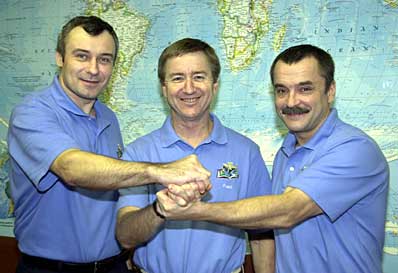 The Expedition Three crew at Kennedy Space Center on Tuesday. From the left: Dezhurov, Culberston and Tyurin. Photo: NASA



Culberston and cosmonauts Vladimir Dezhurov and Mikhail Tyurin were safely returned to Earth Monday when shuttle Endeavour landed at Kennedy Space Center, Florida. All three were able to climb out of the shuttle under their own power despite living in weightlessness since August 10.

"To be able to walk off on your own two feet is a testament to what those guys did on orbit on their exercise program and their determination to come back in great shape," said shuttle commander Dom Gorie.

The three men spent Tuesday at Kennedy Space Center undergoing medical exams. They are slated to fly back to Houston on Wednesday. Following U.S. protocols, Culbertson will move into his home while he begins physical therapy to continue his re-adaptation to gravity.

Dezhurov and Tyurin, as is the Russian custom, will check into crew quarters at Houston's Johnson Space Center where they will remain in quarantine for several days. Both men plan to fly back to Moscow later this month to ring in the new year with their families in Russia.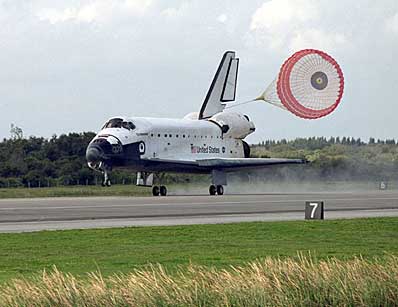 Space shuttle Endeavour touches down on Monday on Runway 15 at Kennedy Space Center. Photo: NASA



In Culbertson's post-flight statement, he offered his thoughts on the benefits of the space station program:

"We believe that the example of international cooperation that we and all others who participated in the International Space Station program have set, will encourage all nations to communicate and work better together for peaceful solutions for the problems that face us here on Earth. Education, technology, and knowledge are far more powerful tools for influencing people to make change than the alternatives we have witnessed recently. It was a privilege for us to serve on the station and an honor to be a part of such a significant international endeavor."




Now showing
For Spaceflight Now+Plus service (subscribers only):



Space shuttle Endeavour concludes the STS-108 mission with landing on Runway 15 at Kennedy Space Center in Florida. This is a full landing clip with live audio.
QuickTime or RealVideo


Ride along with the Endeavour astronauts in this "pilot's point of view" video of the shuttle turning onto final approach, punching through the clouds, the runway appearing the final 5,000 or so feet and continuing to touchdown.
QuickTime or RealVideo


From this camera location on the south end of the Kennedy Space Center Shuttle Landing Facility, Endeavour can be seen dropping out of the sky, touching down and rolling to a stop.
QuickTime or RealVideo


Endeavour's landing at Kennedy Space Center is captured in dramatic fashion by this camera on the north end of Runway 15.
QuickTime or RealVideo



See full listing of video clips.