Discovery launches with next space station resident crew
BY WILLIAM HARWOOD
SPACEFLIGHT NOW
Posted: August 10, 2001


The shuttle Discovery rocketed away from NASA's Florida spaceport today and set off after the international space station, carrying a fresh three-man crew and nearly four tons of supplies and equipment, including yet another sorely needed command-and-control computer.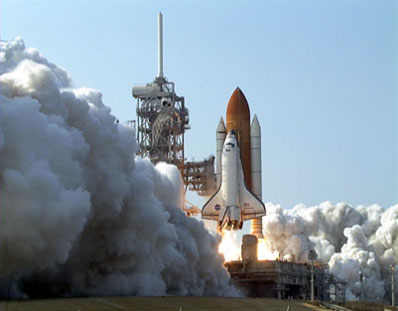 Discovery lifts off from pad 39A on mission STS-105. Photo: NASA-KSC



With commander Scott "Doc" Horowitz and pilot Frederick Sturckow at the controls, Discovery's roared to life at 5:10 p.m. and vaulted away on a trajectory paralleling the East Coast, putting on a dramatic sky show for residents and tourists crowding area roads and beaches.

Liftoff originally was targeted for the middle of Discovery's 10-minute launch window, at the moment Earth's rotation carried pad 39A into the plane of the space station's orbit. But NASA managers opted to launch the ship five minutes early, at the opening of the window, because of concern about approaching clouds.

At the moment of launch, the international space station was passing 240 miles above the equator heading toward Central America. A few minutes later, commander Yury Usachev, James Voss and Susan Helms passed over the Kennedy Space Center where Discovery's exhaust plume lingered in the afternoon sunlight.

Joining Horowitz and Sturckow on Discovery's flight deck were rookie astronaut Patrick Forrester and flight engineer Daniel Barry. Seated on the shuttle's lower deck were Expedition Three commander Frank Culbertson and Russian flight engineers Vladimir Dezhurov and Mikhail Tyurin.

If all goes well, Horowitz will guide Discovery to a gentle docking with the space station Sunday afternoon.

Because of the ever-present possibility of a problem of some sort that could force a shuttle crew to make an emergency departure, the first item on the agenda is for Culbertson's crew to move aboard the station and for Usachev and his Expedition Two crewmates to move into the shuttle.

For that to happen, the astronauts first must move the new crew's custom-fitted Soyuz seat liners and entry spacesuits from Discovery to the station to permit Culbertson's crew to use the station's Russian landing craft if an emergency develops after the shuttle departs.

Once the seat liners and suits are transferred - and that should be complete by midday Sunday - the Expedition Three crew will begin sleeping aboard the station while Usachev, Helms and Voss take up residence aboard Discovery.

The second major objective of the 106th shuttle mission is to transfer nearly four tons of fresh food, clothing and equipment to the station, including a new command-and-control computer. Another 1,500 pounds of gear and experiment hardware will be mounted on the station's hull during two spacewalks next week by Barry and Forrester.

Three C&C computers control all aspects of station operation, but only one is actually in charge at any given moment. One machine is kept in backup mode, ready to take over if necessary, while the third is kept idling in standby.

Usachev, Voss and Helms have encountered numerous computer problems during their stay in space, virtually all of them related to hard drive failures. The latest such incident occurred overnight Tuesday when C&C-1, which was operating in backup mode, was unable to access its hard drive.

C&C-3 was in charge at the time of the incident and it remains the station's designated primary computer. C&C-2 was switched from standby to backup when C&C-1 suffered its hard drive problem. C&C-1 remains operational, but it can only run software that was loaded into its memory at the time the hard drive failed.

A spare C&C computer is on board Discovery and it presumably will be wired into the C&C-1 slot as soon as possible. NASA plans to deliver solid-state memory devices to the station on the next shuttle mission, allowing the on-board crew to replace the troublesome hard drives altogether.

Next Thursday and Saturday, Barry and Forrester plan to move 1,500 pounds of equipment from Discovery's cargo bay to the station's exterior. The major item is installation of an ammonia coolant replenishment system to enable future crews to recover from cooling system leaks.

Ammonia is used to carry heat generated by the station's electronics to huge radiators mounted on the truss that supports the lab's main solar arrays.

Barry and Forrester also plan to install two materials science experiments on the station's hull and to attach power cables needed after installation of a new truss section scheduled for delivery early next year.

If all goes well, Discovery will undock from the station on Aug. 20, bringing Usachev, Helms and Voss back to Earth on Aug. 22 to wrap up a 167-day five-hour stay in space.

With the shuttle's departure, Culbertson, Dezhurov and Tyurin will settle in for a busy four months in space. A Russian Progress supply ship is scheduled to arrive Aug. 23 and a new Russian docking module is scheduled for launch Sept. 15. It will arrive two days later.

Wearing Russian spacesuits, Dezhurov and Tyurin will stage two spacewalks Oct. 8 and 14 to hook up the new module. A third spacewalk, by Dezhurov and Culbertson, is targeted for Nov. 5 to activate Russian experiment hardware.

A fresh Soyuz landing vehicle will be delivered by two Russians and French flier Claudie Haignere on Oct. 23. The Soyuz "taxi" crew will return to Earth Oct. 31 aboard the Soyuz vehicle currently attached to the station.

Another Russian supply ship is scheduled to arrive Nov. 15 and if all goes well, the shuttle Endeavour - the Expedition Three crew's ride home - will blast off Nov. 29.