Shuttle launch pads filled for summer station missions
BY SPACEFLIGHT NOW
Posted: July 2, 2001


For the first time in 18 months both space shuttle launch pads at Kennedy Space Center are occupied following Monday's rollout of Discovery in preparation for blastoff in August on a mission to exchange the resident crew aboard the international space station. Discovery joins sistership Atlantis, which was rolled out June 21.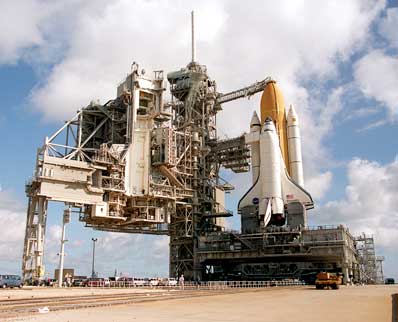 Discovery arrives at pad 39A for liftoff in August on mission STS-105. Photo: NASA-KSC



Riding atop an Apollo-era tracked transporter, Discovery began the 3.5-mile trip from the 52-story Vehicle Assembly Building at 1:28 a.m. EDT and arrived at pad 39A at 7:42 a.m. EDT.

Just over a mile north of Discovery's pad is where Atlantis sits atop pad 39B being readied for liftoff July 12 to deliver a $164 million airlock to the space station.

The rare sight of two shuttles on the KSC pads hasn't been seen since December 1999, and has occurred only 15 previous times in the program's 20-year history.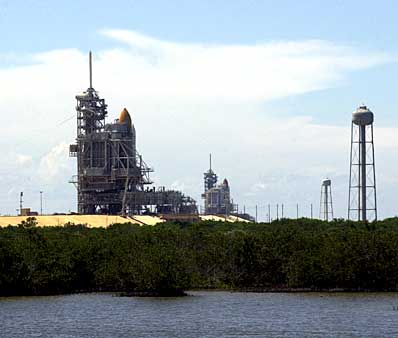 Discovery sits atop pad 39A (left) with Atlantis on pad 39B (right). Photo: NASA-KSC



Discovery's launch date remains up in the air. NASA has tentatively penciled in August 5 as the earliest the mission might take off, but the space agency is expected to slip the date back a few more days to around August 9 to give more spacing between the flights of Atlantis and Discovery.

While making its 30th flight into space, Discovery will play taxi by launching the Expedition Three crew -- commander Frank Culbertson and Russian cosmonauts Mikhail Turin and Vladimir Dezhurov -- and returning to Earth Expedition Two -- commander Yuri Usachev and astronauts Jim Voss and Susan Helms.

Discovery is slated to spend 12 days aloft and carry the Italian-built Leonardo cargo module that will deliver equipment, supplies and experiments to the space station. Discovery will be commanded by Scott Horowitz with pilot Rick Sturckow. Mission specialists Daniel Barry and Patrick Forrester plan to conduct two spacewalks while docked to the station.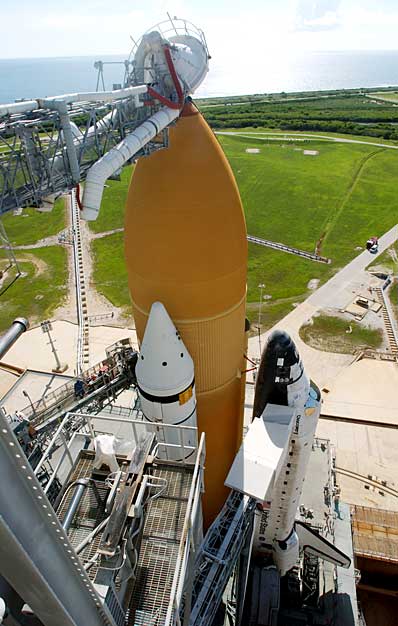 A view of Discovery from high up on the Fixed Service Structure. Photo: NASA-KSC