Atlantis returns home after delivering station airlock
BY WILLIAM HARWOOD
SPACEFLIGHT NOW
Posted: July 24, 2001


Blocked by bad weather overnight Monday, the shuttle Atlantis glided back to Earth late Tuesday, dropping out of a muggy Florida sky into the glare of xenon spotlights to complete a virtually flawless space station assembly mission.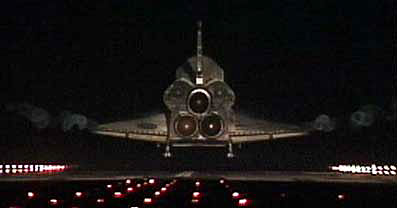 Atlantis glides to smooth landing at Kennedy Space Center. Photo: NASA TV/Spaceflight Now



With commander Steven Lindsey at the controls, Atlantis swooped to a high-speed touchdown on runway 15 at the Kennedy Space Center at 11:38:55 p.m. to wrap up a 13-day voyage spanning 5.3 million miles and 200 complete orbits since blastoff July 12.

"Wheels stopped, Houston," Lindsey reported as the shuttle rolled to a halt.

"Atlantis, Houston, roger. It looked like an outstanding landing after an outstanding mission," replied astronaut Gus Loria from mission control. "Well done, Steve, to you and your crew."

Lindsey, pilot Charles Hobaugh, flight engineer Janet Kavandi, Michael Gernhardt and James Reilly plan to take a day off in Florida Wednesday before flying back to the Johnson Space Center in Houston Thursday afternoon.

Atlantis' flight, the 105th in shuttle history, was the 10th devoted to assembly of the international space station. The shuttle carried a $164 million airlock module into orbit that was installed and outfitted during three spacewalks by Gernhardt and Reilly.

Airlock installation marked the completion of what NASA calls Phase Two of space station assembly. With the airlock in place, station crews now can stage assembly, maintenance and repair spacewalks using U.S. or Russian spacesuits when the space shuttle is not present.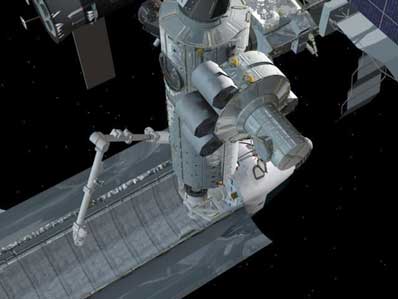 Illustration of the airlock and its high-pressure gas tanks installed to the station following the successful Atlantis mission. Image: NASA



Despite a few technical problems along the way, "I couldn't be more pleased with the way this mission went," said shuttle program manager Ronald Dittemore. "Sometimes I have to pinch myself and remind myself that I'm not dreaming, things have been going so well for us. It was a great mission and we accomplished just what we intended to do."

This was the 18th night landing in shuttle history and the 13th at the Kennedy Space Center. Unofficial mission duration was 12 days 18 hours 34 minutes and 56 seconds.

Twenty-three U.S. astronauts, two Russians and one Canadian have now spent 155 hours and 39 minutes carrying out 24 space station assembly spacewalks since construction began in November 1998. The station now measures roughly 170 feet long and masses 130 tons.

One year ago, Dittemore said, "we set a goal for ourselves that within 12 months we wanted to build the station to the point of having the airlock up and functioning. And here we are today having completed that.

"A year ago, we knew we certainly risked having some challenges along the way," he said. "We would never have dreamed it would have gone so well. We thought we would have other learning experiences, but we haven't. I'm very proud of the team."

Next up for NASA is launch of the shuttle Discovery on Aug. 9. The goal of that mission is to deliver supplies to the space station, along with its next full-time crew: Expedition Three commander Frank Culbertson, Vladimir Dezhurov and Mikhail Turin.

The station's current crew - Expedition Two commander Yury Usachev, Susan Helms and James Voss - will return to Earth aboard Discovery around Aug. 21 to wrap up a 166-day mission.

"Discovery is on the launch pad, its processing is going well, we feel comfortable about pressing toward Aug. 9," Dittemore said. "We'll have our flight readiness review Aug. 1 and I can tell you we're not working any significant problems. So I think that's going to go smoothly and we're in good shape for that next launch."






Now showing
Recent additions to our Mission Theater service (subscribers only):


Space shuttle Atlantis glides to a nighttime touchdown on Runway 15 at the Kennedy Space Center -- as seen live on NASA TV.
PLAY (923k, 1 min 44 sec QuickTime file)

An infrared camera tracks space shuttle Atlantis as it touches down at the Kennedy Space Center.
PLAY (352k, 1 min 1 sec QuickTime file)

Space shuttle commander Steve Lindsey provides a tour of the space station's newly installed airlock, Quest.
PLAY (3.1MB, 3 min 12 sec QuickTime file)

The 40-minute operation to hoist one of the airlock's oxygen tanks into position is squeezed into a couple of minutes in this timelapse video clip.
PLAY (1MB, 2 min 16 sec QuickTime file)


See our full listing of video clips.