Rain-soaked tiles delay next shuttle launch a bit more
BY SPACEFLIGHT NOW
Posted: May 24, 2001


NASA said Thursday that shuttle Atlantis will be ready for launch no sooner than June 20 because of continuing work to dry moisture in 600 tiles on the belly of spaceship to ensure they don't fall off during flight.

Atlantis will carry a $164 million airlock that will be mounted to the international space station to serve as the doorway for American and Russian spacewalks from the outpost.

Atlantis remains inside its hangar at Kennedy Space Center where workers are using banks of powerful heating lamps to "bake" the rainwater absorbed on the leading edge of the right wing and left-hand landing gear door.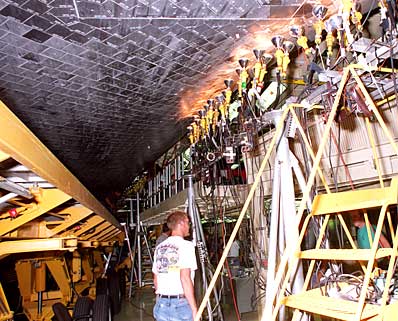 Banks of lights dry tiles on Atlantis in the Orbiter Processing Facility hangar this week. The shuttle sits on its 76-wheel transporter in preparation for rollover to the Vehicle Assembly Building. Photo: NASA-KSC



The shuttle was dowsed by four days of storms while being trapped outdoors after landing at Edwards Air Force Base in California on February 20.

Once the shuttle was returned to Florida, technicians went to work drying the tiles. Subsequent measurements indicated the water was gone. But inspections last week revealed about 600 of the approximate 20,000 heat-protection tiles covering Atlantis still had some moisture seeping through.

NASA won't allow the shuttle to fly with wet tiles because the moisture could freeze in space, causing the tiles crack or fall off the ship. If enough tiles were lost the shuttle could burn up on reentry into Earth's atmosphere where temperatures reach 3,000 degrees F.

The game plan announced Thursday calls for drying efforts to continue into the weekend. Atlantis would then make the milestone move from its hangar into the Vehicle Assembly Building on Tuesday for mating with an external fuel tank and solid rocket boosters atop a mobile platform. Rollout to the seaside launch pad 39B would follow on June 2.

On Wednesday, NASA said Atlantis could make the quarter-mile trip to the VAB on Sunday. But the space agency has since given up on that plan in favor of keeping the shuttle in its hangar two additional days. A Tuesday rollover also will give most KSC workers Memorial Day off on Monday.

All the tile-drying work means launch of Atlantis on the tenth American mission to the international space station will slip six days later than originally envisioned. Liftoff is now targeted for June 20 during a window of 1:40 to 1:50 p.m. EDT.

However, a June 20 launch opportunity assumes a commercial Lockheed Martin Atlas 2AS rocket blasts off as scheduled on June 19 from neighboring Cape Canaveral Air Force Station.

Both the shuttle and Atlas use the Air Force-controlled Eastern Range that provides tracking, communications and safety services to all Space Coast launches. The Range, however, can only support one launch every 24 hours.

The Atlas has a second launch attempt available on June 20, and should that backup opportunity be used the shuttle would automatically slip to June 21.