Wet tiles delay next month's shuttle launch by a few days
BY SPACEFLIGHT NOW
Posted: May 23, 2001


Atlantis won't make its appointed launch date next month after moisture was found seeping from 500 black tiles that protect the shuttle from the searing heat of reentry, requiring extra work to dry the residual rainwater that pelted the ship following landing in February.


| | |
| --- | --- |
| | Atlantis' tile-covered belly as seen from the space station astronauts after undocking in February. The shuttle was drench by storms a few days later after landing in California. Photo: NASA |
Originally planned for liftoff June 14 from Kennedy Space Center, Atlantis' 11-day mission to haul an American-made airlock to the international space station has been pushed back to June 16 at the earliest.

The trouble stems from four days of storms that hit Southern California in February shortly after Atlantis touched down at Edwards Air Force Base to conclude the STS-98 mission that delivered the U.S. Destiny laboratory module to the station. Landing was planned for KSC but was diverted by bad weather.

Unable to be moved into a hangar for shelter, the shuttle remained unprotected and got thoroughly soaked from the deluge in the Mojave Desert.

"It just happened when we weren't in the hangar yet and couldn't get in the hangar right away," Johnson Space Center spokesman James Hartsfield explained. "So we got a lot of moisture on the orbiter, which is really unusual after landing for that to happen to us."
| | |
| --- | --- |
| | Riding piggyback on the 747, Atlantis prepares to depart Edwards bound for Florida. Photo: NASA |
When Atlantis was returned to its Florida processing hangar after a cross-country ferry flight atop a modified Boeing 747 carrier jet, technicians performed the routine steps to "bake out" the tiles by warming them in an effort to evaporate the moisture.

"We are dealing with pretty unusual circumstances. It is a little outside of our realm of experience in the last 100 flights," said Hartsfield. "We get rained on on the launch pad all the time. But it is different when we get rained on after landing because your waterproofing is gone."

NASA doesn't want the shuttle to launch with wet tiles because it could have deadly consequences when the ship plunges into the atmosphere on the trek back to Earth.

"When you get into orbit the (wet) tiles can freeze and you run the risk they will debond," Kennedy Space Center spokesman Joel Wells said. "If you get enough of them loose in one area you run the risk of compromising the thermal protection system."

The shuttle is covered with about 20,000 tiles that protect the $2 billion vehicle and astronaut crew from the 3,000-degree F temperatures experienced during reentry.

Workers believed Atlantis' tiles had dried out after the "baking" earlier this spring. But last week, in preparation for shuttle's rollout from its hangar, workers rechecked Atlantis and found about 500 tiles on the leading edge of the right wing and the left-hand landing gear door were wet again.

"Inpsections noted what appeared was some moisture still seeping out of the tiles," Hartsfield said.

Engineers aren't entirely sure where the moisture went after the initial round of drying. NASA spokesman Joel Wells said it is possible some of the water receded when heated only to return once the temperatures cooled off.

Banks of 250-watt heat lamps have been brought into Atlantis' hangar this week in an effort finish the job of drying the moisture.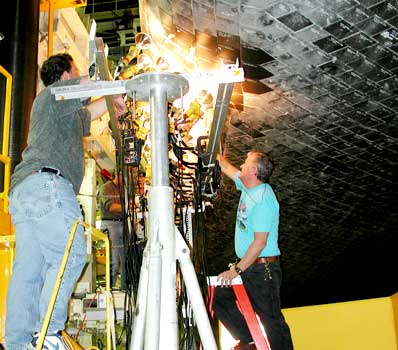 Banks of lights dry tiles on Atlantis in the Orbiter Processing Facility hangar on Wednesday. Photo: NASA-KSC



The drying must be accomplished while the shuttle is in the hangar, which has forced NASA to delay Atlantis' rollover to the 52-story Vehicle Assembly Building for attachment with its external fuel tank and twin solid rocket boosters. That move had been planned for Tuesday night.

When Atlantis can make the quarter-mile trip to the VAB remains unclear.

"It is just going to take some time to dry," Hartsfield said. "It is an inexact science as just how long it is going to get them dried out because this isn't something we have had to deal with a lot. We are going to take it day by day and look at how well they are drying out."

For now, NASA is hoping Atlantis can be moved on Sunday. After about five days in the VAB, the fully assembled shuttle vehicle would then take the 4.2-mile trek to launch pad 39B atop a mobile platform.
| | |
| --- | --- |
| | Crew patch for Atlantis' upcoming STS-104 mission to deliver the airlock to the international space station. Photo: NASA |
The shuttle program has set June 16 as a place holder date, but a firm launch day won't be established until it is known when Atlantis can leave its hangar. A June 16 launch attempt would feature a window of 3:17 to 3:27 p.m. EDT.

In any case, officials expect the launch delay to be on the order of only a few days.

"It's not going to be a week's delay," Hartsfield said.

When rescheduling the launch the other factor NASA will have to contend with is the planned June 19 flight of a Lockheed Martin Atlas 2AS rocket carrying a mobile communications satellite for New ICO from nearby Cape Canaveral Air Force Station.

Both the shuttle and Atlas use the Air Force-controlled Eastern Range tracking and communications network, which can only support one launch every 24 hours. With the shuttle launching in the mid-afternoon and Atlas due to liftoff at 12:41 a.m. EDT on June 19th, Atlantis would have to fly by June 17 or else wait until after the unmanned rocket's Range reservation.

The Atlas would be given two launch attempts before having to relinquishing the Range back to the shuttle for liftoff on June 21. However, if the Atlas launched on-time the Range could support Atlantis as soon as June 20.