Endeavour back on Earth, albeit 3,000 miles from home
BY WILLIAM HARWOOD
SPACEFLIGHT NOW
Posted: May 1, 2001
| | |
| --- | --- |
| | Endeavour rolls on final approach for landing. Photo: NASA TV/Spaceflight Now |
Diverted by bad weather in Florida, the Endeavour astronauts glided to a smooth California landing today, leaving the repaired international space station behind in orbit and setting the stage for a milestone mission in June to complete the lab's initial assembly.

With commander Kent Rominger and pilot Jeffrey Ashby at the controls, the black-and-white spaceplane crossed the California coastline above Los Angeles, descending steeply as it streaked toward Edwards Air Force Base to the northeast.

Guiding the shuttle through a steep right overhead turn, Rominger lined up on runway 22, Ashby dropped the ship's landing gear and Endeavour floated to a tire-smoking touchdown at 12:10:42 p.m. EDT.

"Houston, Endeavour, wheels stopped," Rominger radioed mission controllers.

"And Endeavour, Houston, copy wheels stopped," replied astronaut Scott Altman in Houston. "Welcome back after a tremendously successful mission taking the (space station's Canadian robot) arm to space."

"Thank you, Houston, it's great to be back. And we want to express our gratitude to all the folks on the ground who made this mission pull off like it did."
| | |
| --- | --- |
| | Endeavour touches down at Edwards Air Force Base in California. Photo: NASA TV/Spaceflight Now |
The 12-day mission covered 4.9 million miles and 186 complete orbits since blastoff April 19 from the Kennedy Space Center.

NASA managers had hoped to end the 104th shuttle mission in Florida. But high crosswinds, low clouds and rain showers within 30 nautical miles of the Kennedy Space Center forced entry flight director Leroy Cain to divert the crew to California after back-to-back waveoffs on two successive orbits.

The weather at Edwards was ideal and Rominger enjoy a clear sky and light winds as he rolled out on final and descended to the long concrete runway.

Rominger, Ashby, flight engineer John Phillips, Italian astronaut Umberto Guidoni, Russian cosmonaut Yuri Lonchakov and spacewalkers Scott Parazynski and Canadian Chris Hadfield plan to spend the night at Edwards before flying back to the Johnson Space Center early Wednesday.

It will cost NASA some $1 million to ferry Endeavour back to the Kennedy Space Center atop one of the agency's two 747 jumbo jets. It also will add a week or more to the turnaround time needed to ready the ship for its next flight.
| | |
| --- | --- |
| | Endeavour's roll down the runway is slowed by the drag chute. Photo: NASA TV/Spaceflight Now |
But Endeavour is not scheduled to fly again until early October and the time lost with today's diversion to Edwards should have little or no impact.

Next up for NASA is launch of the shuttle Atlantis at 4:23 p.m. on June 14. The goal of that flight is to deliver the station's main airlock, enabling on-board crews to stage spacewalks between shuttle missions.

With the airlock in place, phase two of the space station's initial assembly will be complete and the outpost can be operated from that point forward even if subsequent flights encounter delays.

As such, Atlantis's mission marks a major milestone, one that was enabled by delivery of the Canadarm 2 space crane by Endeavour's crew.

The 57-foot-long robot arm was installed on the Destiny laboratory module April 22 and temporarily wired into the station's power grid by Parazynski and Hadfield during the first of two spacewalks. The job was completed during a second spacewalk.
| | |
| --- | --- |
| | Spacewalker Scott Parazynski as seen by helmet-mounted camera on Chris Hadfield. Photo: NASA TV/Spaceflight Now |
But that night, one of the station's three command-and-control computers suddenly shut down. A second C&C computer was brought on line but later the next morning, it began acting erratically and flight controllers switched to C&C-3.

To everyone's surprise, the third computer experienced hard drive problems promptly shut down, leaving the station without an operational C&C computer.

Robot arm checkout was put on hold while a team of engineers at the Johnson Space Center began an intensive troubleshooting effort to pin down what had gone wrong.

Endeavour originally was scheduled to undock Saturday, but the mission was extended one day to permit additional troubleshooting.

C&C-2 eventually was coaxed back into action. C&C-3's hard drive failed outright, but engineers were able to load critical software directly into DRAM memory to recover additional redundancy. C&C-1 was declared a failure and replaced with a payload control computer that later was loaded with C&C software.

In the meantime, the Soyuz TM-32 spacecraft carrying millionaire space tourist Dennis Tito blasted off Saturday from the Baikonur Cosmodrome in Kazakhstan after a last-minute compromise between NASA and the Russian Space Agency.

The Russians agreed the day before to delay the Soyuz docking by one day if NASA needed an additional day for computer troubleshooting. As it turned out, engineers successfully reactivated all three C&C computers and one of two hard drives, clearing Endeavour to depart Sunday as planned.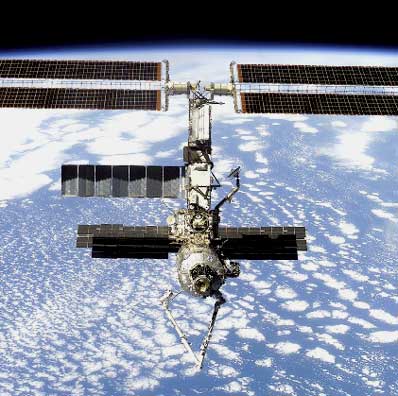 Backdropped against the blue and white Earth and sporting a readily visible new addition in the form of the Canadarm2 robotic arm, the international space station was photographed following shuttle Endeavour's undocking. Photo: NASA



Since then, the C&C-1 computer's hard drive has been successfully reformatted. C&C-2's hard drive is fully operational as well, but C&C-3 continues to operate in DRAM mode. Its hard disk is believed to have suffered a hardware failure of some sort.

Ground engineers have not yet identified the cause of the original failures and are still in the processing of validating software and reloading critical programs into the C&C system. The station astronauts, meanwhile, are taking a bit of time off, showing Tito around and keeping him out of trouble.

"It goes well beyond anything that I have ever dreamed," Tito said in an overnight news conference from orbit. "Living in space is like having a different life, living in a different world.

Professional astronauts may "take this for granted," he said, "but I will tell you, there is nothing like this as an experience."

Tito and his two crewmates are scheduled to undock and return to Earth this weekend to wrap up an eight-day voyage that cost the California businessman $20 million. That works out to roughly $30 a second over the course of his flight.