Space station pioneers back on Earth after historic voyage
BY WILLIAM HARWOOD
SPACEFLIGHT NOW
Posted: 0800 GMT (3:00 a.m. EST), March 21, 2001
Updated: 0915 GMT (4:15 a.m. EST) - adding commander's comments

After a dramatic reversal of fortune, the shuttle Discovery dropped out of orbit and glided to a pre-dawn landing at the Kennedy Space Center today, bringing the international space station's first full-time crew back to Earth after a 141-day space odyssey.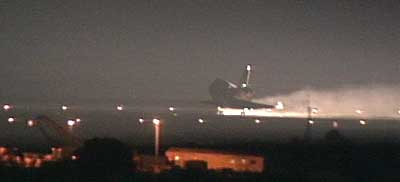 Discovery makes its high-speed touchdown. Spaceflight Now/NASA TV



To ease their return to the unfamiliar - and uncomfortable - tug of Earth's gravity, station commander William Shepherd, Yuri Gidzenko and Sergei Krikalev made the trip home from orbit resting on their backs in recumbent seats bolted to the floor of the shuttle's lower deck.

U.S. and Russian flight surgeons were on hand to help them off the shuttle and into NASA's crew transport vehicle, or CTV.

"The Expedition One crew is doing great, they're up and walking around inside the CTV," shuttle commander James Wetherbee said about an hour-and-a-half after landing. "The docs don't let them walk around too much, they do have medical experiments they have to do and they'll take them back to crew quarters. Everyone's doing a great job."

Even though the station crew members typically exercised one to two hours per day aboard the station, long-term exposure to weightlessness results in bone loss, muscle deconditioning and neuro-vestibular changes requiring significant rehabilitation.

"While we consider this crew to be the best conditioned and the best exercised crew that has flown a long-duration mission, what they have to look forward to is a period of several weeks and months of rest and rehabilitation afterward," said Terry Taddeo, the lead flight surgeon for Shepherd's crew.

For Krikalev and Gidzenko, both veterans of long-duration stays aboard the doomed Mir space station, the sensations associated with returning to Earth were familiar, if no less uncomfortable.

"We will be able to walk on the first day after our arrival, although it's not smart to try to do too much in the first several days," Krikalev told an interviewer Tuesday. "So we will exercise from the first day and as I said, we'll walk maybe a little the first day and a little more the next day."

After reunions with family members, detailed medical exams and a good night's sleep, the station crew will fly back to the Johnson Space Center in Houston on Thursday to continue their rehabilitation.

"The adaptation back to Earth's gravity is not easy after long duration flight," Krikalev told CBS News. "But that's why during flight we exercise almost every day, trying to be in shape in case of an emergency or even a normal landing.
| | |
| --- | --- |
| | The Soyuz rocket launches with Expedition One. NASA |
"I know that for the first several days it's going to be tough on our bodies and our balance," he said. "But in a few days, I hope, we'll be back to a normal life."

Shepherd, Krikalev and Gidzenko began their voyage on Oct. 31, blasting off aboard a Russian Soyuz rocket.

The trio spent 136 days outfitting and activating the international space station before handing the complex over to a fresh crew - commander Yury Usachev, James Voss and Susan Helms - last weekend.

As it turned out, Florida's mercurial weather came close to giving the Expedition One crew one more day in space.

Heavy cloud cover and high winds at the Florida spaceport prompted entry flight director Wayne Hale to forego the shuttle's initial Florida landing opportunity and forecasters were not optimistic about the crew's second and final chance to make it back to the spaceport today.

But throughout the night, as Hale debated whether to divert the crew to Edwards Air Force Base, Calif., conditions in Florida slowly but steadily improved and Discovery ultimately was cleared to begin its descent.

Flying upside down and backward over the central Indian Ocean, Wetherbee fired Discovery's twin braking rockets at 1:26 a.m., slowing the ship by 206 mph and dropping the far side of its orbit deep into the atmosphere over Florida.

After a high-speed glide halfway around the planet, Wetherbee let rookie pilot James Kelly take the stick for a few moments to get his first feel of a shuttle in flight before taking over for final approach and landing on runway 15.

"Houston, Discovery, wheels stopped," Wetherbee reported as the shuttle rolled to a halt.

"Discovery, Houston, roger wheels stopped. Congratulations on your historic missions as the crew of Discovery and Expedition One," replied astronaut Gus Loria from mission control.
| | |
| --- | --- |
| | Discovery swoops into Kennedy Space Center. Photo: Spaceflight Now/NASA TV |
Main gear touchdown occurred at 2:31:41 a.m., closing out a flight spanning 5.3 million miles and 201 complete orbits since blastoff March 8 from nearby pad 39B. Mission duration was 12 days 19 hours 49 minutes and 32 seconds.

Shepherd and his crewmates spent 140 days 23 hours 38 minutes and 56 seconds off the planet, 136 days 16 hours 10 minutes and 20 seconds aboard the space station.

While Shepherd and company remained in the crew transport vehicle after leaving the shuttle, Wetherbee, Kelly, flight engineer Paul Richards and Andrew Thomas climbed out for a brief walk-around inspection before leaving for crew quarters and reunions with family members.

"I couldn't have asked for a better mission, I couldn't have asked for a better crew, they really did a good job and it's nice to be back on the planet," Wetherbee said. "It's also nice to be back in Florida. We almost didn't get here, but we were able to make it and it was a good night to land." For Shepherd's crew, "it's going to be as if you're encountering gravity all over again for the first time," said Taddeo. "It's like being stuck to a big magnet. Everything they used to take for granted is now going to take a lot of effort and in some cases, a lot of thinking about what you're doing.

"They will experience some neuro-vestibular effects. They're going to feel sick when they get off the orbiter, they're going to feel weak. When they try to stand up, they're going to feel light headed. All of the above is going to make it not a pleasant experience, although of course, it will be very exciting for them."

Once back in Texas, "Bill Shepherd will be allowed to return home," Taddeo said. "Once there, we hope to protect his privacy, if not for medical reasons at least to restrict access, let him get familiar with his wife again and his normal life.

"The Russian side has requested that the cosmonauts spend the first two to three nights at JSC crew quarters. While our systems and our thinking about medical pre-flight and post-flight activity is very similar, there are some small differences.

"And one of them is they prefer to keep their crew in a similar quarantine to what they do pre-flight," Taddeo said. "So they'll be in crew quarters for the first day or two, after which they will then be allowed to go over to an apartment that is available to them and their families."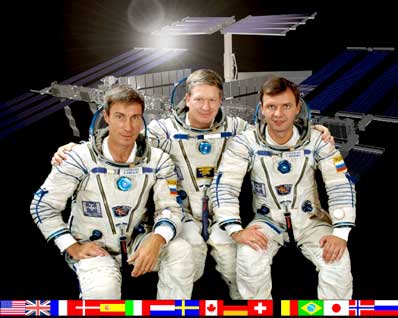 The Expedition One crew. NASA



Gidzenko and Krikalev are tentatively scheduled to fly back to Russia about 10 days after landing. But the rehabilitation process will continue indefinitely.

"The first few days it'll be restricted to mostly assisted walking," Taddeo said. "There are some particular types of stretching we can do where they sort of relax and hold and push and you begin to re-develop all the motor-neuron connections, if you will.

"Then we'll start with some gentle activities in the pool, some cycling, nothing that has any kind of impact you could impart to the individual. Then hopefully, by about the first week, you'd actually start them on a very light weight-training regime.

"And then just simply ramp up from there, depending on the results you're getting, the status of the crew member, etc.," he said. "Theoretically, you could have somebody return, be able to go back to driving their own car ... after about 30 days of rehab."

But it will take two months or more to see "significant improvement," Taddeo said, adding that bone loss might not be fully reversed for an additional few months.