Atlantis's return to Earth foiled again by high winds
BY WILLIAM HARWOOD
SPACEFLIGHT NOW
Posted: February 19, 2001

| | |
| --- | --- |
| | The wind sock at Kennedy Space Center's Shuttle Landing Facility shows the stiff breeze today. Photo: Spaceflight Now/NASA TV |
For the second day in a row, high crosswinds at the Kennedy Space Center forced entry flight director Leroy Cain to order the Atlantis astronauts to delay their homecoming for another 24 hours and to spend a second bonus day in orbit.

Commander Kenneth Cockrell and his four crewmates will have two landing opportunities in Florida on Tuesday and two in California. While the forecast for Edwards Air Force Base in California's Mojave Desert remains somewhat marginal, good conditions are expected in Florida.

If all else fails, the forecast for NASA's "last-resort" shuttle landing field at White Sands, N.M., calls for acceptable conditions.

Already running a day late because of gusty crosswinds, Cockrell and company had hoped to land back at the Florida spaceport at 1:27 p.m. to close out a near-perfect mission to attach the $1.38 billion Destiny laboratory module to the international space station.

But crosswinds gusting as high as 18 knots - 3 knots above NASA's 15-knot safety limit - prompted Cain to order a one-orbit delay in hopes conditions would improve.

They didn't, and at 1:13 p.m., while the astronauts were preparing for a deorbit burn that would have set up a touchdown at 3:03 p.m., astronaut Scott Altman in mission control radioed up the bad news.

"After looking at KSC, we had the forecast for the winds to swing around a little bit and alleviate some of the crosswind concern," Altman reported.

"We haven't seen that movement as much as the model expected. We still have peaks of 19 knots, there are some clouds moving into the area, also a concern with some precip within 30. Bottom line is we're waving off for today. We do have three sites for tomorrow, all of them have 'go' forecasts at this time."

"We'll config for payload bay door opening and get the doors open," Cockrell replied.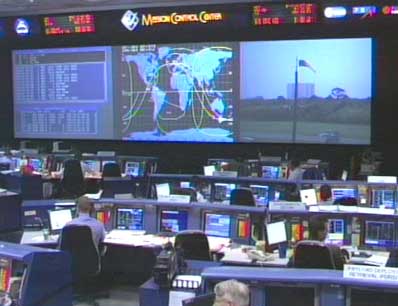 The view inside the Mission Control Center today. Photo: Spaceflight Now/NASA TV



The delays must have a familiar feel to the shuttle skipper. During his most recent previous flight, shuttle mission STS-80 in November/December 1996, he and his crewmates set the current shuttle endurance record of 17 days 15 hours 53 minutes, thanks to a two-day extension because of bad weather at the Kennedy Space Center.

Cockrell and his current crewmates - pilot Mark Polansky, flight engineer Marsha Ivins and spacewalkers Robert Curbeam and Thomas Jones - originally hoped to land Sunday, but back-to-back deorbit opportunities were blocked by high crosswinds in the wake of a frontal system's passage.

Atlantis has enough propellant, electrical power and crew supplies to remain in orbit until Wednesday in a worst-case scenario. But it is not expected to come to that.

The forecast for the Kennedy Space Center on Tuesday calls for scattered clouds at 4,500 feet and winds from 110 degrees at nine knots gusting to 16 knots. That translates into a crosswind component of about 10 knots.

The outlook for Edwards calls for scattered clouds at 5,000 feet, broken cloud decks at 10,000 and 20,000 feet and a chance for a broken deck at 5,000 feet, which would violate NASA's flight rules. Winds will be from 230 degrees at eight knots with gusts to 12.