Weather looks good for Atlantis' homecoming
BY WILLIAM HARWOOD
SPACEFLIGHT NOW
Posted: February 17, 2001


The Atlantis astronauts tested the shuttle's re-entry systems today and packed up for landing Sunday to close out a near-perfect mission to attach a new $1.4 billion laboratory module to the international space station.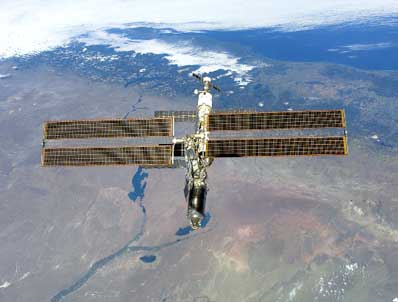 The international space station backdropped against Rio Negro, Argentina following undocking Friday. Photo: NASA



With forecasters predicting windy but acceptable weather, shuttle skipper Kenneth Cockrell plans to guide Atlantis to a touchdown on runway 33 at the Kennedy Space Center around 12:53 p.m. Sunday.

"It's been a great mission, we're ready for deorbit and entry, so is the crew and we look forward to coming in tomorrow," said entry flight director Leroy Cain.

Flying upside down and backward over the Indian Ocean, Cockrell and pilot Mark Polansky plan to fire Atlantis' twin braking rockets at 11:47 a.m. for two minutes and 50 seconds, slowing the ship by 220 mph. Thirty-four minutes later, Atlantis will hit the discernible atmosphere at an altitude of 394,000 feet over the south Pacific Ocean. From that point, the shuttle will be 32 minutes and 4,868 statute miles from touchdown.
| | |
| --- | --- |
| | An aerial view of the shuttle runway at Kennedy Space Center. Photo: NASA-KSC |
Atlantis will approach Florida from the south, streaking high above Cuba and Miami on a steep descent up the coast to the Kennedy Space Center. Cockrell will fly the shuttle through a sweeping right overhead turn to line up on runway 33.

While the weather is generally favorable, Cain said his team will be paying close attention to potentially high crosswinds behind a front expected to move through central Florida Saturday evening. See the latest satellite imagery.

The forecast calls for winds out of the north from 20 degrees at 12 knots with gusts up to 18 knots. For the shuttle runway, that translates into a crosswind component of 13.8 knots.

The crosswind limit for an end-of-mission daylight landing is 15 knots. But if the winds shift around more to the northeast Sunday, the shuttle crew could have problems.

"Essentially, we have a front moving through the KSC area sometime this evening," Cain said Saturday afternoon. "Behind that front, the winds are expected to be a little strong and we'll have to be looking at the direction of those winds to see if we have any crosswind issues.

"If it should come from a little bit more out of the northeast, then we'll be having to fight the crosswind and we'll have to work that. But that's not the forecast at this time."

NASA is not staffing Edwards Air Force Base, Calif., for a Sunday landing attempt. Should landing slip to Monday, however, NASA managers may elect to staff Edwards even though the Mojave Desert forecast calls for a broken deck of clouds at 5,000 feet and high winds.

Cain said the forecast for Florida on Monday calls for good conditions with more of the same on tap Tuesday. The shuttle has enough fuel, electrical power and crew consumables to remain in orbit until Wednesday in a worst-case scenario.

But Cain said he is confident Cockrell and his crewmates will make it back to Florida Sunday or, at worst, Monday.

"We have what I view as essentially three good days at KSC," he said. "We anticipate maybe working the winds a little bit when we come in tomorrow."

Cockrell and his crewmates - Polansky, flight engineer Marsha Ivins and spacewalkers Thomas Jones and Robert Curbeam - accomplished the primary goal of the 102nd shuttle mission Feb. 10, attaching the Destiny lab module to the international space station.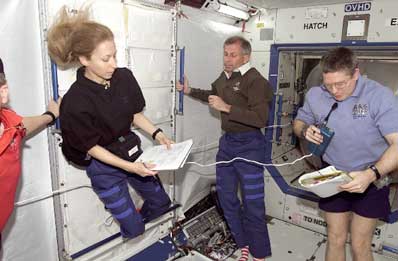 Atlantis astronauts Marsha Ivins and Ken Cockrell and Expedition One commander Bill Shepherd inside the new Destiny laboratory. Photo: NASA



Over the next five days, the astronauts attached a shuttle docking port to Destiny's forward hatch, activated more than a dozen computers in the lab module and fired up the station's gyroscopic stabilizers for the first time.

No major problems were encountered, although engineers are still troubleshooting problems with a vacuum pump in a new carbon dioxide removal system. In the meantime, the Russian Vozdukh CO2 scrubber in the Zvezda command module is carrying the load.