Atlantis move to launch pad delayed by computer glitch
BY WILLIAM HARWOOD
SPACEFLIGHT NOW
Posted: January 2, 2001
Updated: 1710 GMT (12:10 p.m. EST)
Updated: 1900 GMT (02:00 p.m. EST)


The shuttle Atlantis's trip to launch pad 39A today was delayed 24 hours because of a computer glitch in the massive crawler-transporter used to haul the spaceplane and its mobile launch platform to NASA's seaside firing stand.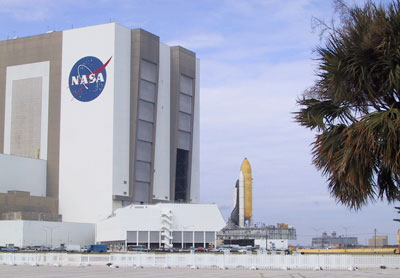 Space shuttle Atlantis sits just outside the Vehicle Assembly Building today. A computer problem forced the shuttle back inside the 52-story building. Photo: Justin Ray/Spaceflight Now



The impact of the one-day rollout delay is not yet known. But it appears likely the flight will slip an additional day to Jan. 20 at the earliest.

But the 102nd shuttle mission could slip out to Jan. 24 or thereabouts when all is said and done because of previously scheduled activity on the Air Force Eastern Range, the network of tracking systems used to support all Florida launchings.

NASA managers planned to meet this afternoon to assess launch processing, but an official target date has not yet been set.

The goal of long-awaited mission is to attach the U.S. laboratory module, Destiny, to the international space station, clearing the way for science operations to begin later this year.

Shuttle engineers had hoped to get Atlantis to the pad today to preserve a chance of launching as early as Jan. 19.

But after getting underway at 8:40 a.m., a computer system in the shuttle's crawler malfunctioned, bringing the transporter to a halt just a couple hundred meters or so from the Vehicle Assembly Building.

A backup system continued to operate normally, but engineers decided to play it safe and return Atlantis to the VAB pending resolution of the computer problem. In the end, they decided to use a different crawler and rescheduled the move for Wednesday.

The 32,000-pound Destiny module, meanwhile, will be moved to the pad an installed in a payload changeout room this evening for installation in the shuttle's cargo bay this weekend.

Atlantis's four-man one-woman crew plans to fly to the Kennedy Space Center on Thursday to review safety procedures and to participate in a launch day rehearsal called a terminal countdown demonstration test, or TCDT.

The astronauts - commander Kenneth Cockrell, pilot Mark Polansky, flight engineer Marsha Ivins and spacewalkers Thomas Jones and Robert Curbeam - are scheduled to field questions from reporters at the pad at 1:30 p.m. Friday and strap in for the countdown test Saturday.

The TCDT is timed to end with a simulated ignition and shutdown of Atlantis's main engines at 11 a.m.

But the TCDT schedule could slip a day or so depending on when Atlantis gets to the launch pad. The astronauts plan to participate in a final news conference at the Johnson Space Center in Houston, part of a series of briefings covering all aspects of shuttle mission STS-98.
| | |
| --- | --- |
| | The mission patch for STS-98 -- Atlantis' voyage to deliver the Destiny module to the international space station. Photo: NASA |
Atlantis originally was scheduled for rollout to the pad in December and launch at 2:44 a.m. on Jan. 18. But rollout was delayed to give engineers time to assess and correct potential problems with cables in the system used to separate the shuttle's two solid-fuel boosters two minutes after liftoff.

That system has been repaired and before today's rollout delay, engineers said Atlantis could, in theory, be ready for launch on the 102nd shuttle mission around 2:19 a.m. on Jan. 19.

But that schedule has no contingency time available to handle any problems that might crop up between now and then.

The Air Force Eastern Range - the network of radars, tracking cameras and destruct systems that supports all launches from Florida - is free on Jan. 19 and 20. But it will be unavailable to the shuttle team Jan. 21 through 23 because of already scheduled pre-launch Titan 4 tests at the nearby Cape Canaveral Air Force Station.

The range will open up again for possible shuttle launch tries on Jan. 24, 25 and 26.

While NASA has no official policy to the contrary, it is considered highly unlikely the agency would attempt to launch Atlantis - or any shuttle, for that matter - between Jan. 27 and 29.

The shuttle Challenger was lost on Jan. 28, 1986, and this year marks the 15th anniversary of history's worst space disaster. NASA is not a particularly superstitious agency, but Atlantis is not expected to fly within a day or so of the anniversary.