NASA gets the 'key' to space station lab module Destiny
SPACEFLIGHT NOW
Posted: December 20, 2000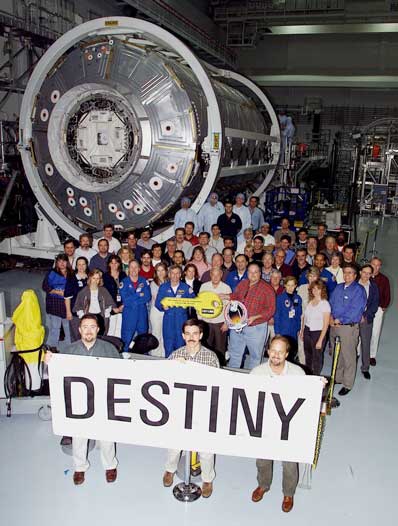 Photo: NASA-KSC



In the Space Station Processing Facility, workers and the STS-98 crew gather for a ceremony that turns over the "key" for the U.S. Laboratory Module, Destiny, to NASA.

Holding the key (left) is STS-98 Commander Ken Cockrell. To his left is Mission Specialist Thomas Jones; at right (in uniform) is Mission Specialist Marsha Ivins. Also in the group are Pilot Mark Polansky and Mission Specialist Robert Curbeam.

The Destiny laboratory module is 28 feet in length, 14 feet in diameter, and weighs 32,000 pounds. It is to be a world-class, state-of-the-art research facility functioning in microgravity. The lab will provide astronauts a shirtsleeve environment for research in many areas including life and microgravity sciences, Earth science, and space science research.




Status Summary


See the Status Center for full play-by-play coverage.