Soyuz returns to Earth; Endeavour ready to fly
BY WILLIAM HARWOOD
STORY WRITTEN FOR CBS NEWS "SPACE PLACE" & USED WITH PERMISSION
Updated: November 9, 2002


With the shuttle Endeavour's countdown ticking smoothly toward launch at 12:58:40 a.m. EST Monday on a flight to the international space station, two cosmonauts and a Belgian astronaut undocked from the lab complex aboard the Soyuz TM-34 capsule at 3:44 p.m. EST today after eight days aboard the outpost.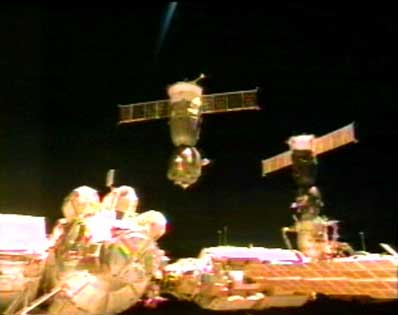 The Soyuz TM-34 craft undocks from the Zarya module. The new Soyuz TMA-1 capsule, delivered by the taxi crew, is seen docked to the Pirs module. Photo: NASA TV/Spaceflight Now



Commander Sergei Zalyotin, Yuri Lonchakov and European Space Agency astronaut Frank DeWinne delivered a fresh Soyuz lifeboat to the space station Nov. 1. DeWinne then put in a busy week of research in the U.S. Destiny laboratory module before packing up for today's departure.

Zalyotin fired the spacecraft's braking rockets around 6:10 p.m. for a landing in central Asia at 7:04 p.m. EST.

Soyuz spacecraft serving as the station's lifeboat must be replaced every six months. Zalyotin's crew will leave the new Soyuz behind and return to Earth in the lab's older lifeboat, which is nearing the end of its certified lifetime.

With the departure of the Soyuz taxi crew, the station's crew - Expedition 6 commander Valery Korzun, flight engineer Sergei Treschev and science officer Peggy Whitson - will focus on preparing the station for Endeavour's arrival Tuesday night and adjusting their sleep cycles to synch up with the shuttle crew's.

At the Kennedy Space Center today, NASA test director Pete Nickolenko said Endeavour's countdown is proceeding without any problems.

"All our hardware, flight and ground systems are in great shape, we're tracking no technical issues, our teams are ready and we're all looking forward to a successful launch and mission," Nickolenko said.

This evening, the space agency revealed the shuttle's launch window will extend from 12:53:39 to 1:03:39 a.m. EST Monday. The preferred liftoff time will be 12:58:40 a.m. EST when the station's orbital plane is directly over Endeavour's launch pad.

Forecasters continue to predict an 80 percent chance of good weather during Endeavour's actual five-minute launch window Monday, with light winds, scattered clouds and only a slight chance of isolated rain showers. The forecast drops to 70 percent "go" Tuesday and just 40 percent go on Wednesday as a frontal boundary pushes through central Florida.


Video coverage for subscribers only:


VIDEO: TAXI CREW BOARDS SOYUZ AND CLOSE HATCHWAY QT or RV


VIDEO: SOYUZ TM-34 UNDOCKS FROM STATION QT or RV


SUBSCRIBE NOW