Tito's crew tries out Soyuz
BY ANATOLY ZAK
RussianSpaceWeb.com
Posted: April 18, 2001

Two Russian cosmonauts and a tourist from the United States tried their seats inside the Soyuz TM-32 spacecraft on Tuesday in preparation for the April 28 launch from Baikonur Cosmodrome toward the international space station.

The crew including the commander Talgat Musabaev, flight engineer Yuri Baturin and US businessman Dennis Tito arrived to Baikonur on Monday.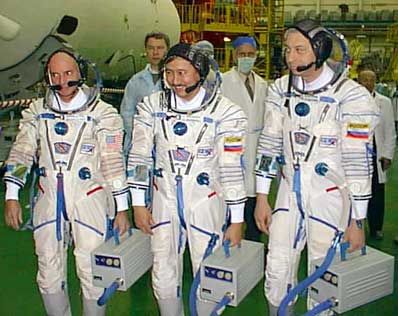 The three men make their way to the Soyuz capsule for a fit check in the Assembly and Testing Facility. Photo: Energia



During a routine procedure, informally known in Russian as "otsidka" or "sitting in" in English, the crew members entered and took their seats inside the reentry capsule of the Soyuz, to do final adjustments in their recliners and to allow determining the exact center of gravity of the spacecraft with the fully suited crew onboard.

While the preparation for the mission entered its final stage, Russian space officials were still trying to receive a formal approval from NASA for the flight of Dennis Tito to the ISS. NASA pressured Russian Aviation and Space Agency, Rosaviacosmos, to postpone Tito's flight at least until October, citing safety concerns.

Sources in Moscow said that as of Wednesday there was no agreement on the matter, however, Dennis Tito would be onboard the spacecraft in any case. Tito paid around $20 million for his space flight -- the money crucial for the cash-strapped industry.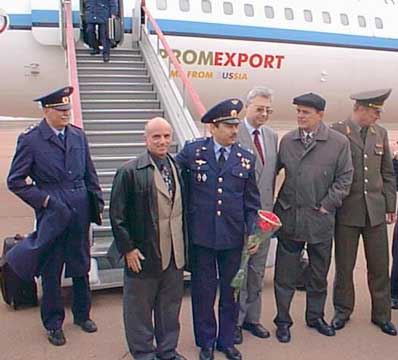 Tito and crew welcomed to Baikonur after arrival on Monday. Photo: Energia



With the completion of the tests in Baikonur, Tito's crew was scheduled to fly back to Moscow on Wednesday and return to the launch facility on April 23. A day later the cosmonauts will enter their Soyuz again to familiarize themselves with its final flight configuration.

The Soyuz TM-32 is scheduled to be integrated with its launch-vehicle on April 25 and rolled out to the Launch Pad 5 in Area 1 in Baikonur on April 26, two days before launch. The Soyuz docking with the ISS is expected on April 30.

The purpose of this mission is to deliver to the ISS a fresh Soyuz spacecraft, which serves as an emergency rescue vehicle for the resident crew of the station.

The cosmonauts Musabaev and Baturin, known as the "taxi crew," will return to Earth a week later along with Dennis Tito, onboard the previous Soyuz TM-31 spacecraft. The Soyuz-TM-31 docked to the ISS last November and should be replaced within six months, according to the Russian safety standards.