Space station resupply ship launched successfully
BY JUSTIN RAY
SPACEFLIGHT NOW
Posted: May 25, 2004


A Russian-built cargo freighter loaded with supplies, food, equipment and fuel for the orbiting International Space Station was successfully launched today from Baikonur Cosmodrome in Central Asia.

Mounted atop an unmanned Soyuz rocket, the Progress vessel roared away from its launch pad at 1234 GMT (8:34 a.m. EDT). Nine minutes later the cargo craft settled into orbit and deployed its solar arrays and navigational antennas.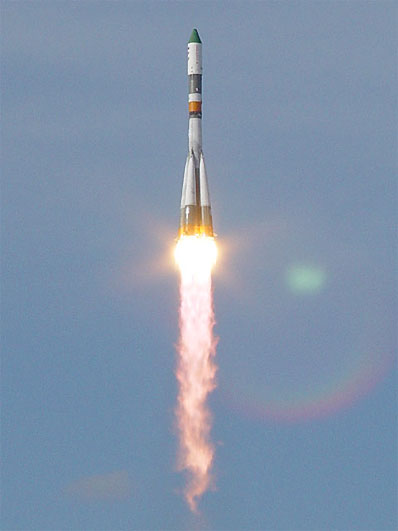 The Soyuz rocket launches with Progress 14P. Credit: Energia



The craft is known in the station's assembly sequence as Progress 14P -- the fourteenth resupply mission to the outpost. It is also called Progress M-49 and No. 249.

A fully automated docking to the aft port of the space station's Russian Zvezda service module planned for Thursday at 1355 GMT (9:55 a.m. EDT).

That docking port was vacated early Monday when the Progress 13P (M1-11 or No. 260) departed the station around 0920 GMT (5:20 a.m. EDT) will a load of trash and unneeded equipment. Russian ground controllers are using the discarded Progress to perform a series of engineering tests on the motion control system and methods to conserve propellant that could benefit future missions, officials said.

The freighter is scheduled to fire its braking engines and plunge into the atmosphere where it will burn up harmlessly on June 3.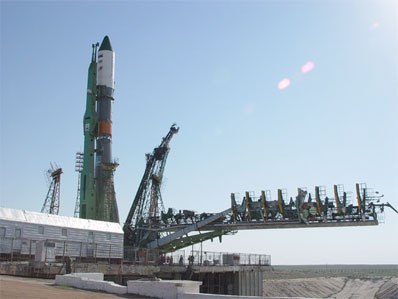 The Soyuz rocket is rolled to its Baikonur Cosmodrome launch pad for liftoff May 25 carrying the Progress 14P resupply ship to the International Space Station. Credit: Energia
PRE-LAUNCH PHOTO GALLERY



With the U.S. space shuttle fleet remains grounded until at least next spring, the International Space Station program is fully reliant upon the Russian Progress ships to keep the station stocked with supplies for the resident crews and propellant for the complex's steering jets.

"The International Space Station has a great debt to the Russian side for maintaining the station during these troubled times. The Russian side has been able to bring up enough of everything. In fact, we have enough food, enough water to last us a while," the station's current flight engineer, Michael Fincke, said Monday.

Fincke and his commander, Gennady Padalka, are one month into their planned half-year voyage aboard the station as the Expedition 9 crew.

The two men heard the old Progress depart Monday but were unable to see it drifting away.

"We looked out the windows and just because of the orbital orientation we just didn't have a view that way. We both looked and looked, and we really couldn't see it leave. But we certainly heard it when the mechanical hooks that were keeping it docked to the station, when they opened up, Gennady definitely heard the hook motors...After that, it just pushed slowly off into space," Fincke said.

"Progress was a good ship for us. It brought up a lot of supplies when Expedition 8 was here, including supplies for our expedition. It also took away a lot of trash and used things that we had onboard to make room for the next Progress."

The following timeline shows the key events scheduled from launch until docking for the newest Progress freighter.

Tuesday events

Event
Mission Time
Eastern Time
GMT
LAUNCH
0/00:00:00
08:34:20 a.m.
1234:20
Orbit Insertion
0/00:08:40
08:43:00 a.m.
1243:00
Maneuver DV1
(12.45 m/s)
0/03:35:07
12:09:27 p.m.
1609:27
Maneuver DV2
(7.34 m/s)
0/04:06:59
12:41:19 p.m.
1641:19
Wednesday events

Event
Mission Time
Eastern Time
GMT
Maneuver DV3
(2.0 m/s)
1/00:51:17
09:25:37 a.m.
1325:37
Thursday events

Event
Mission Time
Eastern Time
GMT
Start Automated
Rendezvous
1/22:51:07
07:25:27 a.m.
1125:27
Station maneuver
to docking attitude
1/23:07:40
07:42:00 a.m.
1142:00
DV4 / Impulse 1
(23.721 m/s)
1/23:11:38
07:45:58 a.m.
1145:58
Impulse 2
(1.144 m/s)
1/23:34:16
08:08:36 a.m.
1208:36
Progress Kurs-A
activation
1/23:34:40
08:09:00 a.m.
1209:00
Zvezda Kurs-P
activation
1/23:36:40
08:11:00 a.m.
1211:00
DV5 / Impulse 3
(36.467 m/s)
1/23:57:33
08:31:53 a.m.
1231:53
Orbital sunrise
2/00:29:40
09:04:00 a.m.
1304:00
TORU command
link activation
Range 9 km
2/00:30:40
09:05:00 a.m.
1305:00
Progress TV
activation
Range 8 km
2/00:32:40
09:07:00 a.m.
1307:00
Impulse 4
(6.870 m/s)
2/00:39:44
09:14:04 a.m.
1314:04
Ballistic Targeting
Point
2/00:41:07
09:15:27 a.m.
1315:27
Impulse 5
(4.621 m/s)
2/00:45:58
09:20:18 a.m.
1320:18
Impulse 6
(2.248 m/s)
2/00:47:54
09:22:14 a.m.
1322:14
Start flyaround
mode
2/00:50:07
09:24:27 a.m.
1324:27
Start stationkeeping
2/00:59:07
09:33:27 a.m.
1333:27
Start final approach
2/01:11:54
09:46:14 a.m.
1346:14
DOCKING
2/01:27:23
09:55:00 a.m.
1355:00


Data source: NASA.