Space station caretaker crew blasts off aboard Soyuz
BY WILLIAM HARWOOD
STORY WRITTEN FOR CBS NEWS "SPACE PLACE" & USED WITH PERMISSION
Posted: April 26, 2003; Updated to correct launch site designation


Russian commander Yuri Malenchenko and NASA flight engineer Edward Lu roared into orbit early Saturday, kicking off a six-month mission to operate the international space station in caretaker mode while NASA struggles to overcome the Feb. 1 Columbia disaster.


| | |
| --- | --- |
| | The Soyuz rocket lifts off with Expedition 7. Photo: Energia |
If the shuttle is not ready to fly again by October - and that does not appear likely - another two-man caretaker crew will be launched aboard another Soyuz TMA spacecraft to continue a permanent manned presence aboard the station.

Malenchenko and Lu, both space veterans who flew a previous shuttle mission together in 2000, blasted off from launch site 1 at the Baikonur Cosmodrome in Kazakhstan at 0353:51 GMT (11:53:51 p.m. EDT Friday). Minutes after reaching orbit, the Soyuz TMA-2 spacecraft's solar arrays and antennas deployed and Russian officials said all systems were operating normally.

At the moment of liftoff, the space station was sailing high above the Pacific Ocean west of South America. If all goes well, Malenchenko and Lu will dock with the lab complex at 0556 GMT (1:56 a.m. EDT) Monday after a two-day orbital chase, guiding their ship to a linkup at a downward-facing port on the Russian Zarya module.

Standing by to welcome them aboard will be Expedition 6 commander Kenneth Bowersox, flight engineer Nikolai Budarin and science officer Donald Pettit, wrapping up a 161-day mission.

The ISS-6 crew was launched to the station Nov. 23 aboard a space shuttle. They originally planned to come home in March aboard the shuttle Atlantis, but the fleet was grounded in the wake of the Columbia disaster and their mission, or "increment," was extended.

NASA managers and their Russian counterparts considered a variety of options to keep the station manned without the shuttle but in the end, there was only one viable plan. Without the supplies and, most important, fresh water supplied by regular shuttle visits, the station simply could not support more than two crew members.

With just two crew members, science operations will be limited and without shuttle visits, assembly will be on hold. But to the men and women around the world who have struggled to keep the station operating through technical problems and tight budgets, two-man crews are better than no-man crews.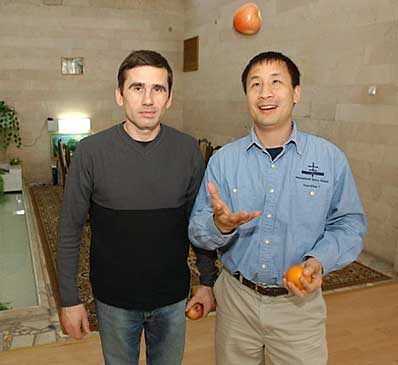 The Expedition 7 crew is led by Yuri Malenchenko (left) with NASA flight engineer Ed Lu (right). Photo: NASA/Bill Ingalls



"I think it's quite important" to keep the station manned, Lu said. "There's a big psychological thing about continuing it. It's always harder to start back up after stopping than it is to continue. And I think that's also true in the technical sense, because once you shut the place down, it's much, much more difficult to bring it back up than to keep it running. Our job there is to keep the place running until such time as we can finish construction."

As of today's launch, the station has been continuously manned for 905 days dating back to Nov. 2, 2000. Lu said his flight and the effort to keep the station manned is a tribute, in a sense, to the fallen crew of the shuttle Columbia.

"They never really completed their mission," he said from Baikonur before launch. "They accomplished their mission but they never completed it. We are doing what I think they would want and what the families would want, which is to continue the process of flying in space. ... I'll be thinking about them during our flight."

At the time of the Columbia mishap, Malenchenko, Lu and flight engineer Alexander Kaleri were preparing for launch aboard Atlantis to replace Bowersox and company as the three-man Expedition 7 crew. After extended discussions between NASA, the Russians and the other partners in the international project, Malenchenko and Lu were named to fly the ISS-7 mission on their own, launching aboard a Soyuz already scheduled for launch today on a so-called "taxi mission."

While the next caretaker crew has not yet been officially named, it's widely believed to be made up of ISS-7 backups Kaleri and NASA astronaut Michael Foale. That mission is scheduled for launch around Oct. 18.

A three-seat Soyuz is always attached to the station to provide a way home for the lab's permanent crew in case of an emergency. The lifeboats are certified for six months in space and crews periodically ferry up fresh spacecraft and ride the old ones back to Earth. Russian commander Gennady Padalka and European Space Agency astronaut Pedro Duque were in training for the today's taxi flight at the time of the Columbia disaster and they subsequently were replaced by Lu and Malenchenko.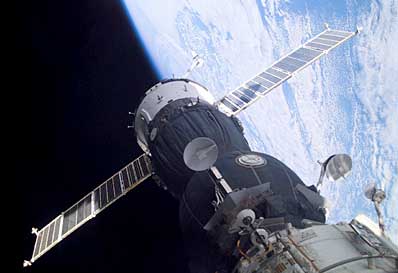 The Soyuz TMA-1 capsule currently docked to the station wil ferry Expedition 6 back to Earth on the evening of May 3. Photo: NASA



Because of limited supplies, Malenchenko and Lu will be forced to conserve their resources wherever possible, evening wearing clothes longer before donning fresh replacements.

"It's all part of the game, I suppose," Lu said earlier this week. "No one ever promised the whole experience was going to be living in a luxury hotel. And the original mission wasn't either. ... We're even moreso going to have to conserve things, which I think is going to make it extra more interesting because we don't have the luxury of the shuttles to come up and bring extra things or a shuttle or a Progress (resupply vehicle) bring up spare parts as things break.

"So we're going to probably have to improvise, with help from the ground, quite a lot more than other crews have done. And I think that's going to make it much more challenging. So in the end, I think our mission has become much more challenging than our original mission."

As for personal items, Lu and Malenchenko were allowed to bring a handful of small items.

"I won't be able to bring too many personal things up," Lu said. "But there's a lot of things on board, creature comforts on board that other crews have brought up there and left up there. There are books left over, there's some movies, videotapes, music CDs, that sort of thing. So I'll listen to whatever the previous folks listened to or look out the window. But we're not going to be bored by any means."

Bowersox, Budarin and Pettit will have a week to finish packing and to help their replacements learn the ins and outs of day-to-day station operations. After a brief change-of-command ceremony, the ISS-6 crew will undock and return to Earth May 3 aboard the station's current Soyuz TMA-1 spacecraft, which is docked to the Pirs airlock module.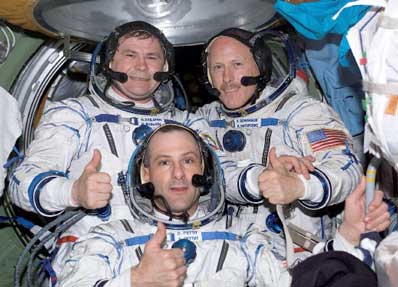 Expedition 6 crew -- Budarin, Pettit and Bowersox -- have been living aboard the space station since November. Photo: NASA



While they originally expected to land aboard a space shuttle, all three ISS-6 crew members received extensive Soyuz training before launch. They have since taken refresher courses and Bowersox says they're well prepared for entry and landing in Kazakhstan.

They will be flown to the Gagarin Cosmonaut Training Center in Star City, Russia, for extensive medical checks, the start of physical rehabilitation and reunions with friends and family members.

In an earlier interview, Pettit said Malenchenko and Lu would be "real busy just maintaining the systems on space station."

"However, there would be time to do some level of research and by virtue of having people here, you're always doing research on your body itself, looking at the effects of long duration weightlessness on human physiology. So it's important to keep people on station."

But for Bowersox, there's another, equally compelling reason to keep the complex staffed.

"The reason I came here to space is because I believe exploring is important, that we're laying a foundation for our children and their children to leave the planet someday," he said. "Part of that legacy we're going to leave them is a continuous human presence here (in space) that started back in the Mir program. And we would like to see that.

"But that's as much emotional as logical. If we were to have to de-man the station, it would not be a huge setback for our program, the station will keep flying and we'll be able to send people back here if we need to. But on an emotional level, I really want to see people stay."

But it won't be easy. Bowersox said a two-person crew would have a different social dynamic than the current three-person teams.

"Having two people on station would change things quite a bit, it would change the dynamic of how you support each other emotionally," he said. "It's really nice where if two people are getting a little bit irritated, one of them can go and talk to the third or the third can act as a referee. It's sort of like with our international partnership. The more people, the more partners you have, the more work is required to maintain that partnership but the stronger you are because you have more bodies, more hands to get things done."


Video coverage for subscribers only:


VIDEO: 11-MINUTE MOVIE OF SOYUZ LAUNCHING EXPEDITION 7 QT


VIDEO: SPECTACULAR CLOSEUP VIEW OF ROCKET LIFTING OFF QT


VIDEO: A LARGE CROWD GREETS THE CREW AT LAUNCH PAD QT


VIDEO: CREW DEPART SUIT-UP BUILDING FOR LAUNCH PAD QT


VIDEO: PRE-LAUNCH CHECK IS CONDUCTED ON LU'S SUIT QT


VIDEO: COMMANDER MALENCHENKO SUITS UP FOR LAUNCH QT


VIDEO: ASTRONAUT ED LU DONS HIS RUSSIAN SPACESUIT QT


VIDEO: POST-LAUNCH NEWS CONFERENCE FROM KOROLEV QT


VIDEO: POST-LAUNCH COMMENTS FROM FRED GREGORY QT


VIDEO: POST-LAUNCH INTERVIEW WITH MICHAEL KOSTELNIK QT


VIDEO: POST-LAUNCH INTERVIEW WITH CHARLIE PRECOURT QT


VIDEO: INTERVIEW WITH LU'S FIANCEE CHRISTINE ROMERO QT



VIDEO: NARRATED OVERVIEW OF RUSSIAN SOYUZ SPACECRAFT QT


VIDEO: FRIDAY'S PRE-LAUNCH PRESS CONFERENCE WITH CREW QT


VIDEO: FINAL ASSEMBLY OF SOYUZ ROCKET QT


VIDEO: SOYUZ IS ROLLED OUT OF HANGAR THURSDAY QT


VIDEO: ROCKET IS LIFTED UPRIGHT ON THE LAUNCH PAD QT


VIDEO: POST-ROLLOUT COMMENTS FROM MICHAEL FOALE QT


VIDEO: COMMENTS FROM JSC CENTER DIRECTOR HOWELL QT


VIDEO: DIRECTOR OF FLIGHT CREW OFFICE BOB CABANA QT


VIDEO: CHIEF NASA ASTRONAUT KENT ROMINGER COMMENTS QT


VIDEO: PRE-FLIGHT INTERVIEW WITH COMMANDER MALENCHENKO QT


VIDEO: PRE-FLIGHT INTERVIEW WITH FLIGHT ENGINEER LU QT


SUBSCRIBE NOW