Space station crew set for return to Earth
BY WILLIAM HARWOOD
STORY WRITTEN FOR CBS NEWS "SPACE PLACE" & USED WITH PERMISSION
Posted: September 10, 2014


Three space station crewmen -- two Russian cosmonauts and a NASA astronaut -- packed up and prepared for a fiery return to Earth Wednesday evening to wrap up a 169-day stay in space.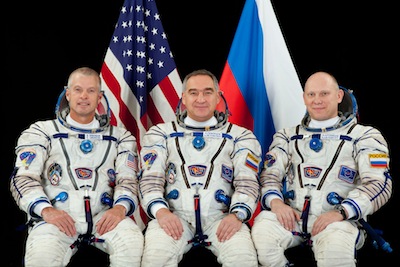 Swanson, Skvortsov and Artemyev are set for landing Wednesday. Photo credit: NASA/GCTC

Soyuz TMA-12M commander Alexander Skvortsov, flight engineer Oleg Artemyev and outgoing station commander Steven Swanson were scheduled to undock from the International Space Station's upper Poisk module at 7:01 p.m. EDT (GMT-4) Wednesday.
After moving a safe distance away, Skvortsov and Artemyev plan to oversee an automated four-minute 40-second firing of the Soyuz spacecraft's braking rockets starting at 9:31 p.m., setting up a a steep plunge back into the atmosphere and a landing in Kazakhstan near the town of Dzhezkazgan at 10:24 p.m. (8:24 a.m. Thursday local time).
"It takes only three hours and 20 minutes from the time I undock from the International Space Station until the time I'm on the ground in Kazakhstan," Swanson told a reporter Monday. "I've heard it's quite an eventful trip. I haven't experienced it yet myself, but from what I've been told it's definitely the big ride at Disney World."
As usual, Russian recovery crews, flight surgeons and a contingent of NASA support personnel were deployed near the landing zone to help the returning station fliers out of the cramped Soyuz capsule after five-and-a-half months in the weightlessness of low-Earth orbit.
After a quick round of medical checks and satellite phone calls to friends and family, Skvortsov, Artemyev and Swanson will be flown by helicopter to Karaganda for an official Kazakh welcome home ceremony.
After that, the crew will split up, with Skvortsov and Artemyev heading on to the cosmonaut training center at Star City near Moscow while Swanson boards a NASA jet for the long flight back to Houston and the Johnson Space Center.
On Tuesday, Swanson turned over command of the space station to veteran Russian cosmonaut Maxim Suraev. Floating in the Japanese Kibo module, Swanson said "We've accomplished a lot, we've had a lot of fun. Hopefully everybody else had a lot of fun, too."
"We did lots of cargo, we did lots of science," Swanson said. "We actually set the record for the number of hours of science in a week. We did a lot of maintenance, which is good and bad -- I love doing maintenance, but it means things broke. We had a good time, we really appreciate everybody's help up here."
Suraev then took over as commander of Expedition 41, promising that he and his crewmates -- Reid Wiseman and European Space Agency astronaut Alexander Gerst -- would "do our best to continue this great work."
Suraev, Gerst and Wiseman will have the space station to themselves until Sept. 25 when three fresh crew members are scheduled to arrive: Soyuz TMA-14M commander Alexander Samokutyaev, NASA astronaut Barry "Butch" Wilmore and Russian flight engineer Elena Serova, the first female cosmonaut to make a long-duration stay aboard the station.
"We're super excited," Wiseman told a reporter earlier this week. "Getting three new faces up here will be a lot of fun."
Skvortsov, Artemyev and Swanson were launched from the Baikonur Cosmodrome in Kazakhstan on March 25. The crew was unable to execute a four-orbit rendezvous with the station as planned because of a slight orientation error. But after analyzing telemetry, Russian flight controllers cleared the crew for a two-day rendezvous and the spacecraft reached the station on March 27 without any additional problems.
During the course of their stay in space, Swanson and Expedition 39 astronaut Rick Mastracchio ventured outside the station to replace a balky computer while Skvortsov and Artemyev staged a pair of Russian excursions. The crew also received and unloaded a variety of Russian, European and American cargo ships and carried out a full slate of scientific research with more than 170 experiments.
Swanson and his crewmates took off as superpower tensions were building in the wake of Russia's annexation of Crimea and the escalating conflict in Ukraine. Before launch Swanson said he was confident the International Space Station would remain a cooperative U.S.-Russian project, saying space engineers and managers on both sides of the project continued to work well together with no hints of friction.
"We are learning many things but I think one of the important things we are learning is how to work with international partners," he said in a NASA interview. "That is a huge key and is not always that easy, but we are doing a very good job of it. It starts with the program levels and goes all the way, working down to the lowest engineers. They all have to work together to make this thing work.
"And then, how to build something this large in space, with multiple trips going up, and putting it all together, that is not easy either. It is an engineering marvel just that the thing works, and so I think that we have learned so much in that aspect."
Living and working aboard the space station also will pay off down the road, Swanson said, with knowledge directly applicable to eventual long-duration flights to Mars.
"How to live there, how to replace and repair everything, how to keep things running, how to keep things clean, all these aspects about just living in space and keeping a good environment going over a long, long period of time," he said.
"We have been aboard over ten years now and have kept it running. What we have really learned, I think, is how to operate in space and make that a nominal, easy way of doing things."
At landing on the steppe of Kazakhstan, Skvortsov, Swanson and first-time flier Artemyev will have logged 169 days five hours and six minutes off planet.
Including a 176-day station flight in 2010, Skvortsov's total time in space will stand at 345.3 days. Swanson's total, including 27 days aloft during shuttle missions in 2007 and 2009, will move up to 195.9 days.