Astronaut taxi prepared for liftoff Wednesday
BY WILLIAM HARWOOD
STORY WRITTEN FOR CBS NEWS "SPACE PLACE" & USED WITH PERMISSION
Posted: May 27, 2014


A veteran Russian cosmonaut, a U.S. Navy test pilot-turned-astronaut and a German volcanologist are set for a six-hour flight to the International Space Station Wednesday to boost the lab's crew back to six and kick off a busy summer of scientific research and multiple U.S. and Russian spacewalks amid a steady string of visiting cargo ships.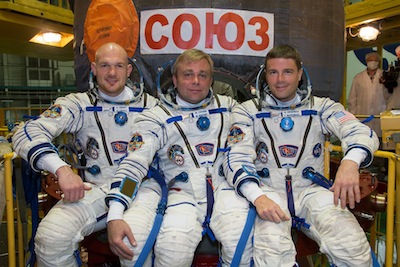 Alexander Gerst, Maxim Suraev and Reid Wiseman pictured at the hatch leading inside the Soyuz TMA-13M spacecraft. Photo credit: NASA

Soyuz TMA-13M commander Maxim Suraev, flight engineer Reid Wiseman and European Space Agency astronaut Alexander Gerst are scheduled for launch from the Baikonur Cosmodrome in Kazakhstan at 3:57:41 p.m. EDT Wednesday (GMT-4, 1:57 a.m. Thursday local time), roughly the moment Earth's rotation carries the pad into the plane of the space station's orbit.
If all goes well, Suraev and Wiseman will oversee an automated four-orbit rendezvous, setting up a docking at the space station's Earth-facing Rassvet module around 9:48 p.m. Standing by to welcome them aboard will be Expedition 40 commander Steven Swanson, Soyuz TMA-12M commander Alexander Skvortsov and flight engineer Oleg Artemyev.
The launching comes amid increasing tension between the United States and Russia in the wake of the ongoing crisis in Ukraine, U.S. sanctions and Russian threats to limit access to critical rocket engines and to pull out of the space station project in 2020, well ahead of NASA's long-range goal.
But work to ready the Soyuz TMA-13M spacecraft for launch to the station has proceeded without incident and all three crew members say superpower politics and the war of words over Ukraine have had no effect on their training or personal relationships.
"When you get to know these guys, the politics starts to fall by the wayside and you realize these are genuinely great people," said Wiseman, a NASA astronaut and Navy jet pilot making his first space flight. "Working with my commander and all the Russian trainers, these people are not just my colleagues, they're my friends.
"So sure, we don't want to see political turmoil. But from the operator standpoint looking up, this is absolutely a non issue for us. We're three really good friends climbing into a Soyuz to fly into space. And all politics aside, there's no doubt it's going to work for us."
Gerst, a European Space Agency astronaut making his first flight, noted each side's dependence on the other, saying "half a space station doesn't fly."
"So we have something in common that we have as a precious gem out there that we all know is worth saving, that we don't risk," he said. "That is why the space program actually brings us together, it kind of gives us the perspective of why it's important to remain sensible down here on Earth and in that way, it's a very stabilizing program."
Suraev agreed and while he jokingly referred questions about politics to "big bananas" and "politician guys," he said "we are just doing our job and we are flying and studying and training."
But Dmitry Rogozin, Russian deputy prime minister for space and defense, has taken a particularly belligerent tone, sarcastically tweeting that American astronauts should look into using trampolines to reach the space station. Rogozin is on the U.S. sanctions list and has made no secret of his disdain.
The tweets rub NASA's nose in the painful reality that a U.S. crew ferry craft is not expected to be ready for flights to the station until 2017 at the earliest. Until then, NASA will remain dependent on the Russians for transportation, paying between $60 million and $70 million per seat through the end of the current contract.
Michael Suffredini, manager of the space station program at the Johnson Space Center in Houston, would not address Rogozin's widely publicized comments, saying "we try not to respond to what's being said in the press."
"I hope to some degree they try not to respond to what they hear some folks say on our side," he told CBS News. "When it gets right down to it, we're still supporting each other. We regularly have telecons to reaffirm our commitment. ... We're trying really hard to do what both of our governments have essentially told us to do -- even though if you listen to Rogozin's words it sounds like maybe they're thinking different -- but that is to continue working in spaceflight the way we have."
As for the cost of flying on the Soyuz, Suffredini blamed a steady string of price increases on Russian inflation, not a deliberate effort to gouge NASA, and said a commercially developed U.S. ferry craft and the rocket needed to launch it will not be cheap.
"I'll still bet you that when you look at the per mission price, it's going to be hard to beat the Soyuz," he said. "But we'll see."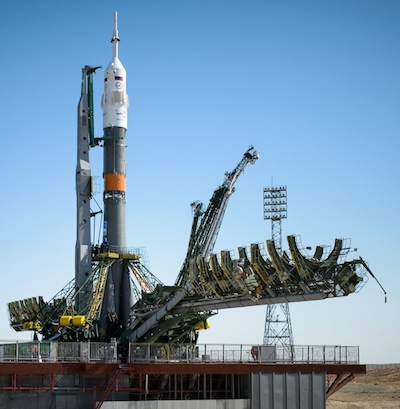 The Soyuz rocket is upright on the launch pad at the Baikonur Cosmodrome in Kazakhstan. Photo credit: NASA/Joel Kowsky

As a veteran of more than 500 carrier landings with experience in F-14 and F-18 jets, Wiseman is no stranger to high-performance aircraft. And he looks forward to the day when NASA astronauts will once again fly aboard U.S.-built spacecraft. But in the meantime, he's more than happy to ride a Soyuz, which he described as a machine focused on one over-arching priority: crew safety.
"The Soyuz absolutely boggles my mind with robustness," he said. "This is a vehicle that has a really great set of backup systems, it has ascent abort all the way from the pad until we reach orbit, it has tons of backup systems on re-entry. It's almost like flying in a little tank into orbit. It's got tons of margin all over the place. The more I learned about that vehicle, the safer I felt in it."
He said the Russian top-down design philosophy was different from the give-and-take designer-operator interaction he was used to, but the Russian focus on crew safety trumps all other concerns.
"They're willing to take a loss of vehicle, there's not a substantial amount of depth there," he said. "But when it comes to loss of crew, holy smokes, there's a backup for every backup, and I really think the systems are designed with the ultimate safety (in mind), and that's returning the crew home. In almost every case, the crew gets home."
Gerst also praised the Soyuz, saying it could bring a crew back to Earth even if it was misaligned and "every single control of your spacecraft failed after that."
"You would come down and re-enter the atmosphere and you would survive," he said. "It wouldn't be a fun ride, but you would survive. That speaks for itself. It's a well designed vehicle that I fully trust, even though it's not the most comfortable sitting in the seat."
Once aboard the space station, the combined Expedition 40 crew faces an extremely busy summer with two Russian spacewalks on tap, up to three U.S. EVAs, the arrival of a Russian Progress supply ship, a final European ATV cargo carrier and two U.S. spacecraft, an Orbital Sciences Cygnus supply craft and a SpaceX Dragon capsule.
"As you can see, our key challenges for this increment will be managing the slew of vehicle traffic that we have in addition to the EVAs that are planned and of course, we also have a very ambitious utilization schedule as well on top of that," said lead Flight Director Greg Whitney. "So it's going to be a challenging time for both the ground and the on-board crew, but we're looking forward to it. It'll be a great mission."
With a Ph.D. in geophysics, Gerst is an expert on volcanoes who looks forward to an opportunity to monitor one or more eruptions from orbit.
"What we need in volcanology is good models on how eruption clouds disperse," he said. "We saw that when this volcano in Iceland actually shut down aviation traffic in Europe for several weeks through an ash eruption cloud.
"It is really important to understand these better, how they behave, what direction they travel, how long, which particles stay dispersed, and for that one thing that's really important is how high those eruption clouds rise in the initial phase of an eruption. That is hard to get from an Earth observation satellite because they're never at the right place at the right time, and they cannot do oblique views in general."
For Wiseman, the focus is on life sciences and medical research that could pay dividends down the road.
"We have a ton of human research planned," he said. "They're going to look at my blood, my skin, my bones, my muscle, my eyes especially. And I'm really looking forward to getting into all that science. All that stuff fascinates me. As a Navy pilot, I always had an aversion to medicine. Now I'm being forced into it, and I absolutely love it!"
Later this summer, NASA hopes to launch a 3D printer to the space station, a new technology that Wiseman said could help pave the way to Mars.
"Imagine if Apollo 13 had a 3D printer," he said. "Imagine if you're going to Mars and instead of packing along 20,000 spare parts, you pack along a few kilograms of ink. Now you don't even need to know what part's going to break, you can just print out that part. Really, I think for the future, that's pretty fascinating. It'll be fun to play with on orbit."
Wiseman also expects to participate in three spacewalks: one with Swanson to reconfigure a solar array cooling system and two with Gerst: one to stow a failed ammonia pump module and another to make preparations for moving a U.S. storage module.
Skvortsov and Artemyev plan a spacewalk in late June and another in August to carry out a variety of maintenance tasks on the Russian segment of the station.
Expedition 40 will end with the departure of Skvortsov, Swanson and Artemyev on Sept. 10. Three fresh crew members -- Soyuz TMA-14M commander Alexander Samokutyaev, Barry "Butch" Wilmore and cosmonaut Elena Serova -- are scheduled for launch to the station on Sept. 25.