Preparations continue for launch to space station
BY WILLIAM HARWOOD
STORY WRITTEN FOR CBS NEWS "SPACE PLACE" & USED WITH PERMISSION
Posted: April 12, 2014
Updated at 4:20 p.m. EDT


SpaceX engineers in Cape Canaveral pressed ahead Saturday with work to prepare a Falcon 9 rocket for launch Monday to boost a space station cargo ship into orbit. But a final decision to fly will not be made by NASA until Sunday, agency officials say, after additional work to troubleshoot a glitch aboard the lab complex Friday that knocked out a backup computer unit.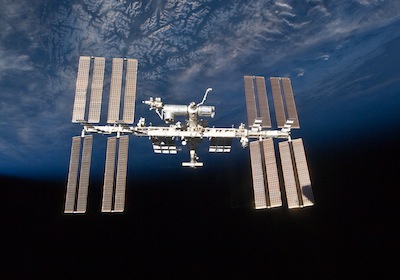 File photo of the International Space Station. Photo credit: NASA

In the meantime, NASA managers have approved a contingency spacewalk to replace the "black box" as soon as possible, but no date has been set pending a decision on the SpaceX launch and additional analysis.
The computer in question, known as a multiplexer-demultiplexer, or MDM, provides a backup channel for commanding the station's mobile transporter, a railcar-like device used to position the station's robot arm at various work sites along the main power truss.
The robot arm will be needed to capture the SpaceX Dragon cargo ship once it reaches the station and engineers want full redundancy for subsequent moves and to prevent more widespread problems in case additional problems develop.
"Everything works just fine with 1 of the 2 computers failed," station Flight Director Ed Van Cise said in a Facebook posting. "2 of 2 computers failed is a really bad day -- effectively can't control anything on the truss." In parentheses, he added: "exaggeration but at a high level, close enough."
"So a replacement spacewalk gets us our redundancy back to protect against having that 2nd failure," he wrote. "Teams today are spending a lot of time talking about SpaceX and what we want to do. It's not just the SSRMS (robot arm) we need to worry about but control of all the hardware on the truss."
As for SpaceX, NASA managers could opt to accept reduced redundancy and clear SpaceX to launch the Dragon spacecraft on time Monday, or they could opt to delay the flight while the station crew installs a replacement unit. Replacing an MDM is a standard repair task that station crews routinely practice during ground training.
"While a final decision on the SpaceX launch is being reviewed, another team of engineers is laying out a timeline for a contingency spacewalk that is required to replace the failed spare MDM," NASA said in a statement Saturday. "No date for the spacewalk has been scheduled. Such a spacewalk is one of the so-called 'Big 12' spacewalks that station crews train to execute for the loss of a critical component on the complex."
The MDM is mounted in the central S0 section of the station's power truss, one of more than 12 similar units used to control a variety of systems. The device measures 10.5 by 14.9 by 16.4 inches and weighs 50.8 pounds.
The apparent failure occurred Friday afternoon, amid work at the Cape Canaveral Air Force Station to prepare a SpaceX Falcon 9 rocket and Dragon cargo capsule for launch at 4:58 p.m. EDT (GMT-4) Monday. Assuming an on-time launch, the uncrewed Dragon supply ship would reach the lab complex around 7:11 a.m. Wednesday.
Unlike supply ships built by the Russians and the European Space Agency, the SpaceX Dragon capsule is not able to dock on its own. Instead, the station's robot arm, operated by astronauts inside the space station, is used to lock onto a grapple fixture so the capsule can be moved into position for berthing at the Earth-facing port of the forward Harmony module.
"The prime multiplexer continues to operate flawlessly, and there has been no impact to station operations," NASA said in a Saturday update. "The crew was informed of the problem and is in no danger, continuing its normal complement of research work and routine maintenance."
Earlier Saturday, a Russian Progress supply ship docked to the station fired its thrusters, boosting the lab to the proper altitude for upcoming Soyuz crew ferry flights planned for May.
But the failure of MDM EXT-2 was the clear focus of attention in Houston.
"Station program officials, flight controllers and teams of engineers are working to determine whether there is any risk to launching the SpaceX cargo craft Monday," NASA said. "They will evaluate whether the station has enough redundancy to permit the launch to proceed, which would result in Dragon arriving at the station Wednesday. ... The station's Canadarm2 robotic arm that would be used to capture and berth Dragon has other redundancy capabilities not affected by the backup MDM failure."
The SpaceX cargo craft is loaded with 4,600 pounds of equipment and supplies, including spacesuit components intended to prevent any recurrence of a potentially catastrophic helmet water leak that occurred during a spacewalk last year.
If a spacewalk is required to replace the suspect MDM, two station astronauts would use spacesuits currently aboard the station, following safety procedures implemented for two excursions last December to replace a faulty cooling system component.
Those spacewalks were successful, and there was no recurrence of the leak that occurred during a July 2013 spacewalk by European Space Agency astronaut Luca Parmitano.