Soyuz docks with International Space Station
BY WILLIAM HARWOOD
STORY WRITTEN FOR CBS NEWS "SPACE PLACE" & USED WITH PERMISSION
Posted: March 27, 2014


A Russian Soyuz spacecraft carrying two cosmonauts and a NASA astronaut glided to a smooth linkup with the International Space Station Thursday, two days after a technical snag blocked a fast-track rendezvous and docking shortly after launch Tuesday.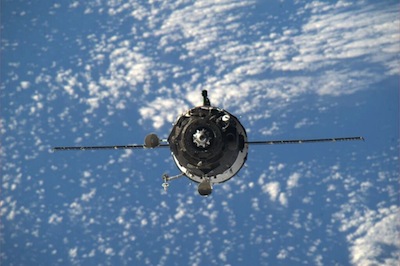 Astronaut Rick Mastracchio posted this view of the approaching Soyuz from the International Space Station. Photo credit: NASA/Rick Mastracchio

With commander Alexander Skvortsov monitoring the automated approach from the Soyuz's center seat, the docking mechanism in the nose of the Soyuz TMA-12M ferry craft engaged its counterpart at the end of the upper Poisk module at 7:53 p.m. EDT (GMT-4) as the two spacecraft sailed 252 miles above southern Brazil.
"Sasha, congratulations to you and your crew on having successfully completed the first part of your mission," radioed Oleg Ostapenko, director of Roscosmos, the Russian federal space agency. "Congratulations to everyone."
"Thank you, sir." Skvortsov replied.
A few moments later, latches engaged to firmly lock the Soyuz in place. After extensive leak checks, Skvortsov, flight engineer Oleg Artemyev and NASA astronaut Steven Swanson were expected to float into the station, welcomed aboard by Expedition 39 commander Koichi Wakata, Mikhail Tyurin and Rick Mastracchio.
All six crew members planned to gather in the Zvezda command module for a traditional post-docking radio chat with space agency managers, friends and family members gathered at the Russian flight control center near Moscow.
After a safety briefing, Skvortsov, Artemyev and Swanson planned to settle in, looking forward to a bit of time off after a busy, unexpected two-day rendezvous. U.S. flight controllers, meanwhile, planned to press ahead with work to load new software into the station's computer system.
The station crew originally expected to take delivery of a commercial SpaceX cargo ship next Wednesday, but the launching, planned for Sunday, was put on hold because of presumed problems with U.S. Air Force tracking equipment. A new launch date has not yet been announced.
Skvortsov, Artemyev and Swanson blasted off from the Baikonur Cosmodrome in Kazakhstan on Tuesday. Shortly after reaching orbit, the spacecraft's computer began executing a planned six-hour, four-orbit rendezvous, a procedure requiring a series of carefully timed rocket firings to home in on the space station.
The first two rocket firings went smoothly, but the spacecraft was slightly out of attitude, or orientation, for the third "burn" and the rendezvous procedure was aborted.
During subsequent passes over Russian ground stations, engineers downlinked stored data from the spacecraft to figure out what caused the 1-degree attitude error. They have not yet revealed the presumed root cause, but NASA officials say the problem is understood and engineers have developed procedures to make sure it isn't repeated on future flights.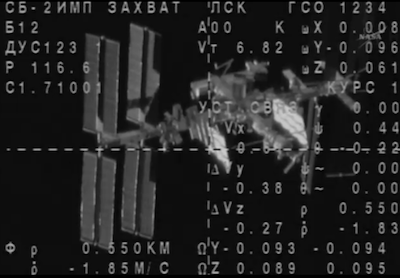 A view of the International Space Station from a camera aboard the Soyuz spacecraft. Photo credit: NASA TV/Roscosmos/Spaceflight Now

In the meantime, flight controllers began implementing backup plans for a 48-hour, 34-orbit rendezvous. Such two-day Soyuz rendezvous plans were the norm for most of the space station's 15-year lifetime and Skvortsov flew one during his first flight to the outpost in 2010.
The shorter four-orbit rendezvous was designed to reduce the time crews have to spend in the cramped Soyuz en route to the space station. The abbreviated rendezvous was first tested in 2012 with an uncrewed Progress cargo ship. After additional test flights, four crewed Soyuz flights followed the fast-track trajectory. Skvortsov's crew would have been the fifth.
With the station's crew back up to six, the astronauts and cosmonauts face a full slate of research activity, along with the expected arrival of three cargo ships over the next several weeks -- the SpaceX Dragon capsule, a Russian Progress freighter and an Orbital Sciences Corp. Cygnus cargo ship. Because of the SpaceX delay, however, launch dates are under review and have not yet been finalized.
Wakata and his two crewmates have had the station to themselves since March 11 when Soyuz TMA-10M commander Oleg Kotov, Sergey Ryazanskiy and Mike Hopkins returned to Earth. Wakata and his crewmates are scheduled to follow suit in their Soyuz TMA-11M ferry craft on May 13. At that point, Swanson will take over as commander of Expedition 40.
That will clear the way for the May 28 launch of Soyuz TMA-13M commander Maxim Suraev, a Russian space veteran, and two rookies: European Space Agency astronaut Alexander Gerst and NASA astronaut Reid Wiseman.
Skvortsov, Swanson and Artemyev are scheduled to return to Earth on Sept. 11. Their replacements -- Barry Wilmore, Alexander Samokutyaev and Elena Serova -- are scheduled for launch Sept. 26. They will join Suraev, Gerst and Wiseman as part of the Expedition 41 crew.