Soyuz on trajectory to reach space station Thursday
BY WILLIAM HARWOOD
STORY WRITTEN FOR CBS NEWS "SPACE PLACE" & USED WITH PERMISSION
Posted: March 26, 2014


Russian flight controllers troubleshooting a glitch aboard the Soyuz TMA-12M spacecraft that interrupted a planned four-orbit rendezvous with the International Space Station Tuesday successfully uploaded a revised 34-orbit trajectory overnight, setting up a delayed docking Thursday.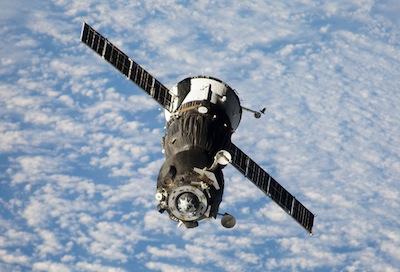 File photo of a Soyuz spacecraft. Photo credit: NASA

While engineers have not yet determined what caused an apparent orientation error that prevented a rocket firing Thursday that was part of the original four-orbit rendezvous plan, officials said Wednesday that two rocket firings had been executed as part of a revised "burn" plan and that the Soyuz spacecraft operated normally.
"Once it was determined we weren't going to be able to meet the four-orbit plan, we downloaded to what we call the 34-orbit rendezvous," said Kenny Todd, NASA's space station mission operations integration manager at the Johnson Space Center in Houston.
"That kicks off a series of additional burns that have to be done to start targeting station for rendezvous within 34 orbits. And the first couple of burns for that particular plan have been done, they've been done successfully, and (Russian flight controllers) got good confirmation."
During a morning communications session, Soyuz commander Alexander Skvortsov said he and his crewmates -- flight engineer Oleg Artemyev and NASA astronaut Steven Swanson -- were in good shape and pressing ahead with the revised rendezvous plan.
"At this point, the crew is in good shape, the vehicle appears to be in good shape, the computers are in good shape, the propulsion system is working," Todd said. "So at this point, everything looks real good."
If all goes well, Skvortsov will oversee an automated approach and docking at the space station's upper Poisk module around 7:58 p.m. EDT (GMT-4) Thursday. They will join Expedition 39 commander Koichi Wakata, cosmonaut Mikhail Tyurin and NASA astronaut Rick Mastracchio, boosting the lab's crew back to six.
The Soyuz TMA-12M spacecraft took off from the Baikonur Cosmodrome in Kazakhstan at 5:17 p.m. Tuesday (3:17 a.m. Wednesday local time). The ascent went smoothly and the spacecraft successfully executed the first two rendezvous rocket firings for a planned docking six hours -- four orbits -- after launch.
But the Soyuz apparently was not in the proper attitude, or orientation, for the third burn in the sequence and the rendezvous was interrupted. While engineers reviewed telemetry to figure out what caused the problem, flight controllers began implementing backup plans for the 48-hour, 34-orbit rendezvous.
Two-day Soyuz rendezvous plans were the norm for most of the space station's 15-year lifetime and Skvortsov flew one during his first flight to the lab complex in 2010.
The shorter four-orbit rendezvous was designed to reduce the time crews have to spend in the cramped Soyuz, but it requires extensive planning and precise timing to execute.
The shortened rendezvous plan was first tested in 2012 with an uncrewed Progress cargo ship. After additional test flights, four crewed Soyuz flights followed the fast-track trajectory. Skvortsov's crew would have been the fifth.
But the 34-orbit rendezvous profile is a well-understood alternative and Todd said the basic procedures are reviewed and updated before each launch, including this one.
"We're comfortable with this, we know how to do it," he said. "For every readiness review when we get ready to launch a Soyuz, we actually do the certification ... to support this 34-orbit case. And so we didn't have to go build new products, we didn't have to go and do a lot of new analysis. We were ready to support this."