Soyuz rocket ready to launch joint U.S.-Russian space crew
BY WILLIAM HARWOOD
STORY WRITTEN FOR CBS NEWS "SPACE PLACE" & USED WITH PERMISSION
Posted: March 25, 2014


A veteran Russian space station commander, a rookie cosmonaut and a NASA shuttle flier are set for launch aboard a Russian Soyuz ferry craft Tuesday, kicking off a four-orbit rendezvous with the International Space Station to boost the lab's crew back to six.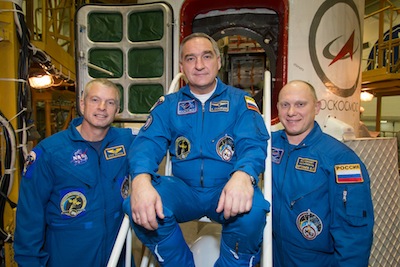 Steve Swanson, Alexander Skvortsov and Oleg Artemyev will launch aboard the Soyuz TMA-12M spacecraft. Photo credit: NASA/Victor Zelentsov

Despite Russia's annexation of Crimea and escalating superpower tit-for-tat sanctions, U.S. and Russian space engineers are continuing to cooperate on the high frontier, jointly operating the most complex spacecraft ever built.
Three fresh crew members - Soyuz TMA-12M commander Alexander Skvortsov, flight engineer Oleg Artemyev and NASA astronaut Steven Swanson -- are scheduled to blast off from the Baikonur Cosmodrome in Kazakhstan Tuesday at 5:17:23 p.m. EDT (GMT-4; 3:17 a.m. Wednesday local time).
If all goes well, Skvortsov will oversee an automated docking at the station's upper Poisk module around 11:04 p.m. Tuesday. Standing by to welcome the trio aboard will be Expedition 39 commander Koichi Wakata, cosmonaut Mikhail Tyurin and NASA astronaut Rick Mastracchio.
Wakata and his two crewmates have had the station to themselves since March 11 when Soyuz TMA-10M commander Oleg Kotov, Sergey Ryazanskiy and Mike Hopkins returned to Earth. Wakata and his crewmates are scheduled to follow suit in their Soyuz TMA-11M ferry craft on May 13.
That will clear the way for launch of Soyuz TMA-13M commander Maxim Suraev, a Russian space veteran, and two rookies: European Space Agency astronaut Alexander Gerst and NASA astronaut Reid Wiseman.
In a March 18 interview in Houston, Suraev said escalating tension over Russia's actions in Ukraine, and the response of the United States and its allies, "is something for big bananas and some politician guys, not for us."
"We are just doing our job," he said, speaking in heavily accented English. "We are flying, we are studying, we are training, we are cosmonauts." Then, with a laugh, he added "for me personally, I'm not ready to answer this question, especially before my flight! Especially when I'm here in the U.S., especially when I'm interviewing U.S. media! Ask this of our politician guys."
Wiseman, a former Navy F-14 carrier pilot, was less reticent, saying "the politics starts to fall by the wayside" when working with Russian space engineers, flight controllers and cosmonauts on a daily basis.
"Working with my commander and all the Russian trainers over there, these people are not just my colleagues, they're all my friends," he said. "And so sure, we don't want to see political turmoil, and it could ultimately get in the way of our spaceflight.
"But from the operator standpoint looking up, this is absolutely a non issue for us," he said. "I mean, we're three really good friends climbing into a Soyuz to fly into space. All politics aside, there's no doubt it's going to work for us."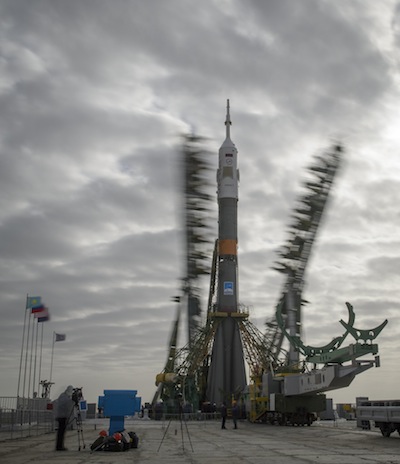 Photo of the Soyuz rocket after rollout to the launch pad Sunday. Photo credit: NASA/Bill Ingalls

That's just as well. The space station requires both parties to successfully operate.
The Russians use electricity generated by NASA's huge solar arrays, share the station's computer network, use NASA's communications satellites and rely on U.S. gyroscopes and flight controllers at the Johnson Space Center in Houston to keep the station properly oriented without having to use precious rocket fuel.
NASA, in turn, relies on the Russians to ferry U.S. and partner astronauts to and from the station aboard Soyuz spacecraft, at a cost of up to $70 million a seat. In addition, the Russians provide the rocket power needed for major station maneuvers. And both sides share critical life support systems and launch uncrewed cargo ships to keep the station supplied.
If either side pulled out of the station project for any reason, the other side would have little choice but to bring its own crew members home, putting the future of the enterprise in doubt.
"How heartbreaking would it be if politics gets in the way of your operational work," Wiseman said. "As a Navy pilot, there was nothing that we disliked more than watching an admiral or a general tell us how to run our mission when they were in DC or something like that. If you want to see how the job is done, come on out, and we'll show you, and I think you'll be impressed."
Skvortsov spent 176 days aboard the space station in 2010, serving as a flight engineer with Expedition 23 and commander of Expedition 24. This time around, he will serve as a flight engineer throughout a planned 169-day stay, serving with the Expedition 39 and 40 crews.
In a pre-flight interview, Skvortsov said his first spaceflight, and the view of Earth from orbit, changed his perspective, making him much more aware of environmental issues. "It is my firm belief that ecological problems do need addressing," he said.
"Unfortunately, there are too many places where mankind is creating damage. Ecological problems ... are something all of us have in common. This planet is our home."
Swanson spent 27 days in space during two shuttle missions in 2007 and 2009. He will serve as a flight engineer during the remainder of Expedition 39, taking over as commander of Expedition 40 when Wakata, Mastracchio and Tyurin depart in May.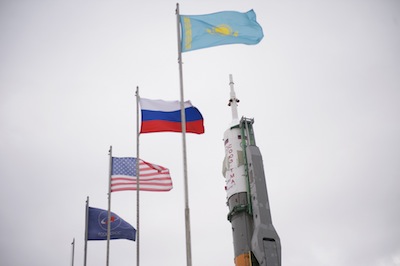 Photo credit: NASA/Joel Kowsky

Serving as commander means "looking more at the big picture, you know, how we're going to operate as a team," Swanson said. "And then also just the consumables on board, how much oxygen, water, how all that works, keeping all that in mind and just kind of knowing what the ground is always thinking of."
"I think that's kind of your job (as commander), just to be part of that whole, big team, and have that interface with the ground to make sure it's going smoothly."
Swanson is a computer software expert who consider himself a scientist- engineer. He said he's particularly looking forward to operating a wide variety of experiments during his stay aboard the station.
"We have over 170 experiments going on, we've been trained in a lot of them," he said. "They vary, of course, to ones we don't even touch, to ones that we are the technical operator on but we don't do anything but start them up and get them set to go. And there are ones we are the actual subjects for.
"For me, the ones I'm most interested in are the ones that I'm doing. Those have to do with ocular health, what happens to your eyesight (in microgravity) and, of course, also working on muscle atrophy and bone loss."
During the course of their stay aboard the station, Skvortsov, Artemyev and Swanson will oversee the arrival of three uncrewed supply ships -- one Russian Progress, an Orbital Sciences Cygnus and a SpaceX Dragon capsule.
Two Russian spacewalks are planned during Expedition 40, along with two and possibly three U.S. excursions. The details are still be ironed out, but Swanson is expected to partcipate.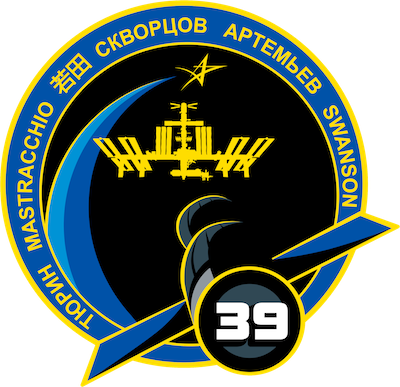 The Expedition 39 mission patch. Photo credit: NASA

"I've done four so far (during the shuttle program), I've been very privileged, I appreciate that opportunity," Swanson said. "To do it again (will) be great.
"The views are amazing out there. It's hard to describe because it's so different from anything else, but just the idea of going out in your own little space vehicle and working on the station, making it better, and also just relaxing and seeing the whole Earth below you is a fantastic thing."
Artemyev, the only rookie in the Soyuz TMA-12M crew, said he was eager to experience all aspects of spaceflight, especially getting a chance to live and work in the Russian Zvezda command module, which he helped build.
"I've been preparing for this mission for 11 years now," he said. "Now, I'm like that horse leaving the stable who really wants to race! So I'm interested in everything that I will be doing in my new home. ... I'm anticipating seeing the service module in person, because that's the module I was working on when I was an engineer at RSC Energia."
Asked what he might miss during his stay in space, Artemyev said "I can tell you for sure that the part we all miss the most is our family and being far away from family and friends and loved ones."
That's the hardest thing we do, the feeling that you cannot be with your family or, God forbid, if something happens, you cannot do something for them, you cannot be by their side," he said. "That's the hardest thing by far."
Skvortsov, Swanson and Artemyev are scheduled to return to Earth on Sept. 11. Their replacements -- Barry Wilmore, Alexander Samokutyaev and Elena Serova -- are scheduled for launch Sept. 26. They will join Suraev, Gerst and Wiseman as part of the Expedition 41 crew.