Wakata becomes Japan's first space station commander
BY STEPHEN CLARK
SPACEFLIGHT NOW
Posted: March 9, 2014


Koichi Wakata took command of the International Space Station on Sunday to become the first Japanese astronaut to lead an expedition crew aboard the orbiting complex.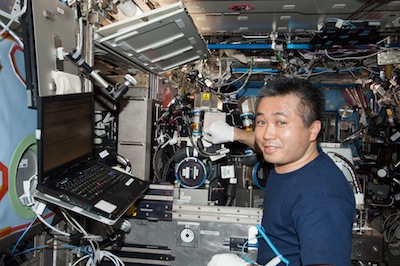 Koichi Wakata aboard the International Space Station. Photo credit: NASA

"I am humbled to assume command of the space station," Wakata said in a command handover ceremony inside the space station's Kibo laboratory module.
Wakata took command of the outpost from Russian cosmonaut Oleg Kotov, who is preparing to return to Earth late Monday (U.S. time) with crewmates Sergey Ryazanskiy and NASA astronaut Michael Hopkins. The trio will depart the space station at 0002 GMT Tuesday (8:02 p.m. EDT Monday) inside their Soyuz TMA-10M spacecraft, followed by touchdown in Kazakhstan about three hours later.
"I'm very glad to hand over command of the station to my friend, JAXA astronaut Koichi Wakata," Kotov said.
Wakata, a veteran astronaut with three previous missions in his logbook, is the first Japanese person to command any spaceflight.
Astronauts from Russia, the United States, Europe, Canada and Japan have now commanded space station crews.
"Welcome to Wakata-san as the first Japanese commander of the International Space Station," radioed an official from the JAXA control center in Tsukuba, Japan. "It is, indeed, a special day for the human space program, especially for the people in Japan."
Wakata has served as a flight engineer aboard the laboratory since his launch in November.
"We have accomplished 740 crew hours of payload activities on a variety of payloads and a lot of maintenance activities on the very important regenerative [lift support] equipment," Wakata said. "We also celebrated the 15th anniversary of the first ISS module launch of Zarya in November.
"We have unforgettable memories together and we will continue to keep the station operations safe, efficient and fun."
Selected as an astronaut in 1992, Wakata was a mission specialist on the space shuttle Discovery's STS-72 mission in 1995. He flew again in 2000 on Discovery's STS-92 mission to deliver communications equipment, gyroscopes and a docking port to the space station.
He spent 137 days living on the space station in 2009, serving as flight engineer on three expedition crews.
Wakata's leadership of the space station's Expedition 39 crew, which formally takes over the complex with Monday's undocking of Kotov, Ryazanskiy and Hopkins, will last until mid-May.
Wakata, Richard Mastracchio and Mikhail Tyurin will be joined by three fresh crew members March 25 with the arrival of NASA astronaut Steven Swanson and Russian cosmonauts Alexander Skvortsov and Oleg Artemyev.
Follow Stephen Clark on Twitter: @StephenClark1.