Camera problem persists after spacewalk setup
BY WILLIAM HARWOOD
STORY WRITTEN FOR CBS NEWS "SPACE PLACE" & USED WITH PERMISSION
Posted: January 27, 2014


Cosmonauts Oleg Kotov and Sergey Ryazanskiy successfully re-installed a high-resolution video camera on the hull of the International Space Station Monday, but a problem of some sort prevented a second, lower-resolution camera from sending telemetry to the ground.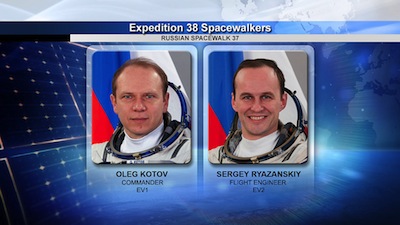 Oleg Kotov and Sergey Ryazanskiy. Credit: NASA



After multiple attempts to resolve the problem by disconnecting and re-mating several power and data cables -- and completing two other unrelated tasks -- the cosmonauts were told to collect their tools and return to the Pirs airlock module. The hatch was closed at 3:08 p.m. EST (GMT-5), ending a six-hour and eight-minute spacewalk.

"Well, at least one of them is working, and that's a big deal," one of the spacewalkers radioed.

It was the second spacewalk in a row to install the cameras for UrtheCast, a Vancouver-based company that plans to beam down Earth views to subscribers around the world as part of a commercial venture in cooperation with Roscosmos, the Russian federal space agency.

During a Dec. 27 spacewalk, internal and external cabling problems prevented telemetry from either camera from making it to the ground. Both cameras were hauled back inside the space station and post-spacewalk troubleshooting seemed to identify two separate issues.

The cosmonauts reconfigured internal cabling to correct the problem with the high-resolution camera. As for the medium-resolution camera, engineers concluded the problem was the result of cables that apparently were not connected to the proper plugs in a so-called "patch panel" in the hull of the Zvezda command module.

During Monday's spacewalk, Kotov and Ryazanskiy had no problems attaching the high-resolution camera to a steerable aiming platform and making the required electrical connections. Flight controllers quickly confirmed they were receiving steady telemetry.

The cosmonauts then re-installed the medium-resolution camera on a fixed mounting plate near its high-resolution counterpart and proceeded to make a series of electrical connections. They then traced the power lines to the patch panel to confirm they were properly plugged in. But flight controllers did not receive the expected telemetry.

Ryazanskiy then was asked to disconnect and re-mate a suspect cable where it plugged into the patch panel. That didn't resolve the problem, so he disconnected and re-mated two additional cables in a bid to enable a steady stream of telemetry. Again, flight controllers said they were not receiving the expected data.

While Ryazanskiy worked with the cabling, Kotov retrieved a NASA spacewalk tool with a disconnected locking pin and then collected a space exposure experiment, the only other items on the crew's timeline.

Flight controllers, meanwhile, told the cosmonauts to head back to the Pirs airlock and to leave the cameras in place. It was not immediately known if the problem affecting the medium-resolution camera can be corrected from inside the space station. But flight controllers told the cosmonauts that a third spacewalk was not in the cards.

"I do not believe the connector is not mated," someone, presumably one of the spacewalkers, radioed Russian flight controllers in a live translation.

"Well, the connectors are pretty obvious, it's impossible to connect them incorrectly," someone said. "We have confirmed that the connectors are mated, we have re-mated the connectors and (we will) let them look for what is going on. At least, I've been told there is not going to be another telescope EVA."

"OK, copy," one of the spacewalkers replied.

It was not immediately known what impact the camera problem might have on UrtheCast and its plans to begin commercial operations later this year.

The medium-resolution camera was intended to provide a fixed view of the ground 260 miles below, capable of distinguishing surface features roughly 16 feet across in 25-mile-wide strips of imagery. The high-resolution 4K camera, attached to an aiming mechanism installed during an earlier spacewalk, can be pointed at specific targets. It can distinguish objects as small as 3.3 feet across.

UrtheCast plans to provide a free stream of basic imagery while more specific targeting requests will be billed at yet-to-be-specified rates. But the company's business model is based on two operational cameras and it's not yet known what it might take to fix the medium-resolution imager or how long that might take.

"An ongoing telemetry issue of some sort, not understood yet by the flight control team ... has proved to be an obstacle toward complete success for today's spacewalk," said NASA mission control commentator Rob Navias at the Johnson Space Center in Houston.

"That medium-resolution camera ... is not providing a stream of telemetry to the ground, apparently, and the flight control team in Korolev (near Moscow) will have to scratch its heads and consider other courses of troubleshooting. They will not conduct another spacewalk to deal with the cameras."

Today's spacewalk was the 178th devoted to station assembly and maintenance since construction began in 1998, the first so far this year, the sixth for Kotov and the third for Ryazanskiy.

One hundred and 14 astronauts and cosmonauts representing nine nations have now logged 1,121 hours and 52 minutes of station EVA time, or 46.7 days. Kotov's total now stands at 36 hours and 51 minutes, moving him up to 29th on the list of most experienced spacewalkers.