Lengthy Russian spacewalk ends in disappointment
BY WILLIAM HARWOOD
STORY WRITTEN FOR CBS NEWS "SPACE PLACE" & USED WITH PERMISSION
Posted: December 27, 2013


After running into problems hooking up two commercial Earth-viewing cameras, cosmonauts Oleg Kotov and Sergey Ryazanskiy reluctantly brought the high-tech cameras back into the Pirs airlock module Friday, closed the hatch and ended a marathon spacewalk, setting a new Russian record in an otherwise disappointing excursion.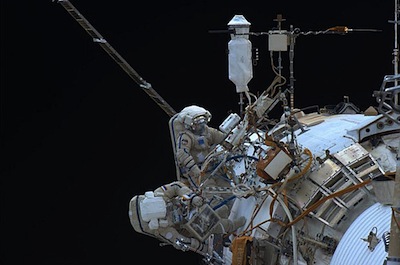 Kotov and Ryazanskiy are pictured outside the International Space Station on Friday in this image posted on astronaut Rick Mastracchio's Twitter account. Credit: Rick Mastracchio/NASA



"We're back home," one of the cosmonauts radioed.

"Thank you for all your hard work, and we're so sorry that it turned out this way," a flight controller radioed in translated remarks.

The spacewalk began at 8 a.m. and ended at 4:07 p.m. EST (GMT-5). The eight-hour seven-minute outing set a new Russian endurance record and beat the previous mark of seven-hours and 29 minutes set in August by cosmonauts Fyodor Yurchikhin and Alexander Misurkin. The U.S. spacewalk record stands at eight hours and 56 minutes.

The primary objective of Friday's outing was to install two cameras for Vancouver-based UrtheCast, a high-resolution telescope mounted on an aiming platform and a fixed medium-resolution camera. Both are required for a long-awaited commercial project to beam down near realtime high-definition Earth views, including a free internet stream as well as focused observations for paying customers.

Kotov and Ryazanskiy successfully installed the cameras and plugged them into the station's power and data circuits. But Russian flight controllers did not receive telemetry, prompting the cosmonauts to retrace their steps and inspect each electrical connector.

The cosmonauts reported no obvious problems, unplugging and reconnecting the cables between the cameras and two "patch panels" on the hull of the Zvezda command module. But the troubleshooting did not work.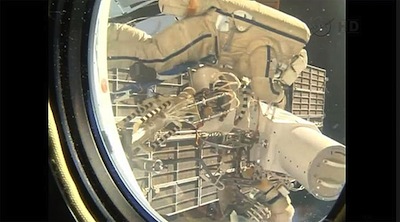 The cosmonauts work to install the Urthecast cameras in this image from inside the space station. Credit: NASA TV



Kotov and Ryazanskiy were asked to take additional photographs of the cameras on their mounts, along with visible electrical connectors, before detaching them and hauling them back into the Pirs airlock compartment.

"So it appears we have seen an unsuccessful attempt at bringing those two cameras to life,"said Rob Navias, NASA's mission control commentator. "The exact cause of the problem is not known at this point. The Russian flight control team will spend some time, obviously, analyzing the data and trying to understand from the analysis of these photographs whether or not the problem lies in the electrical connectors themselves or in the cameras, which of course would be a more significant issue."

How long it might take to resolve the camera issue and stage another spacewalk to install them is not yet known.

BC Business reported earlier this year that UrtheCast had secured a $35 million insurance policy "for the launch, installation, commissioning and business interruption of its two cameras aboard the ISS." If the cameras failed to work properly or could not be installed, the report said, the company would use the insurance coverage to build and launch a fresh set of cameras.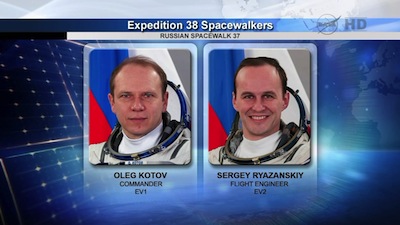 Credit: NASA TV



Today's spacewalk was the third in less than a week. It followed two U.S. spacewalks to repair the International Space Station's cooling system.

This was the 177th spacewalk devoted to station assembly and maintenance since construction began in 1998, the eleventh and final EVA for the year, the fifth for Kotov and the second for Ryazanskiy.

One hundred and 14 astronauts and cosmonauts representing nine nations have now logged 1,115 hours and 44 minutes of spacewalk time outside the International Space Station, or 46.5 days.