Spacewalk begins complex job of replacing coolant pump
BY WILLIAM HARWOOD
STORY WRITTEN FOR CBS NEWS "SPACE PLACE" & USED WITH PERMISSION
Posted: December 21, 2013


Astronauts Rick Mastracchio and Mike Hopkins switched their spacesuits to battery power early Saturday, kicking off the first in a series of spacewalks to replace a refrigerator-size ammonia pump assembly aboard the International Space Station in a high-stakes attempt to restore a critical coolant loop to normal operation.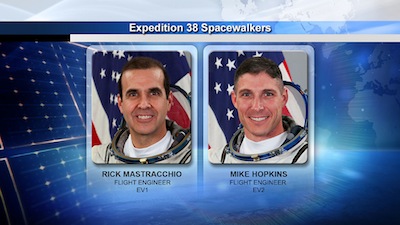 Astronauts Rick Mastracchio and Mike Hopkins will conduct a series of spacewalks beginning Saturday to replace a faulty pump module outside the space station. Credit: NASA



Floating in the station's Quest airlock module, the astronauts began the planned six-and-a-half-hour excursion at 7:01 a.m. EST (GMT-5) as the space station sailed 260 miles above the Atlantic Ocean approaching Africa.

"Quite a view," Hopkins marveled as he floated outside the airlock to begin his first spacewalk.

"Yeah, watch that first step," joked Mastracchio, making his seventh EVA.

For identification, Mastracchio, call sign EV-1, is wearing a suit with red stripes and using helmet camera No. 20. Hopkins, EV-2, is wearing an unmarked suit with helmet camera No. 18. This is the 175th spacewalk devoted to station assembly and maintenance since construction began in 1998 and the ninth so far this year.

Hopkins' spacesuit -- serial No. 3011 -- is the same one that suffered a water leak during a July spacewalk, flooding the helmet of European Space Agency astronaut Luca Parmitano in a frightening emergency that forced the crew to stop work and beat a hasty retreat to the safety of the station's airlock.

An exhaustive investigation blamed the leakage on contamination that clogged one or more filters in the suit's cooling water recirculation system. While the root cause of the contamination has not yet been determined, the suspect hardware in suit No. 3011 was replaced and engineers are confident the problem has been resolved.

Just in case, the astronauts positioned water-absorbing pads behind their heads, where the water entered Parmitano's helmet in July, and used velcro to secure snorkel-like plastic tubes within easy reach of their mouths. The tubes extend down into the body of the suit, giving the spacewalkers an unobstructed source of air if water somehow makes it into either helmet.

The water-absorbing pads and snorkels should provide more than enough time to reach the safety of the station's airlock if another leak does, in fact, develop.

The spacewalks were ordered after a critical valve in one of the space station's two coolant loops malfunctioned last week, resulting in lower-than-allowable temperatures.

While coolant loop A remained partially operational, flight controllers were forced to shut down a variety of systems in the station's forward modules, including experiment hardware, to keep those systems from over heating. Coolant loop B remained fully functional.

Engineers attempted to resolve the problem using a software patch to precisely control the position of another valve in the coolant system, and thus the temperature of the ammonia in loop A. But NASA managers ultimately opted for a series of spacewalks to replace the ammonia pump module where the suspect flow control valve is located.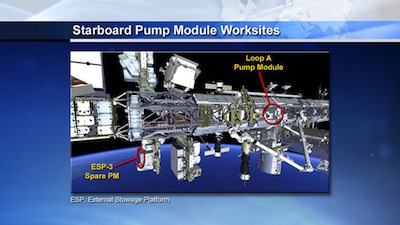 The pump module to be disconnected on Saturday's spacewalk is on the S1 starboard truss segment. The spare module is mounted on an external stowage platform. See a larger image. Credit: NASA



The pump module in question was installed during three 2010 spacewalks after the pump in the original assembly broke down, taking out coolant loop A in its entirety. This time around, the loop A pump is working normally, cooling components mounted outside the station's habitable modules. But the faulty flow control valve is preventing the loop from cooling components mounted inside the habitable compartments.

The loop A pump module is mounted on the right side of the station's main solar power beam in truss segment S1.

Mastracchio and Hopkins plan to replace the 780-pound assembly with one of three spares mounted on external storage platforms. During Saturday's spacewalk, they plan to set up the tools they'll need, open insulation blankets and disconnect four ammonia lines from the balky pump unit.

The first two ammonia lines to be disconnected - M3 and M4 - will be connected to a "jumper box" that will prevent the loop A coolant system from over pressurizing during temperature swings in orbit. With the jumper box hooked up, the astronauts will disconnect the other two ammonia lines, along with five electrical connectors.

During a second spacewalk Monday, the astronauts plan to remove the faulty pump assembly and temporarily stow it on a nearby mounting fixture. The replacement pump module then will be installed in its place and the astronauts will re-connect the electrical lines.

During a third spacewalk Christmas day, Mastracchio and Hopkins will re-connect the fluid lines and close out the replacement module. They also will move the old pump assembly to the same storage pallet where the replacement pump was mounted.

If the work goes smoothly, it may be possible to complete the pump module swap out in two spacewalks. But during the 2010 replacement work, Douglas Wheelock and Tracy Caldwell-Dyson ran into problems getting the ammonia lines disconnected and a third spacewalk was required.

Given their past experience, NASA planners say there's a good chance the Christmas day spacewalk will be needed and time has been set aside just in case.

Here is a timeline of major spacewalk tasks planned for Saturday (in EST and event elapsed time; best viewed with fixed-width font):

EST........HH...MM...EVENT

07:01 AM...00...00...Suits to battery power (spacewalk begins)
07:06 AM...00...05...Egress/setup
07:46 AM...00...45...EV1: Robot arm (SSRMS) setup
.....................Install WIF adapter
.....................Install portable foot restraint
.....................Safety tether swap to SSRMS
07:46 AM...00...45...EV2: Failed pump module preps
.....................Open large ORU bag; stage crewlock bag 1
.....................Stage fish stringer
.....................Open and restrain pump module insulation shroud
.....................Release TA clamps from pump module fluid lines
.....................Assist EV1 with spool positioning device (SPD) removal
08:26 AM...01...25...EV1: Failed pump module preps
.....................Remove SPDs
08:56 AM...01...55...EV1: SSRMS ingress
08:56 AM...01...55...EV2: Ammonia line quick disconnect demate (assist EV1)
09:06 AM...02...05...EV1: QD demates (M4, M3,M1,M2)
.....................Close/demate M4,M3
.....................Install pump module jumper
.....................Attach insulation to jumper
.....................Close/demate M1,M2
.....................Install insulation cover over M1,M2
11:41 AM...04...40...EV2: Prep failed pump module for removal
.....................Demate electrical connectors (5)
12:11 PM...05...10...EV2: Spare pump module prep
.....................Open pump module insulation
.....................Remove tape/velcro from pump module handrails
12:21 PM...05...20...EV1: Egress SSRMS
12:41 PM...05...40...Clean up/ingress
.....................EV1 close and stow large ORU bag on CETA cart
01:26 PM...06...25...Pre-repress
01:31 PM...06...30...Spacewalk ends

Going into Saturday's EVA, 113 astronauts and cosmonauts representing nine nations had logged 1,094 hours and 39 minutes of spacewalk time outside the space station, or 45.6 full days. Mastracchio's time outside during his previous six spacewalks totals 38 hours and 30 minutes, putting him 23rd on the list of most experienced spacewalkers.