NASA studying cooling problem on space station
BY WILLIAM HARWOOD
STORY WRITTEN FOR CBS NEWS "SPACE PLACE" & USED WITH PERMISSION
Posted: December 11, 2013


One of the International Space Station's external coolant loops shut down Wednesday after sensors detected lower-than-expected temperatures, NASA officials said.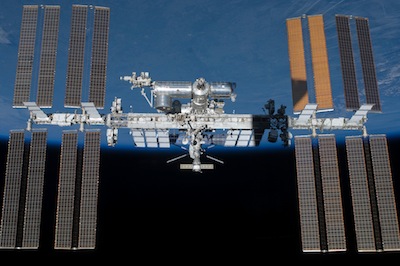 Credit: NASA TV



The loop's pump was reactivated, but a critical flow control valve apparently is not operating as expected, prompting flight controllers to shut down non-critical systems in the forward part of the complex to reduce the load on the operational coolant loop.

A NASA spokesman said the station's six-member crew is not in any danger and that operations are continuing in a near-normal fashion using coolant loop B to dissipate heat generated by the station's electrical systems.

But some equipment in the forward Harmony module, known as Node 2, and two lab modules that are attached to it -- the European Space Agency's Columbus laboratory and Japan's Kibo module -- cannot be fully cooled by loop B alone and some of those systems are being powered down to reduce the load on the coolant system.

It is not yet clear if the apparent problem with the flow control valve is the result of a hardware issue or the software that controls it. If it is software related, a NASA official said, engineers likely will come up with a work-around. If the hardware is at fault, a spacewalk could be required at some point to install a replacement.

In the meantime, NASA and Orbital Sciences Corp. are pressing ahead with plans to launch an unmanned Cygnus cargo ship Dec. 18, Orbital's first operational station resupply mission. Berthing at Harmony's Earth-facing port is expected Dec. 21, assuming no major disruptions because of the coolant system issue.

The space station uses ammonia circulating through a complex system of heat exchangers, plumbing and radiators to dissipate the heat generated by the lab's myriad electrical systems. Flight controllers can use excess capacity in one loop to cool components in the other, but not all systems can remain powered with a single operational coolant loop.

Given the lost redundancy, flight controllers and engineers are reviewing telemetry and working to come up with repair options as quickly as possible.