Water in spacewalker's helmet ends EVA early
BY WILLIAM HARWOOD
STORY WRITTEN FOR CBS NEWS "SPACE PLACE" & USED WITH PERMISSION
Posted: July 16, 2013


Astronauts Christopher Cassidy and Luca Parmitano returned to the International Space Station's Quest airlock Tuesday, closed the hatch and repressurized the compartment to bring a planned 6.5-hour spacewalk to an early-but-safe conclusion after an unusual and potentially dangerous buildup of water in Parmitano's helmet.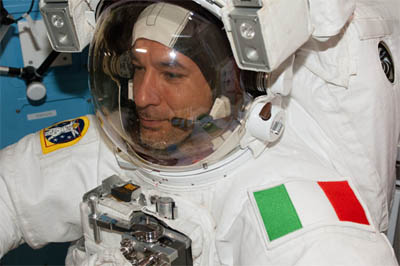 Astronaut Luca Parmitano. Credit: NASA



As soon as the airlock's inner hatch was re-opened at 9:37 a.m. -- about 40 minutes after flight controllers ordered the astronauts to head back in -- Karen Nyberg and cosmonauts Pavel Vinogradov and Fyodor Yurchikhin removed Parmitano's helmet and used towels to sop up the excess water.

By that point, Parmitano was having trouble seeing and hearing, but he appeared in good spirits as he dried off and the other crew members began assisting Cassidy.

It is not yet clear what went wrong with Parmitano's suit. He initially speculated a leak in his spacesuit's drink bag, but it could be the result of some other problem.

Cassidy and Parmitano carried out a spacewalk last Tuesday to begin working through a backlog of station maintenance and assembly tasks. Today's outing was the sixth for Cassidy and the second for Parmitano, the first Italian to walk in space.

The astronauts only accomplished the first two tasks on their spacewalk to-do list. Cassidy completed work at the Z1 truss atop the central Unity module to install a second set of jumper cables that will enable flight controllers to quickly reconfigure electrical loads in the wake of failures that otherwise would require a spacewalk.

Parmitano, meanwhile, began work to complete installation of wiring between the U.S. and Russian segments of the station. Shortly thereafter, the water problem developed and both spacewalkers were told to stand by while flight controllers assessed the problem

Within a few minutes, they were told to head back to the airlock and with Cassidy's assistance, Parmitano had no major problems getting back inside.

Parmitano mentioned the water buildup early on, telling Cassidy the back of his head felt wetter than sweat could explain.

"I don't understand where it's coming from," Parmitano said.

"It has to be (your drink) bag," Cassidy replied. "Can you suck it dry?"

A few minutes later, Cassidy looked into his crewmate's helmet, saying "so that stuff on your forehead is not sweat?"

"No it's not."

"Oh, I see."

A few minutes later, Cassidy told flight controllers that Parmitano's drink bag almost certainly was empty "so there's something left, like a liter, at the back of his head."

"No, it's less than that," Parmitano corrected. "Half a liter."

"A half a liter at the back of his head," Cassidy called. "Half of a drink bag. That's just a guess on our part."

But it appeared the amount of water continued to increase, slowly but steadily.

"I can still hear perfectly. but my head is really wet and I feel it increasing," Parmitano said.

After a bit more discussion, it became clear the problem was getting worse.

"Where's it coming from? It's too much," Parmitano said.

"I don't know, it's a lot," Cassidy agreed.

"Now it's in my eyes," Parmitano said.

A few moments later, astronaut Shane Kimbrough in mission control ordered the spacewalkers to head back to the Quest airlock module.

"Chris and Luca just for you guys, based on what we heard with Luca saying that water's in his eyes now and it seems to be increasing, we think we're going to terminate EVA case for EV-2," he said. "So Luca, we'll have you head back to the airlock. Chris, we'll get a plan for you to clean things up here and then join him in a minute."

"OK. copy all, Shane," Cassidy said.

Within 10 minutes, both astronauts were back in the airlock and mission control told them to carry out a normal repressurization but an "expedited suit doffing" for Parmitano.

None of the remaining items on the crew's spacewalk task list are time critical and flight controllers will assess the crew's timeline to figure out when another attempt can be made to get the work done.

The unfinished tasks include additional cable routing, work to move a wireless camera antenna on the station's power truss and replacement of a camera on the external deck of the Japanese Kibo lab module.

The astronauts also planned to reposition a balky door in a compartment on the power truss that houses electrical gear and to remove insulation blankets from a failed electrical switching unit that will be repaired later using the station's robot arm.