Russian spacewalk paves way for new lab module
BY WILLIAM HARWOOD
STORY WRITTEN FOR CBS NEWS "SPACE PLACE" & USED WITH PERMISSION
Posted: June 24, 2013


Cosmonauts Fyodor Yurchikhin and Alexander Misurkin staged a successful six-hour 34-minute spacewalk Monday, installing cable clamps, attaching handrails and testing rendezvous equipment to help pave the way for installation of a new Russian laboratory module later this year.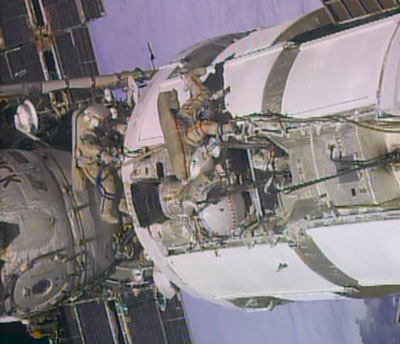 Yurchikhin and Misurkin work outside the International Space Station. Credit: NASA
They also replaced a flow control valve in the coolant system of the Zarya module, retrieved space exposure experiment pallets and installed a new experiment to monitor the station's immediate environment.
When all was said and done, they accomplished all of their major objectives with the exception of two pairs of handrails, called gap spanners, that will be installed during an upcoming spacewalk.
The spacewalk began at 9:32 a.m. EDT (GMT-4) when Yurchikhin, call sign EV-1, and Misurkin, EV-2, opened the hatch of the Pirs airlock compartment as the station sailed 250 miles above the south Pacific Ocean. Misurkin made his way outside a few moments later, followed by Yurchikhin.
Along with routine maintenance, much of the work carried out during today's spacewalk includeed installation of cable clamps and other equipment needed to route data and power to and from the Multi-Purpose Laboratory module, also known as Nauka, tentatively scheduled for launch in December.
To make way for the new module, the Pirs docking and airlock compartment will be jettisoned this Fall and the MLM will use its own propulsion and guidance system to fly to an automated docking at the Zvezda command module's Earth-facing port.
But first, Russian spacewalkers must route power and data lines on Zvezda's hull and make sure docking equipment will work properlhy after Pirs is jettisoned. It will take another three Russian spacewalks and two by NASA astronauts to complete the preparations.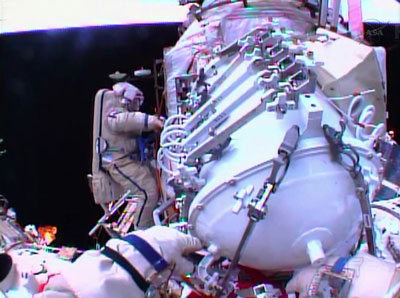 Helmet mounted cameras provided mission control with closeup views of the spacewalk. Credit: NASA
"There are quite a (few) tasks that need to be performed by the Russian EVA crew members before MLM arrives," said Lawrence Thomas, NASA's lead spacewalk planner for Expedition 36. "Not only do they need to route power and data cables and reconfigure (rendezvous) equipment for the arrival of the MLM itself, it's part of a larger reconfiguration effort."
Because the MLM will replace the Pirs module, which serves as the Russian airlock, the Poisk module must be configured to handle spacewalks.
"So there is a lot of hardware we're going to have to move around," Thomas said. "There's EVA hardware on (Pirs) that will have to be removed and re-installed on (Poisk), there are some antennas that will have to be moved around and there's also some science equipment on (Pirs) that's going to have to be relocated before it deorbits."
For today's excursion, Yurchikhin and Misurkin began by replacing a cooling system flow control valve on the Zarya module and installing additional power and data cable clamps needed for the MLM.
On the Zvezda module, the spacewalkers reconfigured KURS docking gear, used by approaching Soyuz and Progress spacecraft to home in for docking at Pirs, and installed spacewalk handrails needed during upcoming EVAs. They also retrieved two space exposure pallets and installed the "Indicator" experiment.
"The tasks for this EVA in particular, there's not one that's particularly hard in comparison to other things we've done," Thomas said. "One thing that I've always admired about Russian EVA hardware, they always design it to where it's very user friendly, very simple interfaces, very intuitive."
The spacewalk ended at 4:06 p.m. when the cosmonauts returned to Pirs and closed the hatch to begin repressurization.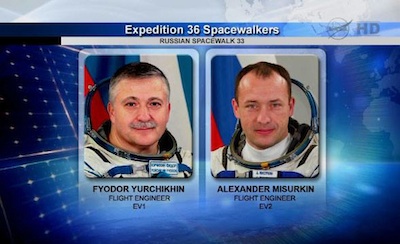 Credit: NASA
This was the 169th spacewalk devoted to station assembly and maintenance since construction began in 1998, the third so far this year, the sixth for Yurchikhin and the first for Misurkin. Four more Russian spacewalks are planned for 2013, along with two U.S. excursions July 9 and 16.
With today's EVA, 111 astronauts and cosmonauts representing eight nations have logged 1,067 hours and 43 minutes -- 44.5 days -- of spacewalk time outside the International Space Station. Yurchikins's total now stands at 38 hours and 26 minutes, moving him up to 24th on the list of most experiences spacewalkers, one minute ahead of crewmate Pavel Vinogradov.
Misurkin, making his first spaceflight, arrived at the space station March 28, along with Vinogradov, commander of the Soyuz TMA-08M ferry craft, and NASA astronaut Christopher Cassidy. Yurchikhin arrived May 28 aboard the Soyuz TMA-09M spacecraft, accompanied by NASA shuttle veteran Karen Nyberg and Luca Parmitano, a European Space Agency astronaut.
Yurchikhin first flew to the space station in 2002 as a shuttle astronaut on a mission to attach part of the lab's solar power truss. He then completed two long-duration stays, riding aloft aboard Soyuz spacecraft in 2007 and 2010.
He has now logged nearly 400 days in space. When Vinogradov, Misurkin and Cassidy depart in September, Yurchikhin will take over as commander of Expedition 37.