NASA hopeful spacewalk fixed space station leak
BY WILLIAM HARWOOD
STORY WRITTEN FOR CBS NEWS "SPACE PLACE" & USED WITH PERMISSION
Posted: May 11, 2013


Astronauts Thomas Marshburn and Christopher Cassidy began repressurizing the space station's Quest airlock at 2:14 p.m. EDT, closing out an unplanned five-hour 30-minute spacewalk to fix a leak in one of the lab's ammonia coolant loops.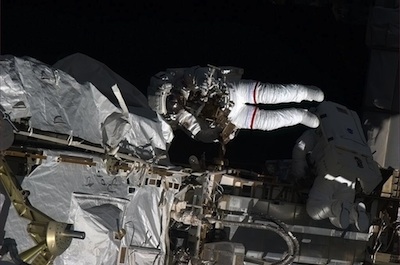 Cassidy and Marshburn viewed through the camera lens of Chris Hadfield, who oversaw the spacewalk from inside the space station. Credit: Chris Hadfield/CSA/NASA

While the ammonia leak did not re-appear after a replacement pump module was installed, flight controllers cautioned that it will take days, if not weeks, to make absolutely sure the coolant loop is leak free.
But there were no immediate signs of any trouble and mission managers were hopeful the pump replacement had, in fact, resolved the problem.
The spacewalk -- U.S. EVA-21 -- was carried out just two days after an ammonia leak was spotted on the far left side of the station's solar power truss, taking down one of the lab's critical coolant loops.
"I just have to say, it is incredible what we've done in just 48 hours," Marshburn radioed shortly before airlock repressurization began. "By 'we' I mean all of operations at Johnson (Space Center) and around the country, to do this in two days. We felt safe the whole time, didn't feel rushed, the (training) products were incredible. Thanks very much. We're just really proud to be a tiny part of it."
"The team sure appreciates your words," said Michael Fincke from the mission control center in Houston. "There were a lot of folks who stayed up really late ... to get this accomplished, and you guys performed excellently, the whole entire crew, and we're very proud of you."
Today's excursion was the 168th spacewalk devoted to station assembly and maintenance since construction began in 1998, the second so far this year and the fourth for both Marshburn and Cassidy, who were spacewalking crewmates during a 2009 shuttle mission.
Total station spacewalk time now stands at 1,061 hours and nine minutes , or 44.2 days. Marshburn's total now stands at 24 hours and 29 minutes while Cassidy's mark is 23 hours and 35 minutes.
Marshburn is scheduled to return to Earth Monday aboard a Soyuz ferry craft, along with cosmonaut Roman Romanenko and outgoing station commander Chris Hadfield.
Cassidy and cosmonauts Pavel Vinogradov and Alexander Misurkin will have the station to themselves until the end of the month when three fresh crew members -- Karen Nyberg, European Space Agency astronaut Luca Parmitano and cosmonaut Fyodor Yurchikhin -- arrive aboard another Soyuz.
If all goes well, Cassidy and Parmitano will carry out two already planned spacewalks July 9 and 16.