Russians successfully launch space station resupply ship
BY JUSTIN RAY
SPACEFLIGHT NOW
Posted: February 11, 2013


Dispatching a freighter filled with food, fuel and supplies to the International Space Station, a Russian Soyuz booster launched Monday from the Baikonur Cosmodrome on a six-hour trek to the orbiting outpost.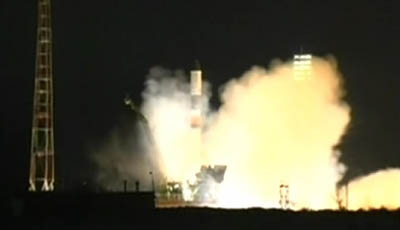 Main engine ignition. Credit: NASA TV



The rocket successfully blasted off carrying the automated Progress vessel from the launch base in Kazakhstan at 9:41:46 a.m. EST (1441:46 GMT; 8:41 p.m. local time), beginning Russia's 50th delivery mission attempted to the space station since 2000.

The preliminary orbit was achieved after a nine-minute ascent provided by the three-stage rocket, and onboard commands were issued to unfurl the craft's communications and navigation antennas and extend two power-generating solar arrays that span 35 feet.

A series of precise engine firings over the next six hours guided the Progress toward an automated rendezvous with the station for docking at 3:35 p.m. EST (2035 GMT).

The 24-foot long ship attached itself to the open port on the Pirs compartment on the underside of the station, which became available Saturday when the previous Progress flew away to fly solo for deorbiting into the South Pacific.

Today's launch was known in the station's assembly matrix as Progress mission 50P. The spacecraft's formal Russian designation is Progress M-18M.

The craft ferried nearly three tons of supplies to the station. The "dry" cargo tucked aboard the Progress amounts to 3,000 pounds in the form of food, spare parts, life support gear and experiment hardware.

The refueling module carries 1,764 pounds of propellant for transfer into the Russian segment of the complex to feed the station's maneuvering thrusters. The vessel also has 926 pounds of water and 110 pounds of oxygen and air.

It'll remain attached to the station through April 23.

The space station is staffed by the Expedition 34 crew of commander Kevin Ford and Tom Marshburn of NASA, Chris Hadfield from the Canadian Space Agency and Russian cosmonauts Oleg Novitskiy, Evgeni Tarelkin and Roman Romanenko.

The cosmonauts were ready to take over manual control of the approaching Progress spacecraft if the autopilot experienced a problem, but the ship docked in automatic mode.

Russian plans additional Progress missions in 2013 to continue the resupply chain to the space station in April, July and October.


Additional coverage for subscribers:


VIDEO: SOYUZ DOCKS TO THE SPACE STATION PLAY



VIDEO: FULL LAUNCH EXPERIENCE PLAY | HI-DEF


VIDEO: CREW ARRIVES AT THE LAUNCH PAD PLAY | HI-DEF


VIDEO: DONNING THE SOKOL SPACESUITS PLAY | HI-DEF


VIDEO: LAUNCH MORNING TRADITIONS PLAY | HI-DEF



VIDEO: POST-ROLLOUT NASA INTERVIEWS PLAY | HI-DEF


VIDEO: SOYUZ ROCKET ROLLED TO THE LAUNCH PAD PLAY | HI-DEF


VIDEO: ASSEMBLY OF SOYUZ LAUNCHER COMPLETED PLAY | HI-DEF



VIDEO: ASTRONAUTS PLAY TOURIST AT BAIKONUR PLAY | HI-DEF


VIDEO: FINAL PRE-FLIGHT PREPS FOR THE CREW PLAY | HI-DEF


VIDEO: VERTICAL 'FIT CHECKS' IN THE SOYUZ PLAY | HI-DEF


VIDEO: DRESS REHEARSAL INSIDE THE CAPSULE PLAY | HI-DEF


VIDEO: CREW ARRIVES AT BAIKONUR COSMODROME PLAY | HI-DEF


VIDEO: ASTRONAUTS DEPART STAR CITY FOR LAUNCH PLAY | HI-DEF


SUBSCRIBE NOW