Soyuz lands with three-man crew from space station
BY WILLIAM HARWOOD
STORY WRITTEN FOR CBS NEWS "SPACE PLACE" & USED WITH PERMISSION
Posted: March 16, 2013


Running a day late because of freezing rain and low clouds in Kazakhstan, three space station crewmen strapped into their Soyuz ferry craft and dropped out of orbit Friday, plunging to a jarring touchdown on the fog-shrouded Kazakh steppe to close out a 144-day mission.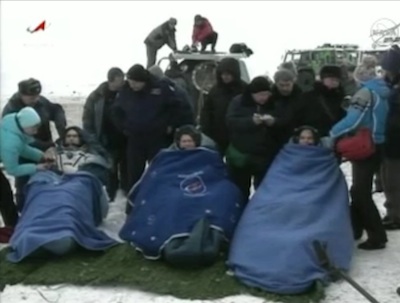 Credit: NASA TV



Low clouds and fog reduced visibility as the descent began and Russian helicopters carrying recovery crews were not able to immediately reach the landing site.

But Russian mission managers reported the Soyuz TMA-06M spacecraft safely touched down as planned around 11:08 p.m. EDT (GMT-4; 9:08 a.m. Saturday local time). A few minutes later, commander Oleg Novitskiy reported the crew was in good shape as they awaited ground crews.

A reduced Russian recovery team finally reached the Soyuz spacecraft about a half hour after landing. Television views showed the team helping Novitskiy, flight engineer Evgeny Tarelkin and outgoing station commander Kevin Ford out of the cramped crew module as they begin their initial re-adaptation to gravity after nearly five months in weightlessness.

Carried to nearby recliners, all three appeared relaxed and in good spirits, smiling and chatting with flight surgeons.

The trio blasted off from the Baikonur Cosmodrome in Kazakhstan on Oct. 23. With landing Friday, Novitskiy and Tarelkin had logged 144 days off planet during their first spaceflight, a voyage covering nearly 61 million miles over 2,304 orbits.

Ford's time aloft now stands at 158 days, including two weeks aboard the shuttle Discovery in 2009.

Flight surgeons carried out initial medical checks at the landing site before the crew members were carried to helicopters for an expedited flight to either Arkalyk or Kostanai, depending on the weather. A NASA jet was standing by in Kostanai to carry Ford back to Houston. Novitskiy and Tarelkin planned to head for Star City near Moscow for rehabilitation and debriefing.

With the departure of the Soyuz TMA-06M crew, the International Space Station will be in the hands of Expedition 35 commander Chris Hadfield and his crewmates, cosmonaut Roman Romanenko and Thomas Marshburn, a NASA shuttle veteran. Hadfield, a veteran of two space shuttle flights, took over from Ford to become the first Canadian astronaut to command a spacecraft.

Hadfield, Marshburn and Romanenko will have the space station to themselves until March 28 when three fresh crew members -- Soyuz TMA-08M commander Pavel Vinogradov, flight engineer Alexander Misurkin and Chris Cassidy -- blast off from Baikonur.

In a departure from past practice, the crew is expected to carry out an abbreviated four-orbit rendezvous, docking with the station about five hours and 48 minutes after launch. All past Soyuz flights to the space station followed two-day rendezvous plans.

For the Soyuz TMA-06M crew, undocking and re-entry went off without a hitch, one day after freezing rain and low clouds at the landing site Thursday prevented recovery crews from reaching their staging areas.

The weather improved overnight, but as dawn approached fog and low clouds blanketed the area. Despite limited visibility, mission managers cleared Novitskiy and his crewmates to undock from the space station's upper Poisk module at 7:43 p.m. as the two spacecraft sailed 250 miles above northeastern Mongolia.

Moving to a point about 7.5 miles from the outpost, Novitskiy and Tarelkin executed a four-minute 44-second deorbit rocket firing starting at 10:13 p.m., slowing the ship by about 286 mph to begin the long fall back to Earth.

The three modules making up the Soyuz spacecraft separated around 10:40 p.m. and the central crew module plunged back into the discernible atmosphere less than three minutes later at an altitude of about 64 miles.

Using atmospheric friction to slow down from orbital velocity, the crew module's fiery descent went smoothly and the craft's main parachute deployed on time at an altitude of just under 7 miles to lower the capsule to the ground.