Space station welcomes Russian cargo ship arrival
BY JUSTIN RAY
SPACEFLIGHT NOW
Posted: April 22, 2012


The International Space Station received a cargo freighter today when the Russian-made vessel loaded with three tons of supplies safely approached and docked on autopilot.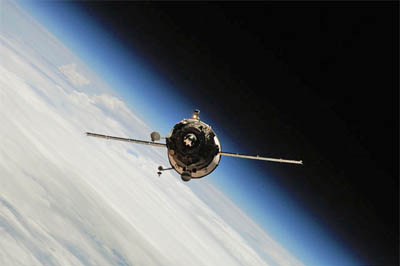 File photo of Progress spacecraft reaching the station. Credit: NASA



The Progress M-15M spacecraft linked up to the station's Pirs module at 10:39 a.m. EDT (1439 GMT) while orbiting 249 miles above northern China.

Hooks and latches were engaged a few minutes after docking to firmly secure the 24-foot-long craft to the station where it will remain parked through late July.

The Expedition 30 crew of commander Dan Burbank, NASA astronaut Don Pettit, Russian cosmonauts, Anton Shkaplerov, Anatoly Ivanishin and Oleg Kononenko, and Dutch astronaut Andre Kuipers plans to open hatches and enter the Progress later today.

The "dry" cargo includes 2,703 pounds of equipment, food, clothing, life support system gear, 1,988 pounds of propellant to replenish reservoirs that feed the Russian maneuvering thrusters, 926 pounds of water and some 110 pounds of oxygen and air for the station's atmosphere.

The Progress was launched Friday atop a Soyuz rocket from Baikonur Cosmodrome, reaching a preliminary orbit of 159 by 120 miles tilted 51.63 degrees relative to the equator. A series of precise engine firings over the past two days guided the freighter to the rendezvous.

After arriving in range of the space station, the vessel began a flyaround maneuver to get lined up with the docking port and then executed a roll maneuver to properly orient its forward nose probe with Pirs.

A brief stationkeeping hold with about 635 feet between the freighter and station allowed Russian flight controllers to assess systems before giving approval to commence the 11-minute final approach.

The ship's automated docking system did its job and drove the craft to the linkup at orbital sunset.

The docking is the final major event for the departing Expedition 30 crew of Burbank, Shkaplerov and Ivanishin, who will board their Soyuz TMA-22 capsule next Friday and undock at 4:18 a.m. EDT. The craft's deorbit burn begins at 6:49 a.m. for a landing in Kazakhstan at 7:45 a.m. EDT after 165 days in space.

Kononenko will become the new Expedition 31 commander, with Pettit and Kuipers poised to operate the station's robotic arm for capture of the SpaceX Dragon freighter on May 3.

A new three-man crew of Joe Acaba, Gennady Padalka and Sergei Revin will launch inside their Soyuz TMA-04M spacecraft on May 14 at 11:01 p.m. EDT.


Additional coverage for subscribers:


VIDEO: EXP 30: FULL EXPERIENCE FROM LIFTOFF TO ORBIT PLAY | HI-DEF


VIDEO: FOUR LAUNCH PAD CAMERA REPLAYS PLAY | HI-DEF


VIDEO: CREW DEPARTS SITE 254 FOR LAUNCH PAD PLAY | HI-DEF


VIDEO: FAMILIES CHAT WITH CREW BEFORE LAUNCH PLAY | HI-DEF


VIDEO: CREW MEMBERS DON THEIR SOKOL SPACESUITS PLAY | HI-DEF


VIDEO: LAUNCH DAY TRADITIONS AT CREW QUARTERS PLAY | HI-DEF



VIDEO: EXPEDITION 30-31 MISSION PREVIEW PLAY | HI-DEF


VIDEO: PETTIT, KONONENKO, KUIPERS BIOGRAPHIES PLAY | HI-DEF



VIDEO: FINAL ASSEMBLY OF THE SOYUZ PLAY | HI-DEF


VIDEO: SOYUZ ROCKET ROLLED TO LAUNCH PAD PLAY | HI-DEF


VIDEO: SPOKESMAN'S REPORT FROM LAUNCH SITE PLAY | HI-DEF


VIDEO: LAUNCH VEHICLE IS HOISTED VERTICALLY PLAY | HI-DEF


VIDEO: POST-ROLLOUT COMMENTS FROM OFFICIALS PLAY | HI-DEF



VIDEO: CREW TOURS BAIKONUR COSMODROME PLAY | HI-DEF


VIDEO: PRESS DAY TO SEE THE CREW UP-CLOSE PLAY | HI-DEF


VIDEO: CHECKING OUT THE SOYUZ TMA-03M CAPSULE PLAY | HI-DEF


VIDEO: CEREMONIAL ARRIVAL AT THE LAUNCH SITE PLAY | HI-DEF



VIDEO: CREW'S DEPARTURE FROM TRAINING BASE PLAY | HI-DEF


SUBSCRIBE NOW