Russians successfully launch space station resupply ship
BY JUSTIN RAY
SPACEFLIGHT NOW
Posted: April 20, 2012


Dispatching a freighter filled with food, fuel and supplies to the International Space Station, an unmanned Russian Soyuz booster successfully launched Friday from the Baikonur Cosmodrome.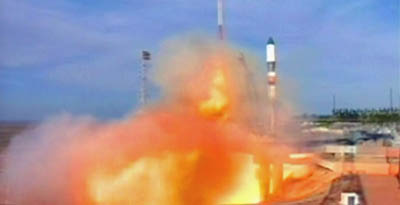 Main engine ignition. Credit: NASA TV



The booster blasted off carrying the automated Progress vessel from the launch base in Kazakhstan at 8:50:24 a.m. EDT (1250:24 GMT), beginning Russia's second of five cargo delivery missions to the space station in 2012.

The preliminary orbit was achieved after a nine-minute ascent provided by the three-stage rocket, and onboard commands were issued to unfurl the craft's communications and navigation antennas and extend two power-generating solar arrays that span 35 feet.

A series of precise engine firings over the next two days will guide the Progress toward an automated rendezvous with the station for docking Sunday at 10:40 a.m. EDT (1440 GMT).

The 24-foot long ship will attach itself to the open port on the Pirs compartment on the underside of the station, which became available Thursday when the previous Progress flew away to fly solo for a few days of engineering tests before its eventual deorbiting into the South Pacific on April 28.

Today's launch was known in the station's assembly matrix as Progress mission 47P. The spacecraft's formal Russian designation is Progress M-15M.

The craft will bring nearly three tons of supplies to the station. The "dry" cargo tucked aboard the Progress amounts to 2,703 pounds in the form of food, spare parts, life support gear and experiment hardware.

The refueling module carries 1,988 pounds of propellant for transfer into the Russian segment of the complex to feed the station's maneuvering thrusters. The vessel also has 926 pounds of water and 110 pounds of oxygen and air.

It'll remain attached to the station through the end of July.

The space station is staffed by the Expedition 30 crew of commander Dan Burbank, NASA astronaut Don Pettit, Russian cosmonauts, Anton Shkaplerov, Anatoly Ivanishin and Oleg Kononenko, and Dutch astronaut Andre Kuipers.

The cosmonauts will be standing by Sunday to take over manual control of the approaching Progress spacecraft if the autopilot experiences a problem. They spent time Thursday checking out the backup system.

Russian plans additional Progress missions in 2012 to continue the resupply chain to the space station in July, November and December.


Additional coverage for subscribers:


VIDEO: EXP 30: FULL EXPERIENCE FROM LIFTOFF TO ORBIT PLAY | HI-DEF


VIDEO: FOUR LAUNCH PAD CAMERA REPLAYS PLAY | HI-DEF


VIDEO: CREW DEPARTS SITE 254 FOR LAUNCH PAD PLAY | HI-DEF


VIDEO: FAMILIES CHAT WITH CREW BEFORE LAUNCH PLAY | HI-DEF


VIDEO: CREW MEMBERS DON THEIR SOKOL SPACESUITS PLAY | HI-DEF


VIDEO: LAUNCH DAY TRADITIONS AT CREW QUARTERS PLAY | HI-DEF



VIDEO: EXPEDITION 30-31 MISSION PREVIEW PLAY | HI-DEF


VIDEO: PETTIT, KONONENKO, KUIPERS BIOGRAPHIES PLAY | HI-DEF



VIDEO: FINAL ASSEMBLY OF THE SOYUZ PLAY | HI-DEF


VIDEO: SOYUZ ROCKET ROLLED TO LAUNCH PAD PLAY | HI-DEF


VIDEO: SPOKESMAN'S REPORT FROM LAUNCH SITE PLAY | HI-DEF


VIDEO: LAUNCH VEHICLE IS HOISTED VERTICALLY PLAY | HI-DEF


VIDEO: POST-ROLLOUT COMMENTS FROM OFFICIALS PLAY | HI-DEF



VIDEO: CREW TOURS BAIKONUR COSMODROME PLAY | HI-DEF


VIDEO: PRESS DAY TO SEE THE CREW UP-CLOSE PLAY | HI-DEF


VIDEO: CHECKING OUT THE SOYUZ TMA-03M CAPSULE PLAY | HI-DEF


VIDEO: CEREMONIAL ARRIVAL AT THE LAUNCH SITE PLAY | HI-DEF



VIDEO: CREW'S DEPARTURE FROM TRAINING BASE PLAY | HI-DEF


SUBSCRIBE NOW