Space station trio safely returns to Earth
BY WILLIAM HARWOOD
STORY WRITTEN FOR CBS NEWS "SPACE PLACE" & USED WITH PERMISSION
Posted: November 21, 2011


A Russian Soyuz spacecraft plunged back into the atmosphere Monday evening, carrying three space station crew members through a fiery descent to a frigid pre-dawn landing in Kazakhstan to close out a five-and-a-half-month stay in space.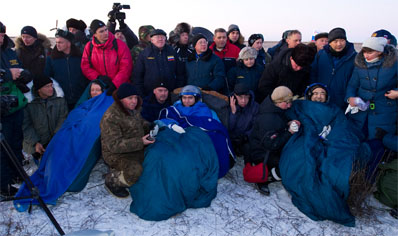 Expedition 29 commander Mike Fossum, left, flight engineers Sergei Volkov, center, and Satoshi Furukawa, sit in chairs outside the Soyuz TMA-02M capsule just minutes after they landed. Credit: NASA/Bill Ingalls



Departing Expedition 29 commander Michael Fossum, Japanese astronaut Satoshi Furukawa and Soyuz TMA-02M commander Sergei Volkov sealed themselves inside the ferry craft at 2:41 p.m. EST (GMT-5) and undocked from the lab's Rassvet mini research module at 6 p.m.

After testing an upgraded autopilot, Volkov, seated in the central descent module's center seat, fired the ship's braking rockets for four minutes and 16 seconds starting at 8:32 p.m., slowing the ship by 258 miles per hour to drop out of orbit.

Twenty-five minutes later, the upper and lower sections of the Soyuz TMA-02M spacecraft separated and the central descent module fell into the discernible atmosphere around 9:02 p.m., using its heat shield to dissipate the heat of atmospheric friction.

Dramatic television views from the International Space Station showed the fiery re-entry from space, with brilliant plumes trailing the two jettisoned modules well behind the manned descent module.

The spacecraft's main parachute deployed on time at an altitude of about 6.6 miles and the spacecraft settled to a jarring, rocket-assisted touchdown at 9:26 p.m. (08:26 a.m. local time), settling on its side and closing out a voyage lasting 167 days six hours and 12 minutes since blastoff from the Baikonur Cosmodrome on June 7.

Touchdown occurred about 32 minutes before sunrise in brutal winter conditions, with brisk winds, temperatures in the single digits and a half foot of snow on the ground. The Russians perfer daylight landings, but an earlier decision to delay the crew's departure by one week resulted in a rare pre-dawn entry.

Recovery crews, including flight surgeons and NASA personnel, were stationed nearby and were on the scene within a few minutes to help the trio out of the cramped Soyuz. All three appeared to be healthy and in good spirits as they relaxed under heavy blankets in folding chairs set up near the capsule.

After medical checks, all three men were expected to be flown to Kustanai, about 150 miles from the landing site. From there, Fossum and Furukawa planned to fly back to the Johnson Space Center in Houston aboard a NASA jet while Volkov was to proceed to the Gagarin Cosmonaut Training Center near Moscow for debriefing and reunions with friends and family members.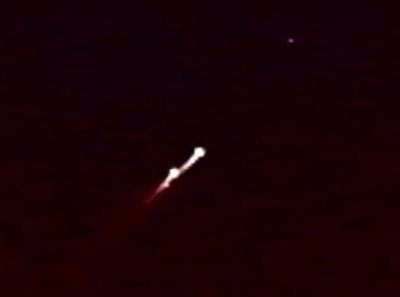 A view from the International Space Station looking down at the re-entering Soyuz descent capsule, which is the forward dot. The discarded propulsion and orbital modules are seen burning up in the atmosphere as planned. Credit: NASA TV



In a brief change-of-command ceremony Sunday, Fossum was relieved by NASA astronaut Daniel Burbank, who arrived at the station Nov. 16 with Soyuz TMA-22 commander Anton Shkaplerov and flight engineer Anatoly Ivanishin.

"Sergei and Satoshi, this was my dream mission and you guys have been my dream crew," Fossum said. "I would launch with you guys on another mission in a heartbeat. Dan, Anton and Anatoly, you arrived at our door just a few days ago, well prepared and ready to spring into action. You are ready to take over. My only regret here is we had so little time to spend together."

Burbank and his crewmates originally were scheduled for launch Sept. 22, but the flight was delayed in the wake of an August launch failure that destroyed an unmanned Progress cargo ship. As a result, Fossum's crew had just one week to bring Burbank, Shkaplerov and Ivanishin up to speed on space station operations.

Fossum took a moment during the change-of-command ceremony Sunday to thank the crew's families for their support.

"There are no words to express our gratitude to our families, who have endured much throughout our years of training and this mission," he said. "We call home excited about seeing countries at night in a blaze of light with a flicker of aurora on the horizon while they're dealing with kids, homework and cars that need repairs, the stuff of real life."

Pausing a moment, Fossum said, "honey, I'm coming home."

Burbank then took over as commander of Expedition 30.

"Thank you for handing us over such a magnificent ship," he said. "Space station's in perfect condition, it's an honor and a privilege to take the helm. On a personal note, I'd really ike to recognize you, Satoshi and Sergei for all the hard work that you've (done) the last couple of months.

"It's really been a whirlwind, but it's been a pleasure. I can't promise that I won't be calling you with questions here and there and I know you'll be there, ready to help us. Anton, Anatoly and I look forward to carrying on the proud legacy previous crews have laid before us. On behalf of the three of us, we'd like to wish you, Sergei and Satoshi fair winds, following seas and a soft landing."

If all goes well, Burbank, Shkaplerov and Ivanishin will be joined by three fresh crew members -- Soyuz TMA-03M commander Oleg Kononenko, European Space Agency astronaut Andre Kuipers and NASA flight engineer Donald Pettit -- on Dec. 23, boosting the lab's crew back to six.


Additional coverage for subscribers:


VIDEO: BACK AT STAR CITY PLAY | HI-DEF


VIDEO: POST-FLIGHT CHAT WITH MIKE FOSSUM PLAY | HI-DEF


VIDEO: TRADITIONAL KAZAKH WELCOMING CEREMONY PLAY | HI-DEF


VIDEO: VIEW OUT THE WINDOW OF DEPARTING SOYUZ PLAY | HI-DEF


VIDEO: SOYUZ TMA-02M UNDOCKS FROM SPACE STATION PLAY | HI-DEF


VIDEO: CREW BOARDS SOYUZ AND CLOSES HATCHWAY PLAY | HI-DEF


VIDEO: EXPEDITION CHANGE OF COMMAND CEREMONY PLAY | HI-DEF



VIDEO: FULL EXPERIENCE FROM LIFTOFF TO ORBIT PLAY | HI-DEF


VIDEO: CREW DEPARTS SITE 254 FOR LAUNCH PAD PLAY | HI-DEF


VIDEO: FAMILIES CHAT WITH CREW BEFORE LAUNCH PLAY | HI-DEF


VIDEO: CREW MEMBERS DON THEIR SOKOL SPACESUITS PLAY | HI-DEF


VIDEO: LAUNCH DAY TRADITIONS AT CREW QUARTERS PLAY | HI-DEF



VIDEO: SOYUZ ROCKET ROLLED TO LAUNCH PAD PLAY | HI-DEF


VIDEO: LAUNCH VEHICLE IS HOISTED VERTICALLY PLAY | HI-DEF


VIDEO: GANTRY ARMS WRAP AROUND SOYUZ PLAY | HI-DEF


VIDEO: POST-ROLLOUT COMMENTS FROM NASA OFFICIALS PLAY | HI-DEF



VIDEO: FINAL ASSEMBLY OF THE SOYUZ PLAY | HI-DEF


VIDEO: CREW TOURS BAIKONUR COSMODROME PLAY | HI-DEF


VIDEO: CHECKING OUT THE SOYUZ TMA-22 CAPSULE PLAY | HI-DEF


VIDEO: CEREMONIAL ARRIVAL AT THE LAUNCH SITE PLAY | HI-DEF


VIDEO: CREW'S DEPARTURE FROM TRAINING BASE PLAY | HI-DEF


SUBSCRIBE NOW