Rocket failure dooms space station cargo freighter launch
BY JUSTIN RAY
SPACEFLIGHT NOW
Posted: August 24, 2011


An "emergency situation" occurred during today's launch of a robotic Russian resupply ship headed for the International Space Station, preventing the Soyuz rocket from placing the freighter into orbit.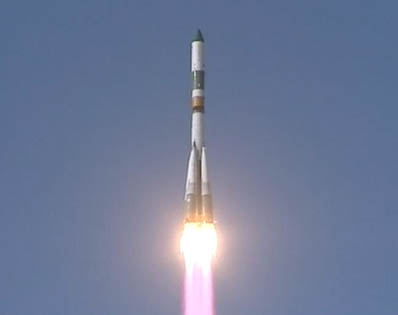 Credit: Tsenki TV



Liftoff of the Soyuz booster carrying the Progress vessel from the Baikonur Cosmodrome in Kazakhstan occurred at 9:00 a.m. EDT (1300 GMT), beginning Russia's 44th such cargo delivery mission to the space station.

But the Russian space agency says a problem with the upper stage propulsion system caused a premature shutdown and the vehicle's catastrophic failure.

Communications were lost about six minutes into what should have been a nine-minute ascent provided by the three-stage rocket.

The core stage of the Soyuz shut down and separated about five minutes after liftoff, leaving the four-nozzle engine of the upper stage to burn its mixture of kerosene fuel and liquid oxygen for the final boost needed to achieve the proper orbit.

Separation of the Progress 44P was expected at 9:09 a.m. EDT (1309 GMT) to start its two-day automated chase to rendezvous with the station for docking Friday.

Instead, the malfunction sent the rocket falling back to Earth. The spacecraft re-entered the atmosphere over eastern Russia.

"Unfortunately about 325 seconds into flight, shortly after the third stage was ignited, the vehicle itself commanded an engine shutdown due to an engine anomaly. Given the trajectory and energy in the spacecraft at that time, the vehicle impacted in the Altai region of the Russian Federation. And that, unfortunately, is about what we know today because telemetry was lost shortly thereafter," said station program manager Mike Suffredini.

All 43 previous Progress flights for the International Space Station over the past 11 years had occurred successfully.

The station program does guard against possible problems with receiving new cargo deliveries by keeping extra supplies positioned aboard the complex. That policy ensures one missed resupply does not endanger the mission.

"We are in a good position logistically to withstand this loss of supplies that were going to come to ISS," Suffredini said. "In fact, I can tell you we can go several months without a resupply vehicle if that becomes necessary."

The next issue, however, is when the Soyuz would be cleared to resume launches of human capsules to the space station. With retirement of the U.S. space shuttles, the Soyuz is the only rocket capable of sending crews to orbit.

Liftoff of the new crew is planned for Sept. 21. If that is delayed, the scheduled Sept. 8 landing of the departing three-person Expedition 28 crew could be postponed to keep the station fully staffed for an extra month or more.

This latest resupply ship was supposed to link up with the aft port on the Zvezda service module, a spot vacated by the Progress 43P vessel that was jettisoned Monday to perform several days of free-flying engineering tests before its planned deorbiting on Sept. 1.

Today's launch was known in the station's assembly matrix as Progress mission 44P. The spacecraft's formal Russian designation is Progress M-12M.

The 24-foot-long craft was bringing nearly three tons of supplies to the station. The "dry" cargo tucked aboard the Progress amounts to 2,777 pounds in the form of food, spare parts, life support gear and experiment hardware.

The refueling module carried 2,050 pounds of propellant for transfer into the Russian segment of the complex to feed the station's maneuvering thrusters. The vessel also had 926 pounds of water and 110 pounds of oxygen and air.

It was scheduled to remain attached to the station through next March.

The space station is staffed by the Expedition 28 crew of commander Andrey Borisenko, cosmonauts Alexander Samokutyaev and Sergei Volkov, American astronauts Ron Garan and Mike Fossum, and Japanese astronaut Satoshi Furukawa.

The following Progress freighter timeline shows the key events scheduled from launch until docking:

Day 1 events - Wednesday

Event
Mission Time
Eastern Time
LAUNCH
0/00:00:00
9:00:11 a.m.
Orbit Insertion
0/00:08:45
9:08:56 a.m.
Maneuver DV1
(23.54 m/s)
0/03:37:16
12:37:27 p.m.
Maneuver DV2
(11.34 m/s)
0/04:33:53
1:34:04 p.m.
Day 2 events - Thursday

Event
Mission Time
Eastern Time
Maneuver DV3
(2.00 m/s)
1/01:07:33
10:07:44 a.m.
Day 3 events - Friday

Event
Mission Time
Eastern Time
Start Automated
Rendezvous
1/23:16:17
8:16:28 a.m.
DV4 / Impulse 1
(17.110 m/s)
1/23:37:50
8:38:01 a.m.
Impulse 2
(1.238 m/s)
2/00:00:40
9:00:51 a.m.
Progress Kurs-A
activation
2/00:02:19
9:02:30 a.m.
Zvezda Kurs-P
activation
2/00:04:19
9:04:30 a.m.
DV5 / Impulse 3
(27.772 m/s)
2/00:23:37
9:23:48 a.m.
Good Kurs-P data
(Range 80 km)
2/00:26:57
9:27:08 a.m.
Orbital sunrise
2/00:42:06
9:42:17 a.m.
Kurs-A and Kurs-P
short test
(Range 15 km)
2/00:48:37
9:48:48 a.m.
Start Zvezda transmitter
for TORU link
(Range 9 km)
2/00:54:17
9:54:28 a.m.
Progress TV
activation
(Range 8 km)
2/00:55:37
9:55:48 a.m.
Start Progress receiver
for TORU link
(Range 3 km)
2/01:03:37
10:03:48 a.m.
Impulse 4
(6.198 m/s)
2/01:04:33
10:04:44 a.m.
TORU command
link test
(Range 2 km)
2/01:05:57
10:06:08 a.m.
Impulse 5
(5.463 m/s)
2/01:09:05
10:09:16 a.m.
Impulse 6
(1.940 m/s)
2/01:11:43
10:11:54 a.m.
Start flyaround
2/01:14:39
10:14:50 a.m.
Start stationkeeping
2/01:24:57
10:25:08 a.m.
Start final approach
2/01:26:49
10:27:00 a.m.
DOCKING
2/01:37:49
10:38:00 a.m.


Data source: NASA