Space station welcomes Russian cargo ship arrival
BY JUSTIN RAY
SPACEFLIGHT NOW
Posted: June 23, 2011


The International Space Station received a cargo freighter today when the Russian-made vessel loaded with three tons of supplies safely approached and docked on autopilot.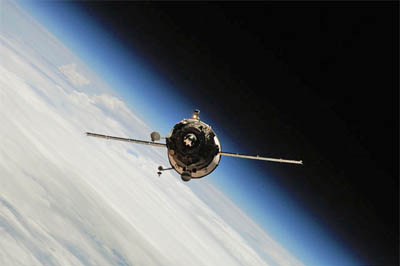 File photo of Progress spacecraft reaching the station. Credit: NASA



The Progress M-11M spacecraft linked up to the station's Zvezda service module at 12:37 p.m. EDT (1637 GMT) while orbiting 245 miles above eastern Kazakhstan.

"The approach is good, the crosshairs are aligned and contact. Contact and capture confirmed," cosmonaut Alexander Samokutyaev radioed from aboard the station.

"Congratulations on the auto docking," a Russian flight controller replied.

Hooks and latches were engaged a few minutes later to firmly secure the 24-foot-long craft to the station.

The Expedition 28 crew of commander Andrey Borisenko, cosmonauts Sergei Volkov and Samokutyaev, American astronauts Ron Garan and Mike Fossum, and Japanese astronaut Satoshi Furukawa plan to open hatches and enter the Progress this afternoon.

The cargo includes 2,813 pounds of equipment, food, clothing, life support system gear, 2,050 pounds of propellant to replenish reservoirs that feed the Russian maneuvering thrusters, 926 pounds of water and some 110 pounds of oxygen and air for the station's atmosphere.

The Progress was launched Tuesday atop a Soyuz rocket from Baikonur Cosmodrome, reaching a preliminary orbit of 149 by 120 miles. A series of precise engine firings over the past two days guided the freighter to the rendezvous.

After arriving in range of the space station, the vessel began a flyaround maneuver to get lined up with the docking port and then executed a roll maneuver to properly orient its forward nose probe with Zvezda.

A brief stationkeeping hold with about 620 feet between the freighter and station allowed Russian flight controllers to assess systems before giving approval to commence the 11-minute final approach.

The ship's automated docking system did its job and drove the craft to the linkup just before an orbital sunset.

This is the 43rd Progress to dock with the station over its decade-long life and the third of six scheduled for 2011.

The craft joins a previous Progress ship that launched in April and remains affixed to the outpost, plus two Soyuz crew transport capsules currently residing at the space station.