Cargo craft begins pursuit of International Space Station
BY JUSTIN RAY
SPACEFLIGHT NOW
Posted: October 27, 2010


Just a week before the shuttle Discovery arrives at the International Space Station for its construction mission, a Russian resupply ship has launched to deliver a load of equipment, fuel and provisions to the orbiting science laboratory.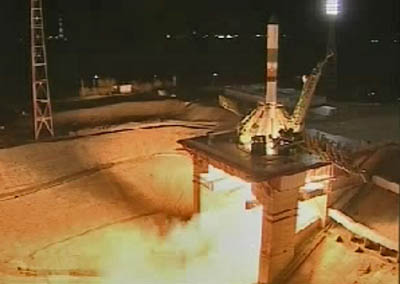 Credit: Tsenki TV



Liftoff of the cargo freighter atop a Soyuz booster from the Baikonur Cosmodrome in Kazakhstan occurred today at 11:11 a.m. EDT (1511 GMT).

The preliminary orbit was achieved after a nine-minute ascent provided by the three-stage rocket, and onboard commands were issued to unfurl the craft's communications and navigation antennas and extend two power-generating solar arrays that span 35 feet.

A series of precise engine firings over the next three days will guide the Progress toward an automated rendezvous with the station. The docking is slated for Saturday at 12:39 p.m. EDT (1639 GMT).

The 24-foot long ship will attach itself to the open port on the Pirs compartment, which was vacated Monday when a previous Progress was jettisoned.

Today's launch was known in the station's assembly matrix as Progress mission 40P. The spacecraft's formal Russian designation is Progress M-08M.

The craft will bring two-and-a-half tons of supplies to the station. The "dry" cargo tucked aboard the Progress amounts to 2,804 pounds in the form of food, spare parts, life support gear and experiment hardware.

The refueling module carries 1,918 pounds of propellant for transfer into the Russian segment of the complex to feed the station's maneuvering thrusters. The vessel also has 498 pounds of water and 110 pounds of oxygen.

It'll remain attached to the station through mid-January.


The Soyuz rocket rolls to pad with Progress 40P. Credit: Roscosmos

The space station is staffed by the Expedition 25 crew of commander Doug Wheelock, fellow NASA astronauts Shannon Walker and Scott Kelly, and Russian cosmonauts Fyodor Yurchikhin, Alexander Kaleri and Oleg Skripochka.

The cosmonauts will be standing by Saturday to take over manual control of the approaching Progress spacecraft if the autopilot experiences a problem. They will spend time this week checking out the backup system.

After the Progress arrives, the station crew will turn its focus to the upcoming space shuttle mission.

Discovery is scheduled to launch from Kennedy Space Center in Florida on Monday at 4:40 p.m. EDT. The shuttle will dock with the station next Wednesday to install the Permanent Multipurpose Module and an external equipment carrier.

You can follow along with Discovery's launch countdown and flight in our Mission Status Center.

The following Progress freighter timeline shows the key events scheduled from launch until docking:

Day 1 events - Wednesday

Event
Mission Time
Eastern Time
LAUNCH
0/00:00:00
11:11:50 a.m.
Orbit Insertion
0/00:08:45
11:20:35 a.m.
Maneuver DV1
(23.05 m/s)
0/03:37:47
2:49:37 p.m.
Maneuver DV2
(8.23 m/s)
0/04:32:02
3:43:52 p.m.
Day 3 events - Friday

Event
Mission Time
Eastern Time
Maneuver DV3
(3.00 m/s)
2/01:01:48
12:13:38 p.m.
Day 4 events - Saturday

Event
Mission Time
Eastern Time
Start Automated
Rendezvous
2/23:07:50
10:19:40 a.m.
DV4 / Impulse 1
(18.089 m/s)
2/23:29:51
10:41:41 a.m.
Impulse 2
(1.265 m/s)
2/23:51:48
11:03:38 a.m.
Progress Kurs-A
activation
2/23:54:10
11:06:00 a.m.
Zvezda Kurs-P
activation
2/23:56:10
11:08:00 a.m.
DV5 / Impulse 3
(22.063 m/s)
3/00:14:36
11:26:26 a.m.
Good Kurs-P data
(Range 80 km)
3/00:18:50
11:30:40 a.m.
Orbital sunrise
3/00:21:13
11:33:03 a.m.
Kurs-A and Kurs-P
short test
(Range 15 km)
3/00:39:50
11:51:40 a.m.
Start Zvezda transmitter
for TORU link
(Range 9 km)
3/00:45:50
11:57:40 a.m.
Progress TV
activation
(Range 9 km)
3/00:45:50
11:57:40 a.m.
Start Progress receiver
for TORU link
(Range 3 km)
3/00:55:10
12:07:00 p.m.
Impulse 4
(6.568 m/s)
3/00:55:31
12:07:21 p.m.
TORU command
link test
(Range 2 km)
3/00:57:30
12:09:20 p.m.
Impulse 5
(5.282 m/s)
3/01:00:00
12:11:50 p.m.
Impulse 6
(2.259 m/s)
3/01:02:29
12:14:19 p.m.
Start flyaround
3/01:05:38
12:17:28 p.m.
Start stationkeeping
3/01:12:50
12:24:40 p.m.
Start final approach
3/01:16:40
12:28:30 p.m.
Orbital sunset
3/01:17:31
12:29:21 p.m.
DOCKING
3/01:27:40
12:39:30 p.m.


Data source: NASA



Additional coverage for subscribers:


VIDEO: WELCOME CEREMONY FOR NEW EXPEDITION 25 PLAY


VIDEO: POST-DOCKING NEWS BRIEFING IN RUSSIA PLAY


VIDEO: SOYUZ TMA-01M DOCKS TO THE SPACE STATION PLAY



VIDEO: FULL EXPERIENCE FROM LIFTOFF TO ORBIT PLAY


VIDEO: CREW DEPARTS SITE 254 FOR LAUNCH PAD PLAY


VIDEO: VIPS MEET THE CREW ON LAUNCH MORNING PLAY


VIDEO: CREW MEMBERS DON THEIR SOKOL SPACESUITS PLAY


VIDEO: LAUNCH MORNING TRADITIONS AT CREW QUARTERS PLAY



VIDEO: BIOGRAPHIES OF KELLY, KALERI AND SKRIPOCHKA PLAY


VIDEO: PRE-LAUNCH INTERVIEW WITH SCOTT KELLY PLAY


VIDEO: PRE-LAUNCH INTERVIEW WITH ALEXANDER KALERI PLAY


VIDEO: PRE-LAUNCH INTERVIEW WITH OLEG SKRIPOCHKA PLAY



VIDEO: SOYUZ ROCKET ROLLED TO THE LAUNCH PAD PLAY


VIDEO: POST-ROLLOUT COMMENTS FROM NASA VIPS PLAY


VIDEO: ASSEMBLY OF SOYUZ COMPLETED IN THE HANGAR PLAY


VIDEO: HIGHLIGHTS OF CREW'S ACTIVITIES AT BAIKONUR PLAY


VIDEO: CREW'S DEPARTURE FROM STAR CITY TRAINING BASE PLAY


VIDEO: PRIME AND BACKUP CREWS MEET WITH REPORTERS PLAY



VIDEO: REMARKABLE VIDEO OF CREW EXITING CAPSULE PLAY


VIDEO: AERIAL FOOTAGE OF THE SOYUZ SAFELY LANDING PLAY


VIDEO: SOYUZ TMA-18 DEPARTS THE SPACE STATION PLAY


VIDEO: CREW BOARDS SOYUZ CAPSULE FOR DEPARTURE PLAY


VIDEO: SPACE STATION CHANGE OF COMMAND CEREMONY PLAY



VIDEO: WATCH CARGO FREIGHTER DOCK TO SPACE STATION PLAY


VIDEO: LAUNCH OF SOYUZ ROCKET WITH PROGRESS 39P PLAY



VIDEO: POST-SPACEWALK NO. 3 STATUS BRIEFING PLAY


VIDEO: SPACEWALKERS CONCLUDE THE THIRD EVA PLAY


VIDEO: AMMONIA HOSES ARE ATTACHED TO THE PUMP PLAY


VIDEO: POWER AND DATA LINES BRING PUMP TO LIFE PLAY


VIDEO: REPLACEMENT PUMP SECURELY BOLTED DOWN PLAY


VIDEO: PUMP INSERTED INTO SPACE STATION SLOT PLAY


VIDEO: SPACEWALKER HAULS PUMP OVER TO TRUSS PLAY


VIDEO: RETRIEVING THE REPLACEMENT PUMP PLAY


VIDEO: SPACEWALK NO. 3 BEGINS PLAY



VIDEO: POST-SPACEWALK NO. 2 STATUS BRIEFING PLAY


VIDEO: FAILED COOLANT PUMP REMOVED FROM THE STATION PLAY


VIDEO: ROBOT ARM MANEUVERS SPACEWALKER AROUND PLAY


VIDEO: POWER AND DATA LINES UNPLUGGED PLAY


VIDEO: TROUBLESOME UMBILICAL DETACHED PLAY


VIDEO: NO REPEAT OF AMMONIA LEAK PLAY



VIDEO: POST-SPACEWALK NO. 1 STATUS BRIEFING PLAY


VIDEO: PROBLEM CONNECTOR FINALLY FREED BUT THEN LEAKS PLAY


VIDEO: LEFT-HAND AMMONIA UMBILICAL COMES OFF WITH EASE PLAY


VIDEO: SKIPPING OVER PROBLEM CONNECTOR TO DO ANOTHER PLAY


VIDEO: TROUBLES AND ADVICE FOR STUCK AMMONIA LINE PLAY


VIDEO: PUMP'S SMALL COOLING LINE UNPLUGGED PLAY


VIDEO: SPACEWALKER DOUG WHEELOCK WORKS ON OLD PUMP PLAY


VIDEO: BRIEFING ON PUMP FAILURE AND SPACEWALKS PLAY



VIDEO: FULL BROADCAST OF SUPPLY SHIP'S DOCKING PLAY


VIDEO: WATCH CARGO FREIGHTER DOCK TO SPACE STATION PLAY


VIDEO: PROGRESS 38P FREIGHTER LAUNCHED PLAY



VIDEO: ORANGE COUNTY AND AL JAZEERA MEDIA INTERVIEWS PLAY



VIDEO: SOYUZ RELOCATED FROM ZVEZDA TO RASSVET PLAY



VIDEO: WELCOME CEREMONY FOR THE NEW RESIDENTS PLAY


VIDEO: POST-DOCKING NEWS BRIEFING IN RUSSIA PLAY


VIDEO: SOYUZ DOCKS TO THE SPACE STATION PLAY



VIDEO: FULL EXPERIENCE FROM LIFTOFF TO ORBIT PLAY


VIDEO: ENTIRE EXPEDITION 24 LAUNCH BROADCAST PLAY


VIDEO: CREW DEPARTS SITE 254 FOR LAUNCH PAD PLAY


VIDEO: VIPS MEET THE CREW ON LAUNCH MORNING PLAY


VIDEO: CREW MEMBERS DON THEIR SOKOL SPACESUITS PLAY


VIDEO: LAUNCH MORNING TRADITIONS AT CREW QUARTERS PLAY



VIDEO: SOYUZ ROCKET ROLLED TO THE LAUNCH PAD PLAY


VIDEO: POST-ROLLOUT COMMENTS FROM NASA OFFICIAL PLAY


VIDEO: ASSEMBLY OF SOYUZ COMPLETED IN THE HANGAR PLAY


VIDEO: HIGHLIGHTS OF CREW'S ACTIVITIES AT BAIKONUR PLAY


VIDEO: CREW'S DEPARTURE FROM STAR CITY TRAINING BASE PLAY


VIDEO: PRIME AND BACKUP CREWS MEET WITH REPORTERS PLAY


VIDEO: CEREMONIAL VISIT TO RED SQUARE IN MOSCOW PLAY


SUBSCRIBE NOW