Dextre's debut reset for January cargo mission
BY STEPHEN CLARK
SPACEFLIGHT NOW
Posted: September 14, 2010


The International Space Station's robotic handyman is standing down from a planned power controller swap to refocus on mandatory tasks during a Japanese cargo mission in January, according to the Canadian Space Agency.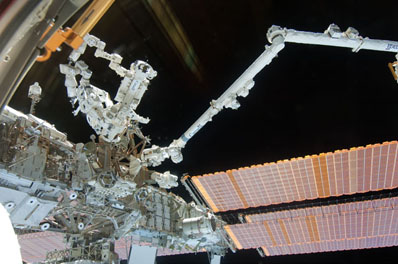 File photo of Dextre. Credit: NASA



Canada's Dextre robot was supposed to change out two power switchboards on the station's main truss in late July, but the maintenance job was scrubbed by a balky spring keeping one of the electrical units stuck inside its housing.

While engineers analyzed the problem on the ground, a cooling system failure grabbed the attention of space station managers throughout early August, delaying any resumption of Dextre's work.

Outfitted with two 11-foot-long arms, Dextre is designed to assume routine maintenance tasks outside the space station that would normally require a spacewalk by astronauts.

Dextre's arms include tool-grasping grippers and arm joints to give the robot human-like skills for repair work outside the space station.

Now approaching two months since the robot was put on standby, space station managers are deferring the power controller changeout until next year.

"Dextre's operations in the short-term are being refocused towards ensuring readiness for the upcoming HTV-2 mission, scheduled for January 2011," said Julie Simard, a Canadian Space Agency spokesperson.

The robot will pull a cargo container and a flex hose rotary coupler from the Japanese logistics freighter, which is scheduled to launch Jan. 20 and reach the complex a few days later.

Dextre's work is required for the H-2 Transfer Vehicle flight.

The space parts will be moved from the HTV to a stowage platform on the exterior of the station.

"In order to gain more familiarity with this type of operation prior to the mission, Dextre will rehearse the relocation of a similar component on the space station in December," Simard told Spaceflight Now.

The lower-priority power controller task will likely be retargeted for next spring, after the the HTV mission and the shuttle Endeavour's assembly flight in February and March.

"We remain confident that we will be able to accomplish this task soon thereafter," Simard said.

The power switchboard job involves removing a Remote Power Control Module, or RPCM, from one section of the space station's backbone structure and swapping it with an identical unit from another part of the truss.

Dextre will need to pull on the RPCM about seven times harder than expected to overcome the stuck spring, according to Mathieu Caron, the Canadian Space Agency's mission operations manager for the station's robotics systems.

When the changeout does occur, Dextre will have no problem pulling with enough force to remove the stuck RPCM. The expected force is well within the robot's operating envelope, Caron said in an interview last month.