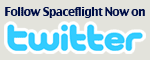 NewsAlert





Sign up for our NewsAlert service and have the latest news in astronomy and space e-mailed direct to your desktop.


Privacy note: your e-mail address will not be used for any other purpose.







Spacewalkers ready new Russian docking port for use
BY WILLIAM HARWOOD
STORY WRITTEN FOR CBS NEWS "SPACE PLACE" & USED WITH PERMISSION
Posted: January 14, 2010


Space station cosmonauts Maxim Suraev and Oleg Kotov completed a successful five-hour 44-minute spacewalk Thursday, completing work to outfit a new Russian docking module. The International Space Station now boasts four ports for visiting Soyuz crew ferry craft and unmanned Progress supply ships, a requirement for expanded crews of up to six astronauts and cosmonauts.
The spacewalk, the 137th devoted to station assembly and maintenance, began at 5:05 a.m. EST and ended at 10:49 a.m. when Kotov and Suraev returned to the Pirs docking compartment and closed the hatch. The cosmonauts completed all of their major objectives, rigging docking targets, rendezvous system antennas, handrails and cables to turn the new Poisk module into an active docking compartment.
Launched last November, Poisk was attached to the upward-facing port of the Zvezda command module directly across from Pirs, which is attached to Zvezda's Earth-facing, or nadir, port. Additional ports are available on the aft end of Zvezda and on the Zarya module.
Suraev and Expedition 22 commander Jeff Williams plan move the Soyuz TMA-16 spacecraft from Zvezda's aft port to Poisk next Thursday.


Additional coverage for subscribers:


VIDEO: NEW CREW WELCOMED ABOARD PLAY


VIDEO: SOYUZ DOCKS TO THE SPACE STATION PLAY



VIDEO: FULL EXPERIENCE FROM LIFTOFF TO ORBIT PLAY


VIDEO: CREW DEPARTS SITE 254 FOR LAUNCH PAD PLAY


VIDEO: VIPS MEET THE CREW ON LAUNCH MORNING PLAY


VIDEO: CREW MEMBERS DON THEIR SOKOL SPACESUITS PLAY


VIDEO: LAUNCH MORNING TRADITIONS AT CREW QUARTERS PLAY



VIDEO: BIOS OF KOTOV, CREAMER AND NOGUCHI PLAY


VIDEO: PREVIEW OF NEXT SIX MONTHS AT SPACE STATION PLAY


VIDEO: POST-ROLLOUT COMMENTS FROM NASA OFFICIALS PLAY


VIDEO: SOYUZ ROCKET ROLLED TO BAIKONUR LAUNCH PAD PLAY


VIDEO: HIGHLIGHTS OF CREW'S ACTIVITIES AT BAIKONUR PLAY


VIDEO: CELEBRATIONS MARK CREW'S DEPARTURE FROM STAR CITY PLAY


SUBSCRIBE NOW