New residents arrive at International Space Station
BY WILLIAM HARWOOD
STORY WRITTEN FOR CBS NEWS "SPACE PLACE" & USED WITH PERMISSION
Posted: December 22, 2009;
Updated after hatch opening


A veteran Russian cosmonaut, a Japanese shuttle flier and a NASA astronaut making his first space flight docked with the International Space Station Tuesday after a two-day orbital chase, donning Santa hats to mark the holiday season.
With commander Oleg Kotov monitoring a problem-free automated approach to the huge lab complex, the Russian Soyuz TMA-17 spacecraft docked at an Earth-facing port on the Russian Zarya module at 5:48 p.m. EST as the two spacecraft sailed 220 miles above the Atlantic Ocean east of Rio De Janeiro, Brazil.
Hatches were opened about an hour and a half later, after leak checks to make sure the Soyuz was firmly latched in place.
Expedition 22 commander Jeffrey Williams and cosmonaut Maxim Suraev were standing by to welcome Kotov and his two crewmates - Japanese astronaut Soichi Noguchi and NASA astronaut Timothy Creamer - on board to boost the lab's complement back up to five.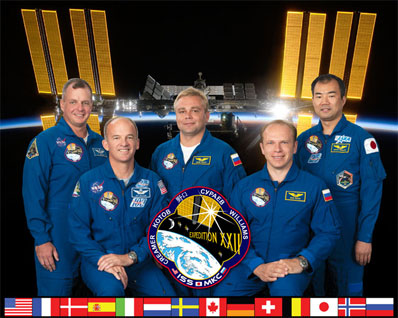 The full Expedition 22 crew. Credit: NASA



"It's great to see all you guys on orbit," Bill Gerstenmaier, NASA's chief of space operations, radioed from the Russian mission control center near Moscow. "Have a great Christmas, a good New Year. I can't think of a better family to have in space than you. I'm here with your families in the control center, so have a great expedition."

"Thank you, Gerst, it's good to hear your voice, it's great to have these guys on board," Williams replied. "It completes the complement of Expedition 22."

"Oleg, hello, we're so happy to see you aboard the station one more time," a family member radioed Kotov. "Daddy, I'm so proud of you. You're the best father in the world! We wish you the best of luck."

"Thanks to you for coming, thank you for your words, I love you very much and I'll talk to you soon," Kotov replied.

Said Creamer: "Everything's doing really great here. It's better than great, it's 154 times better than great. So thanks for the well wishes."

Williams and Suraev have had the station to themselves since Dec. 1 when cosmonaut Roman Romanenko, European Space Agency astronaut Frank De Winne and Canadian Robert Thirsk returned to Earth after a six-month stay in space.

The expanded crew faces a busy schedule in 2010 as NASA works to complete the station's assembly and retire the space shuttle.

On Jan. 5, a NASA pressurized docking adapter currently attached to the left side of the central Unity module will be moved to clear the way for attachment of a new U.S. module in February.

Suraev and Kotov plan a spacewalk Jan. 14 to finish outfitting a new Russian docking port known as Poisk, or MRM-2, that was recently attached to the Zvezda command module's upward-facing hatch. Once that work is done, the Soyuz TMA-16 spacecraft now docked to Zvezda's aft port - the capsule that carried Williams and Suraev to the station - will be moved to Poisk on Jan. 20.

The shuttle Endeavour is scheduled for launch from the Kennedy Space Center on Fab. 7 to deliver node 3, or Tranquility, a roomy module that will be attached to Unity's left-side port. Once installed and checked out, an enclosed toilet now located in the Destiny lab module will be moved into Tranquility, along with exercise equipment and other life support gear that has been temporarily housed elsewhere.


Additional coverage for subscribers:


VIDEO: NEW CREW WELCOMED ABOARD PLAY


VIDEO: SOYUZ DOCKS TO THE SPACE STATION PLAY



VIDEO: FULL EXPERIENCE FROM LIFTOFF TO ORBIT PLAY


VIDEO: CREW DEPARTS SITE 254 FOR LAUNCH PAD PLAY


VIDEO: VIPS MEET THE CREW ON LAUNCH MORNING PLAY


VIDEO: CREW MEMBERS DON THEIR SOKOL SPACESUITS PLAY


VIDEO: LAUNCH MORNING TRADITIONS AT CREW QUARTERS PLAY



VIDEO: BIOS OF KOTOV, CREAMER AND NOGUCHI PLAY


VIDEO: PREVIEW OF NEXT SIX MONTHS AT SPACE STATION PLAY


VIDEO: POST-ROLLOUT COMMENTS FROM NASA OFFICIALS PLAY


VIDEO: SOYUZ ROCKET ROLLED TO BAIKONUR LAUNCH PAD PLAY


VIDEO: HIGHLIGHTS OF CREW'S ACTIVITIES AT BAIKONUR PLAY


VIDEO: CELEBRATIONS MARK CREW'S DEPARTURE FROM STAR CITY PLAY


SUBSCRIBE NOW