Soyuz launches new crew in pursuit of the space station
BY WILLIAM HARWOOD
STORY WRITTEN FOR CBS NEWS "SPACE PLACE" & USED WITH PERMISSION
Posted: December 20, 2009


A Russian Soyuz spacecraft carrying three fresh crew members bound for the International Space Station blasted off from the Baikonur Cosmodrome in Kazakhstan early Monday local time, lighting up a cold, pre-dawn sky with a torrent of flame visible for miles around.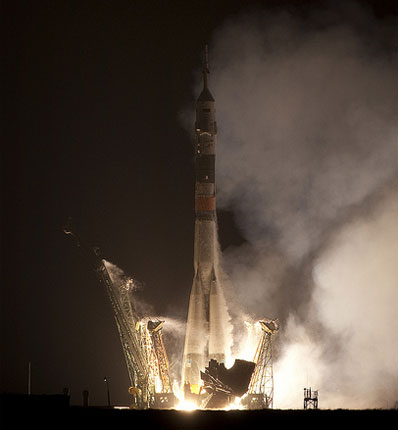 Credit: NASA/Bill Ingalls



With Soyuz commander Oleg Kotov, a station veteran, Japanese astronaut Soichi Noguchi, a shuttle veteran, and rookie astronaut Timothy Creamer strapped into the Soyuz TMA-17 capsule, the rocket roared to life at 4:52 p.m. EST Sunday (3:52 a.m. Monday local time) and quickly climbed away from the same pad used by Yuri Gagarin at the dawn of the space age.

Liftoff was timed for roughly the moment Earth's rotation carried the launch pad into the plane of the space station's orbit. Kotov, seated in the spacecraft's center seat, was flanked by Creamer to his right and Noguchi on his left.

The climb to space appeared normal and live television views from inside the TMA-17's central module showed all three crew members relaxed and at ease as they monitored their cockpit instrument displays. Noguchi flashed a thumbs up and Creamer waved.

A little less than nine minutes after liftoff, the spacecraft slipped into its planned preliminary orbit and Kotov reported "everyone feels great, no problems." Later this evening, Kotov planned to oversee two rendezvous rocket firings to fine-tune the craft's approach to the lab complex.

A third rocket firing is planned for Monday and if all goes well, the TMA-17 spacecraft will execute an automated approach to the Earth-facing port of the station's Zarya module Tuesday for a docking around 5:54 p.m. EST.

Creamer, Kotov and Noguchi. Credit: NASA



Waiting to welcome the new crew members on board will be Expedition 22 commander Jeffrey Williams and Maxim Suraev, launched to the outpost Sept. 30. Suraev and Williams, who has a previous station flight to his credit, have had the lab to themselves since Dec. 1 when cosmonaut Roman Romanenko, European Space Agency astronaut Frank De Winne and Canadian Robert Thirsk returned to Earth after a six-month stay in space.

"One of the things we've learned over the last couple of years is it's really beneficial to have (experienced) crew members (on board) when a new crew arrives," said Kirk Shireman, deputy manager of the space station program at the Johnson Space Center in Houston.

"So while it'll be a new experience for these guys, the fact that Max and Jeff have already been up there, they'll know where everything is, they'll know how things work and that'll allow these three guys to quickly adapt and be able to hit the ground running."




Additional coverage for subscribers:


VIDEO: FULL EXPERIENCE FROM LIFTOFF TO ORBIT PLAY


VIDEO: CREW DEPARTS SITE 254 FOR LAUNCH PAD PLAY


VIDEO: VIPS MEET THE CREW ON LAUNCH MORNING PLAY


VIDEO: CREW MEMBERS DON THEIR SOKOL SPACESUITS PLAY


VIDEO: LAUNCH MORNING TRADITIONS AT CREW QUARTERS PLAY



VIDEO: BIOS OF KOTOV, CREAMER AND NOGUCHI PLAY


VIDEO: PREVIEW OF NEXT SIX MONTHS AT SPACE STATION PLAY


VIDEO: POST-ROLLOUT COMMENTS FROM NASA OFFICIALS PLAY


VIDEO: SOYUZ ROCKET ROLLED TO BAIKONUR LAUNCH PAD PLAY


VIDEO: HIGHLIGHTS OF CREW'S ACTIVITIES AT BAIKONUR PLAY


VIDEO: CELEBRATIONS MARK CREW'S DEPARTURE FROM STAR CITY PLAY


SUBSCRIBE NOW




According to an Associated Press report, Creamer told reporters he would miss his family over the Christmas holidays, but "we are going as a family together to a family in space." He has been using Twitter to keep friends, family and the public up to date and plans to continue posting from space.
"I thought if I can give you the status of what I am doing, what we are hoping for, what we are looking forward to seeing, those would be good little teasers," he said.
After a break for Christmas and the New Year holidays, the crew will face a busy month in January.
Using the station's robot arm, a NASA pressurized mating adapter currently attached to the left side of the central Unity module will be relocated Jan. 5 to clear the way for attachment of a new U.S. module in February.
Suraev and Kotov plan a spacewalk Jan. 14 to finish outfitting a new Russian docking port known as Poisk, or MRM-2, that was recently attached to the Zvezda command module's upward-facing hatch. Once that work is done, the Soyuz TMA-16 spacecraft now docked to Zvezda's aft port - the capsule that carried Williams and Suraev to the station - will be moved to Poisk on Jan. 20.
The shuttle Endeavour is scheduled for launch from the Kennedy Space Center on Fab. 7 to deliver Tranquility, or Node 3, a roomy module that will be attached to Unity's left-side port. Once installed and checked out, a toilet now installed in the Destiny lab module will be moved into Tranquility, along with exercise equipment and other life support gear that has been temporarily housed elsewhere.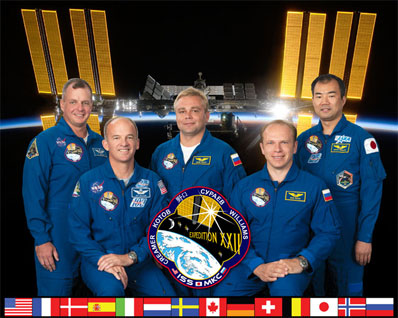 the full Expedition 22 crew. Credit: NASA



"This increment really sets the stage for the last year of the shuttle program," Shireman said. "It's a big growth year ... the last major growth spurt for the International Space Station. ... We're looking forward to a really, really exciting year."

As it currently stands, four Soyuz flights to the station are planned in 2010, NASA's final five shuttle missions and up to six unmanned Progress supply ships. Along with Tranquility, a new Russian module will be delivered by the shuttle, along with a cargo transfer module that will be left aboard the station after the final shuttle visit.

"This is the beginning of another phase where we learn to operate with a larger crew size, more demands on the hardware, more demands on the space station," said Bill Gerstenmaier, NASA's associated administrator of space operations. "So for the systems to work right requires a lot of extra preparation and this is the beginning of that preparation."

Said chief astronaut Peggy Whitson: "It's obviously very complicated. I think we have done in the past several years a fantastic job of making very difficult things look easy. We always have problems, but we always seem to be able to overcome them and I think that's kind of NASA's theme for survival.

"We expect that adding on a new module, two new modules this year ... it's going to be pretty exciting, expanding the station even further. I know when I was up there when we increased the station volume with three new modules it was just really exciting, opening up this huge new space to live in and explore."