Poisk module adds room to International Space Station
BY STEPHEN CLARK
SPACEFLIGHT NOW
Posted: November 12, 2009


Two days after launching from Kazakhstan, a new Russian module arrived at the International Space Station on Thursday to give the complex another docking port and a platform for spacewalks and science experiments.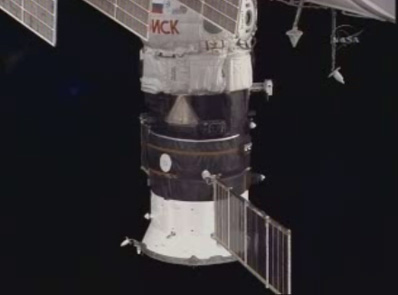 Poisk after its docking Thursday. Credit: NASA TV



The Poisk module docked to the station at 1541 GMT (10:41 a.m. EST), arriving at the Zvezda service module's space-facing, or zenith, port after a "textbook" automated radar-guided rendezvous, according to NASA.

Docking occurred as the station sailed more than 220 miles over northern Kazakhstan.

"I would like to congratulate all of you with a new addition to our Russian segment," a cosmonaut radioed mission control in Moscow shorty after docking.

"Thank you very much," a Russian controller replied.

Poisk means "search" or "explore" in Russian.

After its Tuesday launch, the egg-shaped module flew to the station with the help of a service and propulsion module designed for the Progress logistics carrier.

Also called Mini-Research Module 2, Poisk weighs about 8,000 pounds and stretches 13 feet long and 8 feet in diameter at its widest point. The module carried about 1,750 pounds of equipment to the station, including Russian Orlan spacesuits, life support systems, medical supplies and crew hygiene items, according to NASA.

Russian cosmonauts Max Suraev and Roman Romanenko will open the hatch leading into Poisk at about 1130 GMT (6:30 a.m. EST) Friday to enter the module for the first time.

The Progress space tug will be jettisoned from Poisk around Dec. 8 and destroyed during re-entry into the atmosphere.

It is the first major Russian addition to the outpost since the launching of the nearly identical Pirs docking compartment in 2001. Pirs is located on the bottom side of Zvezda, directly across from the new home of Poisk.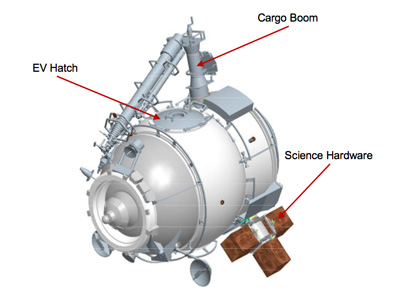 Diagram of the Poisk module. Credit: NASA



The station's Russian segment now includes four docking locations: Poisk, Pirs, a port at the rear of Zvezda, and the Zarya module's Earth-facing hatch.

The ports are used by Russian Soyuz crew lifeboats and Progress cargo freighters. Europe's Automated Transfer Vehicle also docks with the Russian segment.

The arrival of Poisk means Progress ships can stay at the station longer and planners will have more opportunities for Soyuz crew rotation missions.

Poisk will be first used by a Soyuz capsule in January, but cosmonauts must first stage a spacewalk from Pirs to outfit the new module to receive visiting spacecraft. That spacewalk is tentatively set for Jan. 14.

Cosmonauts will also use Poisk as an airlock for future Russian spacewalks. The module includes mounting fixtures with power and data interfaces for experiments being developed by the Russian Academy of Sciences.

Poisk's internal volume is about 523 cubic feet and the module features two egress hatches for spacewalking cosmonauts.

Russia is building the larger Mini-Research Module 1 for launch to the station on a space shuttle mission next May.

MRM 1 will provide cargo storage and an extension to Zarya's docking port, ensuring enough clearance between it and a berthing location on the U.S. segment.

Russia is also developing a Multi-Purpose Laboratory Module for launch on a Proton rocket in 2011. Before the MLM arrives, the Pirs docking compartment will be jettisoned to make room for the new module on Zvezda's Earth-facing port.